Spring 2018 Cardio Workout + Playlist
Hey hey! How are you? How's the week been so far? We've been getting back in the swing of life after our Disney trip. It's back to the usual routine, and Livi gets her costumes for her upcoming dance recital this week. This morning, I'm looking forward to a Lean Machine workout + getting things ready for a little early Cinco de Mayo fiesta tonight. I'd love to hear what you've been up to!
For today, I have a musical cardio workout, featuring some of my favorite spring 2018 workout songs.
Musical cardio is my FAVORITE type of cardio. You put in your headphones (I'm obsessed with these), and let the music dictate the style and intensity of each song. The workouts fly by, and I always feel motivated to work harder when the music is really good.
For this workout, we're using 0-10% for resistance. You can do this routine on any mode of cardio you love (especially the treadmill, spin bike, or Stairclimber), but I want you to tweak the resistance level for 1-10 depending on your fitness level and the machine you're using. For example, on the treadmill, a level 7 resistance for me is like a level 5 on the Stairclimber. For this workout, level 5 is your midpoint between taking a nap and the steepest hill you could ever climb.
For speed, we have three speeds:
Steady. This is the pace that gets your heart rate up, but you could easily maintain it for a long time, around 30 minutes.
Tempo. This is your challenging pace, but NOT a sprint. It's faster than your steady pace and is what helps to make you faster over time. Your body eventually will feel more comfortable at your tempo pace.
Sprint. As fast as those legs can take you, whether you're sprinting on the bike, running, or power walking on the treadmill.
Here's what the workout looks like: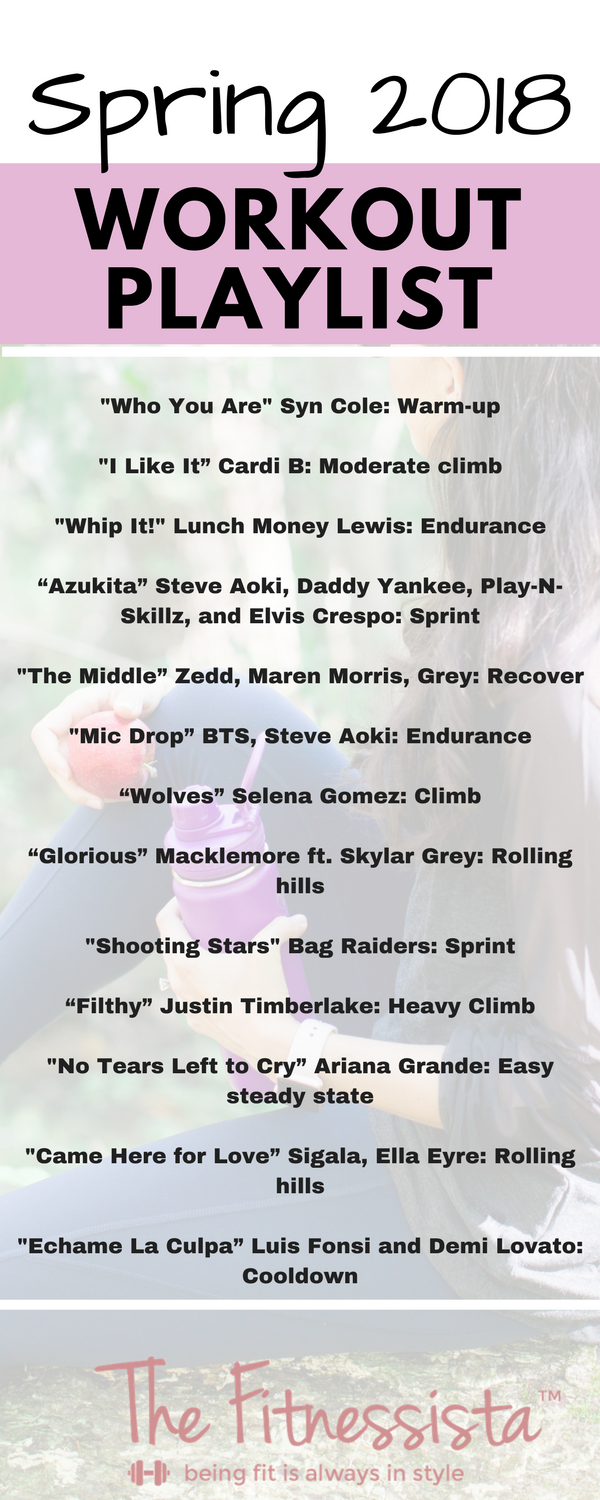 Spring 2018 Cardio Workout + Playlist:
"Who You Are" Syn Cole: Warmup. Use this as a chance to get pumped up for the workout. Steady pace, resistance level 3.
"I Like It" Cardi B: Moderate climb. Keep your steady pace, and increase the resistance level to 5. Add resistance gradually so that you finish the song at a 7.
"Whip It!" Lunch Money Lewis: Endurance. Tempo pace, resistance level 3.
"Azukita" Steve Aoki, Daddy Yankee, Play-N-Skillz, and Elvis Crespo: Sprint. Resistance level 3. Sprint your heart out at the music interludes (you'll hear it with the build-up!) and recover when they start singing again. 😉
"The Middle" Zedd, Maren Morris, Grey: Recover. Resistance level 3, steady pace. Make sure to stay in the working zone while you recover; don't let yourself slip into a cooldown.
"Mic Drop" BTS, Steve Aoki: Endurance. Tempo pace, resistance level 4. Hold this here for the entire song.
"Wolves" Selena Gomez: Climb. Steady pace, start at resistance level 3 and increase resistance every 30 seconds until you hit your max. Hold it here until the end of the song.
"Glorious" Macklemore ft. Skylar Grey: Rolling hills. Start at resistance level 3, and during the rap portions increase it to 6-7. When they start singing "I feel glorious," you can take it back down to a 3 and repeat. It will feel glorious, I promise.
"Shooting Stars" Bag Raiders: Sprint. Start at steady pace, resistance 3-4 and held it here until the musical build-up at 2:35. Sprint for the rest of the song.
"Filthy" Justin Timberlake: Heavy Climb. Steady pace, resistance 5. Add resistance every minute until you hit your max and hold it here until the end of the song.
"No Tears Left to Cry" Ariana Grande: Easy steady state. Steady pace, resistance level 4 to recover.
"Came Here for Love" Sigala, Ella Eyre: Rolling hills. During each chorus, add resistance and speed. Recover during the verses.
"Echame La Culpa" Luis Fonsi and Demi Lovato: Cooldown. Walk, take deep breaths and recover. You did it!
The Spotify playlist:
What's your current favorite workout song? Please share the love! I'm always looking to freshen up the playlist.
For more musical cardio posts, check out this one, this one, and this one.
Happy Thursday and I'll see ya soon with Friday Faves.
xo
Gina