Hey ya'll 😀 Here is a guest post from the fabulous Angela on a topic that is very dear to my heart: raw desserts!!
Enjoy! <3
_____________________________________________________________________________________________________
Hi everyone!
Angela here from Oh She Glows, Green Monster Movement, and Glo Bakery. I was super excited to do a guest post for Gina this week as I have been a huge fan of her blog since the beginning. Today I am sharing with you a delicious vegan recipe for raw chocolate chip balls.
Raw Chocolate Chip Balls
Ingredients:
Cookie dough:
1 3/4 cups ground raw cashews
3/4 cup ground oats
1/4 cup Agave Nectar
2 teaspoon vanilla extract
1/4 cup coconut oil
Raw chocolate chips:
2 Tablespoon coconut oil
1/2 cup carob powder
1/2 cup cocoa powder
4 T agave nectar
2 teaspoon vanilla
Directions:
Dough: Grind up raw cashews and oats in a food processor or blender. Place all cookie dough ingredients into a large bowl and mix by hand or simply place all ingredients in the processor and blend. Mix until a dough forms and you can easily make a large ball. Refrigerate dough while you make the chocolate chips.
Chips: Mix all chocolate chip ingredients together in a medium sized bowl. Roll the dough out onto parchment paper and place in the freezer for about 30 minutes.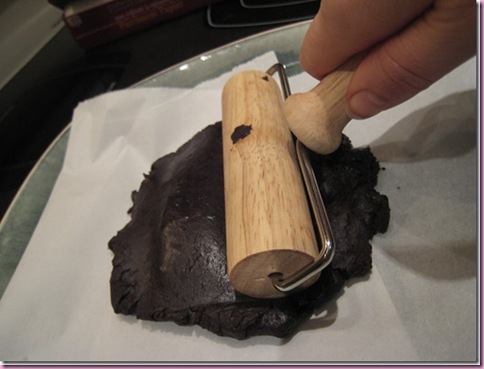 Optional: Half way through freezing., flip the chocolate sheet over for more even freezing.
When chocolate is frozen, cut into chips. This is the fun part! I used a pastry slicer and it was so fun making the chips.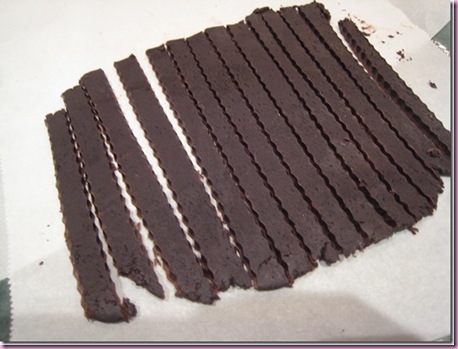 Mix chips into dough and roll into balls. Finally roll the balls in shredded coconut.
Place in fridge (if you have any left that is!) to harden for about 30 mins. They get quite firm. Make sure to refrigerate them on parchment paper or they will stick to the plate.
Now enjoy and have a delicious and healthy treat!
~~~~~~
Thank you Gina for this fun guest-post opportunity. 🙂
Have a great day everyone!
Angela