Hello Valdizzy, fleas and cookies
Hey everyone! Wish I had a pic of myself and Pitbull for you, but alas, I'm home in Valdizzy. There was just so much I needed to take care of at home and I'm kind of glad I decided to venture back to the swampland since I'm sick and Bella has ear mites (and fleas!). Lovely, right? 😉
This morning, I woke up and my throat was hurting, I felt achy and congested, so I decided to have one of the best natural remedies possible: wheat grass!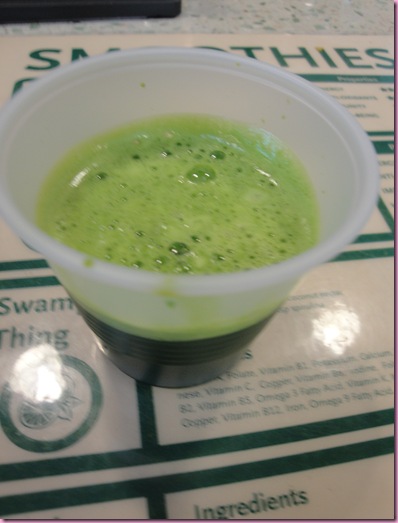 2 oz and I chugged it in pure frat boy style 😉
I wasn't feel like traditional bfast and knew I should eat before hitting the road, so I had some vegan butternut squash soup from the hot bar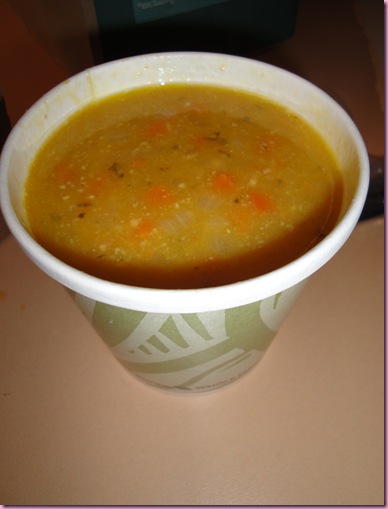 Purely foodgasmic.
Also, veggies with brown rice: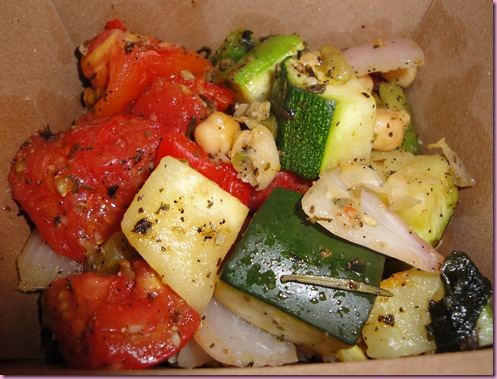 I picked up some necessities (Larabars, kale, rainbow chard, oat groats, vegan chocolate chips, almond butter, fruit, tomatoes) and hit the road.
Georgia, georgiaaaaaaa…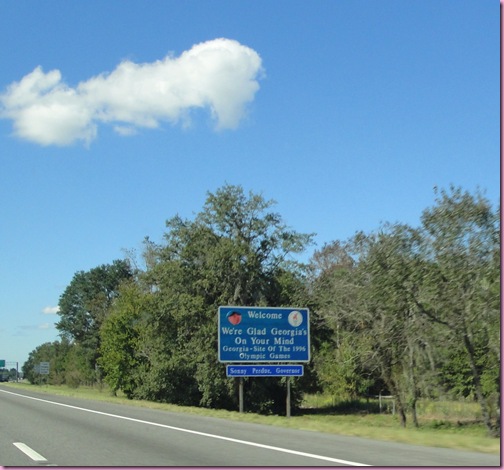 And I crossed into V-town pretty soon after seeing that sign. I was so excited to pick up my babies!!!
They're both exhausted from their four days of playing at the kennel.
Sleepy Bella: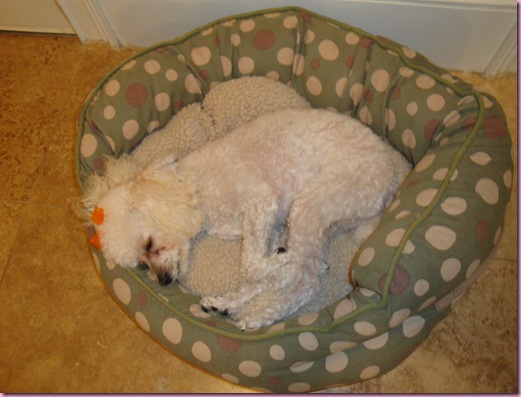 Sleepy Viesa: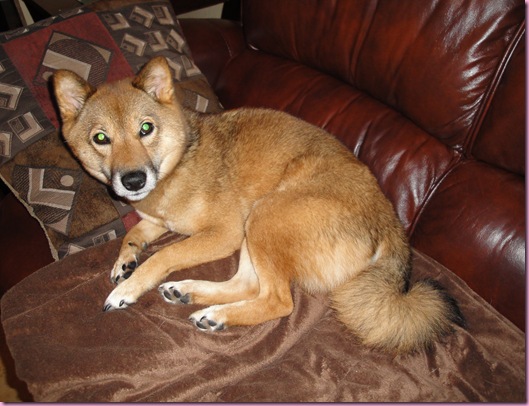 I've never been covered with so many puppy kisses! I missed my girls 😀
Poor Bella's ears have been itching her, so I'm going to take both of them to the vet tomorrow to check for ear mites and while I was scratching Bella's belly, I saw something black and small scurry across her torso. A flea. Glorious day. I gave each of the puppies their Frontline –they were a little overdue but I didn't want to do it right before leaving them at the kennel, especially since Bella had just gotten groomed- and hopefully those little punks will be gone soon. Not gonna lie, I have major heeby jeebies but I guess it can be expected because they were outside so much and it's also partially my fault for being late on their Frontline drops :/ I feel like a bad puppy mom.
Something wonderful was waiting when we got back to the casa: a package from my cute little nana!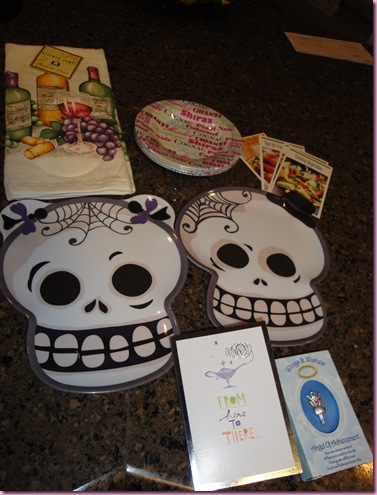 She sent me a wine tea towel, skeleton plates, a card (signed by the whole familia), a little angel, recipe cards, and plates that say different types of wine on them. So cute!
Random fact about me: I have a serious love for Mexican skeletons. Not sure if it's morbid, but I think they are so beautiful. If it were up to me, our entire house would be modern Mexican themed and have skeleton art and bold colors everywhere. However, I don't want to creep anyone out, so we stuck with the more World Market/Pier One/Z Gallerie kinda style :)  So basically, I LOVE the plates nana sent me (and everything else, of course)- thank you, friend! xoxo
Tonight, since my appetite was a little off from feeling icky, I decided to experiment with a raw recipe I've been thinking about instead of making a full dinner.
Raw Almond Butter Cacao Cookies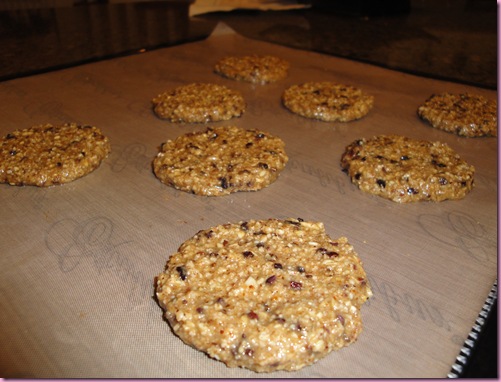 They're in the dehydrator right now, but if they come out like I think they will, I'll put the recipe up tomorrow 😀
So tonight it's me, the puppies, The Proposal, and a scary full inbox that I'm going to try and tackle. If you sent me an email while I was at school and I didn't get back to you, please send me your question again so I can respond. Things were so crazy at that time, and I got extremely behind on getting back to questions from you all—please don't think I'm ignoring you! I'm just a little unorganized on the email front, and I apologize.
I hope you all have a wonderful night and I'll see you in the morning <3
xoxo,
G
Today's tip: If you're not feeling well and debating between working out or not, here are some ways to help you decide:
Do you have a fever or headache? Stay home!
Are you achy and tired? Stay home
Do you just feel a little under the weather and aren't contagious? If you're experiencing something like minor allergy symptoms and won't pass an illness to other gym-goers, working out should be ok
If you go back to the gym after recovering from sickness, don't push yourself 100%. Try walking for a little while or light weight lifting to see how you feel. Ease back into your workout and try to avoid overdoing it.
In most cases, working out while sick can actually prolong the illness. It's a much safer bet to stay home and let your body do its thang so you can go back to the gym sooner and work out more effectively. Working out while sick is an easy way to pass on your sickness to other people and can most likely leave you out for the count for even longer.