Guest Post: Snack time with NuVal
Hey everyone! I'm so excited that the lovely Tina has written a guest post for me, especially since I've read her blog forever and she's a good friend of mine 😀
I'm off to train a client then head to the Christmas wives' coffee, but I'll be back tonight with a re-cap and that super sweet giveaway as soon as I get the final go-ahead 😉
Enjoy!!!
___________________________________________________________________________________________________________________________
Many thanks to Gina for allowing me the opportunity to write a guest post for her blog. I've been a daily reader for quite a long time now, so it's an honor to have this opportunity!
My name is Tina and you may know me from my healthy living blog, Carrots 'N' Cake (http://carrotsncake). In addition to blogging daily, I also work for a company called NuVal.
NuVal is a nutritional rating system that scores foods on a scale of 1 – 100 based on how nutritious they are for you. The higher the number, the higher the nutrition. Each NuVal Score takes into account more than just the nutrition fact panel.  It considers 30-plus nutrients and nutrition factors – the good (protein, calcium, vitamins) and the not-so-good (sugar, sodium, cholesterol).  And then it boils it down into a simple, easy-to-use number; a number you can trust to make better decisions about nutrition in just a few seconds. It's a pretty cool system, if you ask me!
I love snacking, so it was easy for me to decide on a topic for my guest post: nutritious snacks!
For as long as I can remember, I've always eaten an afternoon snack. Even has a kid, the stretch of time from lunch to dinner always left my stomach grumbling. I'm 29-years-old, and I still sit down to enjoy an afternoon snack every day.
Fresh fruits and vegetables are the most nutritious options for an afternoon snack, but sometimes I crave something else. It's easy to grab a bag of potato chips or a candy bar because they're quick and convenient, but I know eating a more wholesome afternoon snack is a much better option.
My usual "go-to" afternoon snack almost always involves peanut butter– on bread, pitas, crackers… pretty much any carb will do! However, after learning more about the NuVal system, I realized that some of my snack o
ptions are pretty low-scoring, which means that they are not the most nutritionally sound choices to pair with my beloved peanut butter.
After going through the NuVal database of scores, I was able to come up with 2 healthy peanut butter snacks that were easy, high-scoring, and more nutritious than my usual snack of peanut butter spread on Ritz crackers (NuVal score: 11).
Peanut Butter-Banana Crackers
Makes 2 servings 
Ingredients:
   * 2 Ryvita Rye & Oat Bran Whole Grain Rye Crispbread (NuVal score: 87)
   * 1 tbsp Teddie Creamy Natural Old-Fashioned Peanut Butter (NuVal score: 49)
   * 1 banana (NuVal score: 91)
Directions:
   * Spread 1/2 tbsp of peanut butter on each crispbread.
   * Slice banana and place on top of peanut butter.
Peanut Butter "Sundae"
Makes 1 serving
Ingredients:
   * 1 container Chobani Greek Vanilla Non-fat Yogurt (NuVal score: 73)
   * 1 tbsp Teddie Creamy Natural Old-Fashioned Peanut Butter (NuVal score: 49)
   * 1 tbsp Kashi TLC Peanut Butter Granola (NuVal Score: 32)
Directions:
   * Swirl in peanut butter into yogurt until blended.
   * Top yogurt with granola.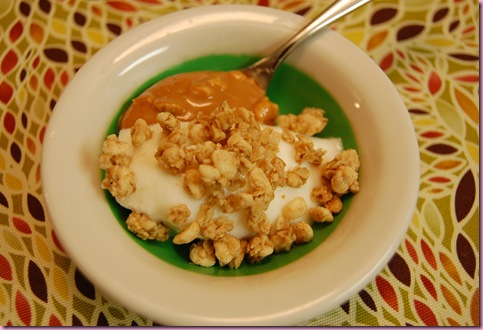 To read more about the NuVal scoring system and to see it's available in your area, go to www.nuval.com
____________________________________________________________________________________________________________________
(it's me again)
My two cents: As you can see, NuVal is doing an awesome thing by getting behind the actual NUTRIENTS of food, rather than focusing of carbs/calories/fat/the usual mumbo jumbo. While shopping for processed food, it will definitely come in handy! On the other hand, if you're trying to decide between two whole and obviously healthy foods, spinach and broccoli for example, eat them both! 😀
Thank you for the recipes and guest post, Tina!
See ya'll tonight <3