Ahhhh I love this time of year! This is when I can quote Elf and sing all the Christmas carols without the Pilot rolling his eyes at me. 😉 I love watching Christmas movies with Liv, taking drives to see the holiday lights, the Nutcracker, hot cocoa, holiday decor, everything about Christmastime. It already seems like it's blitzing past me in my sleep-deprived state, but I'm still going to enjoy it as much as possible, especially since we have a new little family member to introduce to this wonderful season.
During the holidays, in between the hustle and bustle, it can be easier to let your fitness and health goals go by the wayside. In the grand scheme of things, it's no big deal, but it can make it more challenging to get back in the swing of things come January. Also, I find that when I'm not eating well and fail to move each day, I feel pretty terrible. It's important to take care of yourself so you have the energy to fully enjoy everything the holidays have to offer. (Ok, and energy to hold your own in the those Black Friday sales haha.)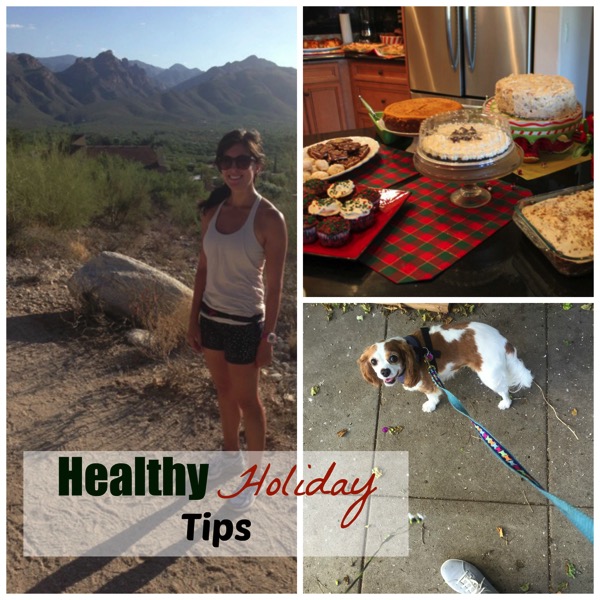 Here are some of my tips to stick with your goals over the next two months: (after that, it's WINTER SHAPE UP time! Buckle up, buttercups.)
Healthy Holiday Tips
1) Make a point to move every day. If you know you have a holiday party, extra to-dos and errands, take some time to sweat each day. Not only will this help to keep your metabolism working in full force, but it can also help to make you feel more centered and energized during a busy time of year. Schedule a workout almost every day, whether it's a class you love, long walk, hot yoga class, strength training session, or gentle stretch. If you're traveling, I'm a huge fan of online workouts, bodyweight circuits, or these at-home options.
2) Ask yourself if it's worth it. This is one of my all-time favorite healthy living tips. When I'm greeted by a plate of cookies, if they're store-bought, I'll usually skip them. If they're homemade and look DELICIOUS, I go for it. Usually if something is wrapped in plastic and I've had it a thousand times, it's much easier for me to skip out. If it's something new and was homemade with love, I usually want to give it a try. Since this is a season that seems to be overflowing with decadent foods and refined sugary treats, it's easier to sort them out if you take the time to ask yourself if you truly want it. If you go for it, take the time to savor and enjoy.
3) Drink lots of water. Staying properly hydrated can help with so many things, including skin, energy levels, metabolism, and avoiding confusing thirst with hunger. During the colder months, I have a hard time remembering to hydrate since I'm not sweating my face off. Make a conscious note to keep your water bottle with you at all times and drink throughout the day. One of my favorite reminder tricks is in this post.
4) Get some quality zzzz's. Stay rested and refreshed so you can tackle your workouts, and also so that your stress hormone can stay in check (as cortisol is affected by sleep and can cause us to eat more and potentially hold onto fat).
5) Focus on protein and produce throughout the day. Eat like a PRO and try to have some protein and produce in every meal! I like to accompany rich or heavy meals with a large salad, or serve casserole type dishes atop a bed of greens.
6) Savor the memories. I take time to be mindful around this time of year, maintain a spirit of gratitude, and pay special attention to the details and special moments. The people around you, and love you feel, are what make the season so magical. The food/libations, extra relaxing or time off work, and desserts are just the icing on the cake. 😉
Are you cooking for Thanksgiving? What's on the menu? I'm about to make an enormous casserole dish of stuffing. I'll post the recipe on my Instagram page when it's done!
Have a very happy Thanksgiving, and I hope you know that I'm so thankful for all of you. Thanks for hanging out with me on this little corner of the internets.
I'll see ya on one of my other favorite holidays: BLACK FRIDAY.
xoxo
G