Hi friends! How are you? I hope that you're having a wonderful week, and I hope all of my friends in all of the affected Hurricane Irma areas are staying safe. Last week, I booked a hotel *just in case* we would need to evacuate, and we ended up making the call on Friday night. When the projections showed the eye of the storm going through Valdosta, that was our sign to leave. Our house has a ton of glass, and is surrounded by enormous trees. There's no way to tell what will happen, and predictions are only predictions, but we decided to drive up to Atlanta just to play it safe. We'll be hunkering down in the hotel -hoping for tropical storm winds, but not the 80-100mph that's expected in V-town. They're officially on Hurricane watch- and praying for all of our friends and family in the affected areas. I'm writing this post Sunday night, and I'll definitely be keeping everyone updated (usually via IG stories) while conserving power since it may go out.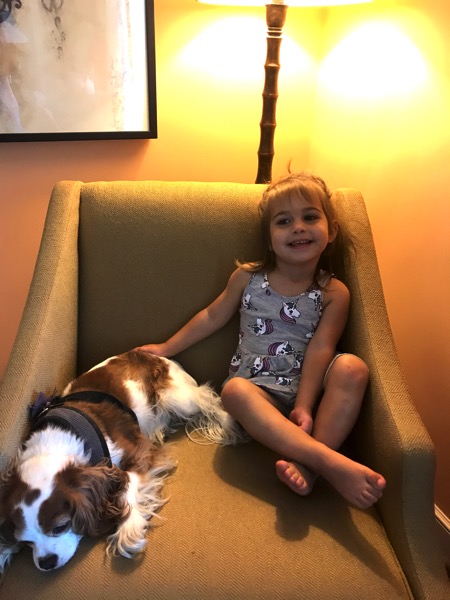 I thought I'd hop in and share some pics from our weekend in Atlanta so far. The past couple of days have felt like a surreal vacation. I feel lucky to be spending so much time with our little family, but also a bit nervous. As an Arizona girl who has never lived in hurricane-prone weather, this is definitely my first rodeo.
The drive up here was pretty long, but the girls were awesome (<— thank goodness for Moana on the iPad). When we finally got into town, we checked into the hotel. We were all ready to shake our legs out a little, so we did some walking with the dogs, went into an outdoor mall, and stopped at Farm Burger for dinner.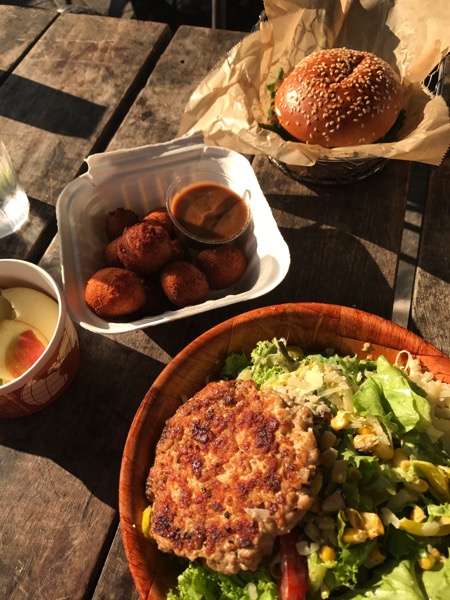 We shared the most ridiculous sweet potato hush puppies, and for my entree, I got the farm salad with Goddess dressing + a chicken patty on top.
We called it an early night, and Sunday morning we got Postmates for breakfast (Flying Biscuit!) before heading to the Children's Museum downtown. The Children's Museum here is incredible, and they had basically anything a young kid could want for creative play. There was an art studio, climbing structures, a ball crane contraption, a full-up play restaurant/diner, wall painting, kinetic sand tables,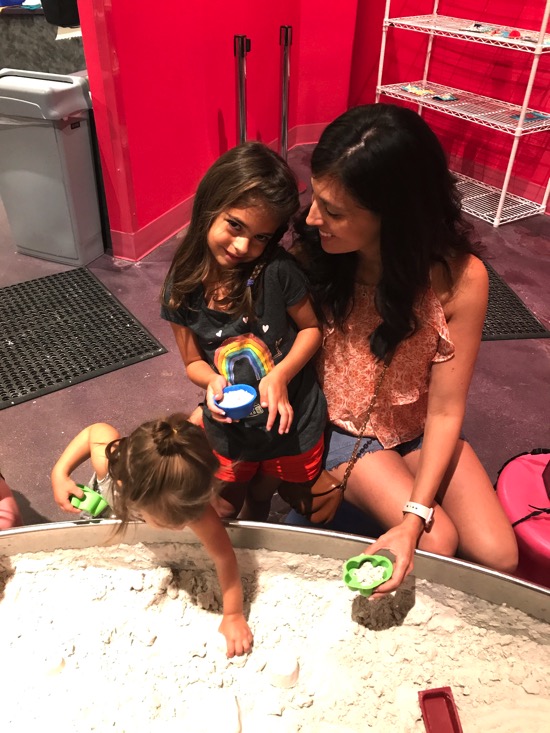 magnetic fishing in water,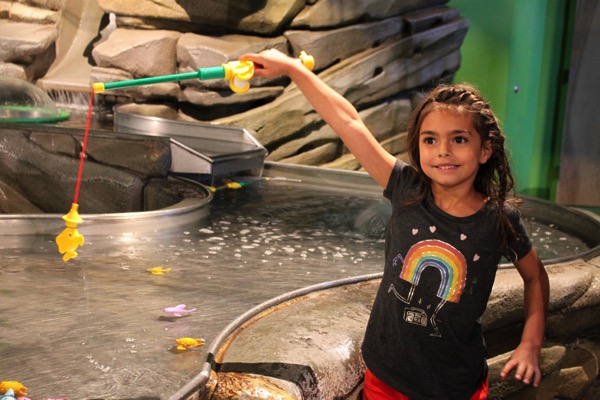 a tree house… it goes on and on. The girls had the best time playing, painting, climbing, listening to story time,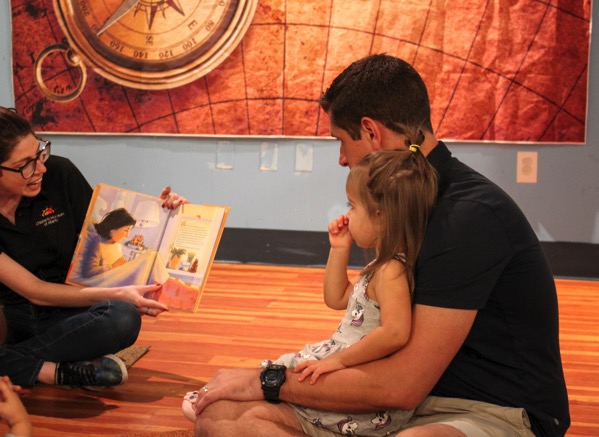 and singing along with a special performance.
Liv and I also got henna tattoos!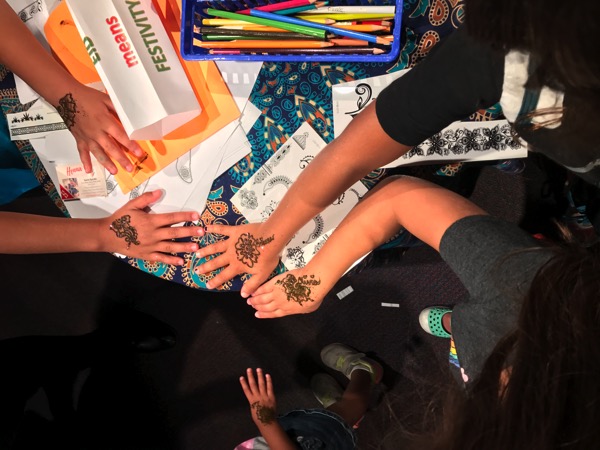 One of the girls was doing Liv's, and I think the other girl could see the FOMO in my eyes, because she was like, "Do you want one, too?"
You know I do.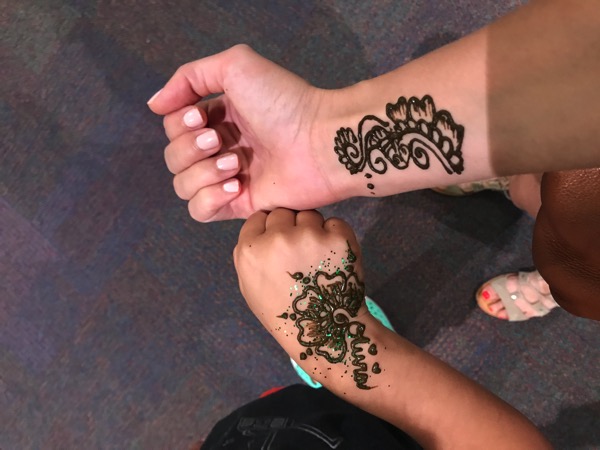 We had pizza lunch at Buckhead Pizza,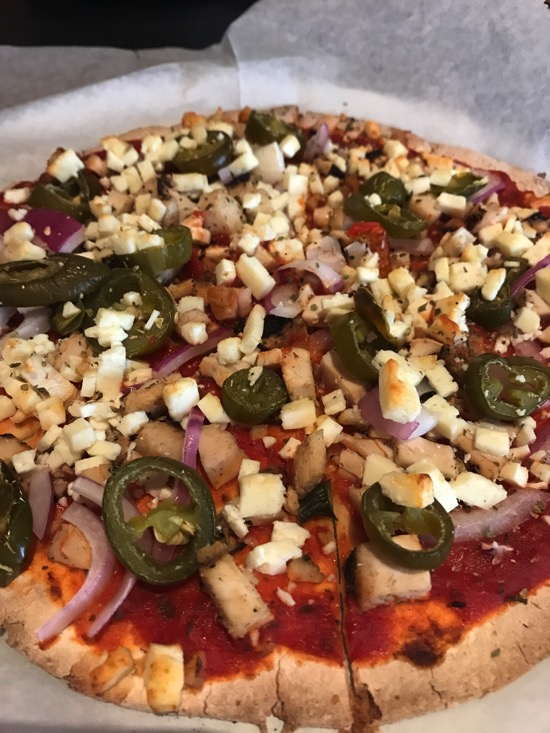 (my spicy chicken pizza on gf crust with feta instead of mozzarella. For dessert, we shared the chocolate brownie and cannoli for dessert.)
and then came home for nonexistent naptime at the hotel. (Is there a secret to getting a little one to nap at the hotel while the older one is still awake? Is that even possible?? Usually if P naps, it's because one of us will take Liv on an adventure. If we're all at the hotel together, it's hopeless, until we get a suite.)
As a special treat for dinner, we met up with my friend Hayley, her husband, and two daughters at True Food.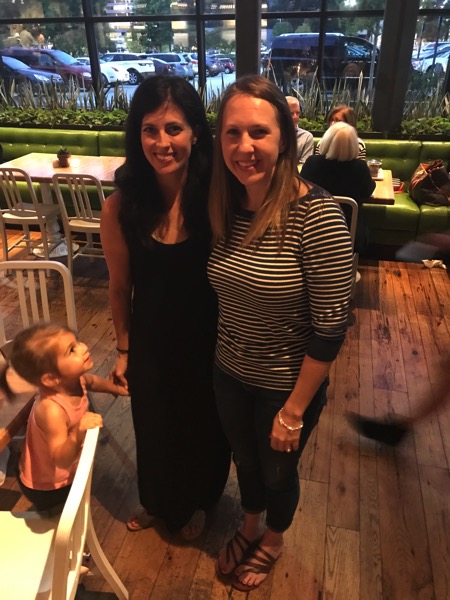 It was so great to see her and catch up. We used to be neighbors last time we lived in Valdosta -and spent many days floating in the pool, chatting, and reading Us Weekly– and I'm so happy that they're back in Georgia and we can see them again. Our girls had a blast playing together while the adults talked, and dinner at True Food was just as delicious as I remembered. I even stepped out of the box -I ALWAYS order the kale salad with salmon + a side of sweet potato hash- and tried out the poke bowl.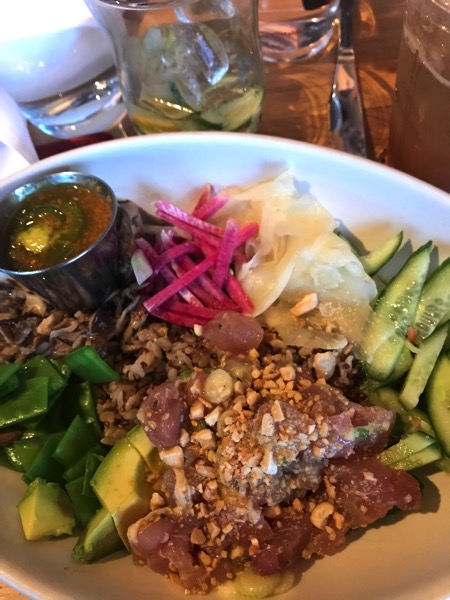 It came with a turmeric-soy-dressing that was tangy and a little spicy. I loved it.
Now we're back at the hotel, taking it easy and ready to call it a night.
I hope you have a very happy and safe Monday!
I'll see ya in the morning with a post about how I'm getting back in the fitness game + a new workout.
xoxo
Gina
*Friendly reminder: Fall Barre Bootcamp registration will start 1 week from today!