Home Workout Warrior LIVE
Hey hey friends! How are you? I hope you're having a wonderful week. We're all really enjoying having our favorite guy back around. He's been making up for lost time with the girls, chasing them around the yard, helping Liv with homework, and playing hide and seek. We've taken family walks with the dogs, we had an awesome date night at Charro del Rey and it was even followed by our usual meandering around Target because if a babysitter comes over, there's no way you can go home before the kids fall asleep.
So there's obviously been a lot going on lately, but there's something I didn't want to skip over this year: Winter Shape Up. I've received some questions about when we were going to do WSU, and the original plan was to film the videos the weekend that P ended up coming down with the flu. A week later, my friend Katie (who films the videos with me) and her family also ended up getting it. (It was definitely going around Tucson and SO many people we know ended up being sick.) The next time we could schedule to film wasn't until mid Feb, and I didn't want to delay everything until the spring, especially since Summer Shape Up will be back in full force.
So we're heading into Plan B, and I'm super excited about it: we're going to do a live round of Home Workout Warrior!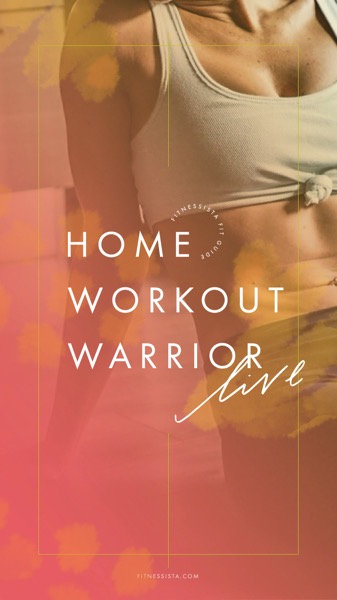 Quite a few people let me know in my annual survey that they wanted to try a Fit Guide, but the cost was permitting them from purchasing the entire plan. Others said they wished there was a way to try out the plan first and then decide if they wanted to commit to the full 12 weeks. This is the way to do it! When you sign up for Home Workout Warrior LIVE (we start Monday, Feb 11) you'll get 4 weeks of workouts, 4 weeks of meal plans from an RD, and group motivation headed your way.
If you're feeling blah or unmotivated with your current fitness routine, this is the perfect opportunity to add a little spice back into it and see amazing results. This is also an effective plan for those who don't have a gym membership or have been struggling to find time to work out. The workouts are short and incredibly effective. It's one of my personal favorite ways to train.
The Home Workout Warrior plan is strategically designed to build lean muscle, burn fat, and increase athletic performance in the comfort of your own home. This is my #1 most popular plan, and the best thing about it is that you can do it anywhere with a pair of dumbbells and your own bodyweight.
Here's Laura's progress after 1 month of Fit Guide workouts: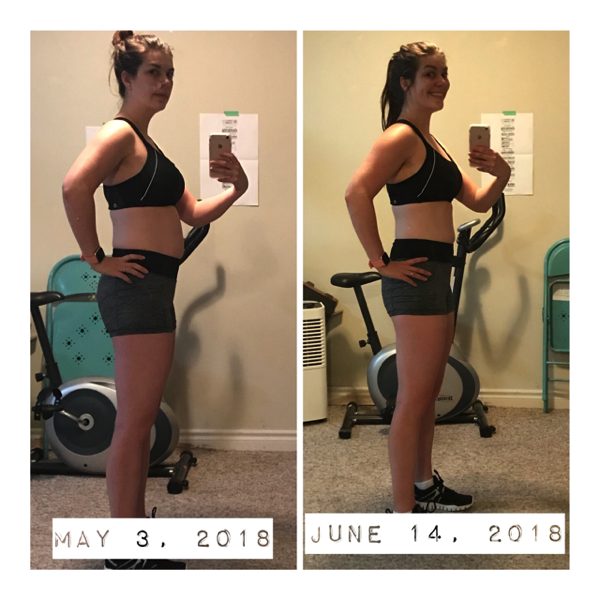 And here are some incredible 8 week results: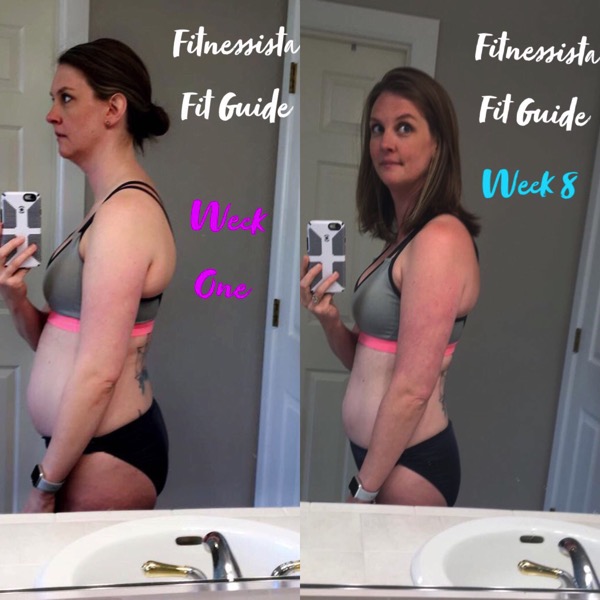 While these lovely ladies look AMAZING, my favorite testimonials are from the many Fit Guide participants who've written to tell me that they feel stronger, more energized, and confident after creating a consistent routine with these plans. 
What do the workouts look like?
– These HWW workouts are fast and furious circuits with cardio intervals, strength exercises, and core work. They range from 30-45 minutes and all you need is a pair of dumbbells.
– Each week, you'll have a plan to follow with your workouts and rest days. You don't need to worry about a muscle training split or getting in a balanced workout; I did all of the work for you. You can also easily shuffle the workouts around if needed. I'll always here to help you change up your workout days or answer any questions.
What about the meal plans?
These were created by my friend Kim McDevitt, and she specializes in creating meals for athletes. They're balanced, delicious and simple ideas you can implement however you'd like. Grocery lists are provided for each week, too.

How do I get the workouts?
– If you sign up here, you'll get EVERYTHING delivered to your inbox on Friday, Feb 8, so you're ready to crush it on Monday. It's $9 to sign up, which helps cover production and design costs. You'll also get some email email check-ins along the way. (After Feb 8, the price will jump to $29)
– If you don't want to receive everything in advance, no worries at all. Make sure you're following me on Instagram. I'll post the workout for the next day in my stories, along with any form cues or tips.
So when do we get new videos?
– We're filming 4 new free videos for the blog the weekend of Feb 15. I'm so excited to post and share these when they're live! I'll also create a workout calendar with these new videos + the ones I've recently posted so you have some additional workout plan options in the spring.
Are you ready?? Sign up here to join in the fun!
xo
Gina