[Warning: TMI, the reals, and not-so-rainbows ahead. Proceed with caution.]
When I hit my personal rock bottom earlier this year, I wrote this little note in my planner so I could look back and realize that everything's so much better now.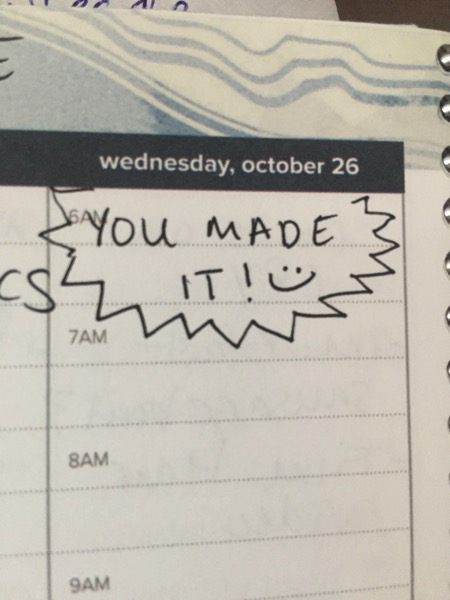 P was 12 weeks old.
– It had been 11 weeks of a constant reflux nightmare. Two solid months lying awake at night either researching things we could do to help P or worried sick that she'd choke during the night,
– Having to quit breastfeeding, even though I loved it and omgitwasactuallyWORKING this time around,
– That one time I went to the Emergency Room on Christmas night where they told me I had prolapse and some other issues (later I would find out that it was a normal degree of prolapse that is expected after birth that, thankfully, resolved itself)
– After starting physical therapy for my other issue, I found out I'd need repair surgery. I wasn't stitched properly (just writing that makes me cringe), so I was unable to heal. It needed to be redone or I would have to deal with a lifetime of pain and "unusualness" down there. Surgery when P was 5 months old was less than optimal, and I had to take an extra 6 weeks off of work teaching classes.
I did everything I needed to do for work and my family, but often felt like it was the bare minimum I could muster. I forced myself to be motivated when I wanted to lie in bed all day.
I forced myself to shower and dress myself, when I couldn't care less about hygiene or anything that didn't resemble sweatpants.
I forced myself to eat, even when nothing sounded good and the stresses and worry in my mind made everything unappetizing.
I forced myself to get outside and move, when for the first time in my life, I hated exercise. I hated the gym. I didn't want to be anywhere I'd see someone I know and have to put a smile on my face and create something that would hopefully sound like normal human conversation.
It was when I found out someone very close to me had cancer. (Thank god, it was removed and she has healed beautifully.)
It was one thing after another,
Each time, I thought, "ok, I can handle this," then something else would pile on until I finally sat sobbing in my therapist's office, she told me, "you don't need to suffer anymore."
I felt like a failure.
I did so much to try to keep myself from feeling the same way I did after Liv was born… and here I was, feeling so much worse, and under a black cloud so strong my chest would ache. It hurt to feel this terrible, and hurt even more when I felt the guilt of wasting our last baby's infancy feeling as sad, anxious and worthless as I did.
I was prescribed antidepressants, came home to a much-needed hug from Tom, sunk into the couch, and wrote the above note to myself. I added the happy face last, hoping when I saw the smile almost a year later, I wouldn't have to wear a fake one anymore.
As someone with no foresight whatsoever, I needed to remind myself that this would all eventually end, and that when we got to P's first birthday, I'd be worlds away from where I was then.
It's weird because learning of my family member's cancer snapped me out of my depression -I was more worried about her, and about P, than I was about myself- and it was when I wrote a majority of this post. I wrote it with hope, and the fuzzy confidence that things would change and would eventually be better.
For a long time, I used this blog as my escape from what I was feeling, and while I couldn't write about everything, I yearned to hear your stories of coming out of the other side. I wanted to avoid turning this fun and positivel blog into a negative space or a place to wallow. So instead, I used it as my escape. It was one of my many life rafts in the dark ocean in which I felt I was surrounded. It was my chance to focus on the good in life, read your uplifting comments and funny stories, and distract myself from everything that was going on. It was during a constant barrage of OB/gyn, pediatrician, Urogyn, acupuncture, therapist, and physical therapy appointments.
Having this blog made me feel a tiny bit of normalcy when everything was shrouded in the scary unknown. (At the time, I still didn't know the degree of prolapse severity or what they would do to repair my stitches post-birth. Apparently this is common when you push out an almost 11-lb baby in 4 minutes after 24 hours of labor… I had no idea this was even a thing. Now, I feel a thousand times better after my surgery, and I'm so thankful for an awesome surgeon who wanted to remedy the issue. I have heard so many stories of women who were told to "deal with it" even though they were in physical pain, suffering through each day.)
So here I am.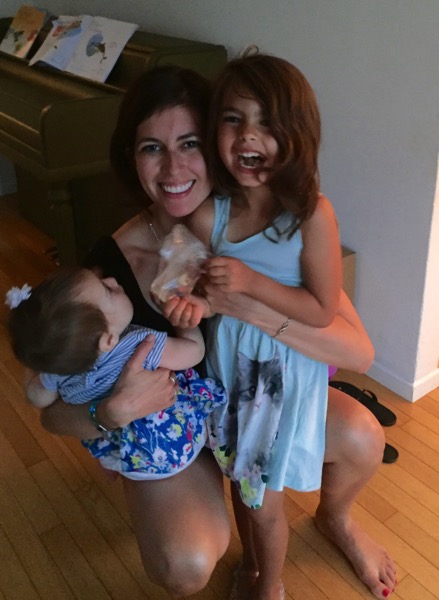 I made it.