Hi friends! 🙂 How's your morning? Hope you're having a wonderful day <3
I've found a pretty good dinner method for the nights that I teach. Teaching on a superfull belly is no picnic, so I'll usually have a smoothie or protein ice cream before class: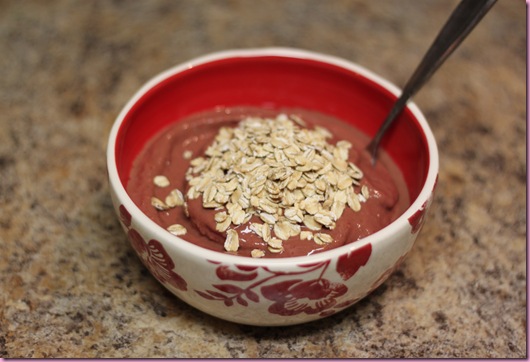 (1 C almond milk, 1 C organic strawberries and raspberries, 2 scoops protein, cacao powder, some GF oats for texture)
and the rest of my dinner after: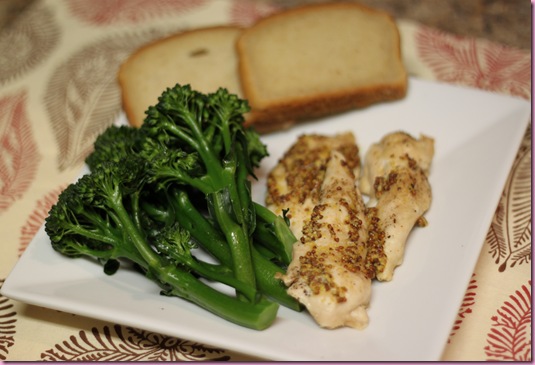 (Organic chicken with Dijon maple sauce, steamed broccolini and two slices of brown rice toast)
The chicken monster threatened to get scrappy with her bird again if I wouldn't share any with her. Lucky for her, when I baked the chicken a couple of days ago, I made a special plain piece with her name on it 😉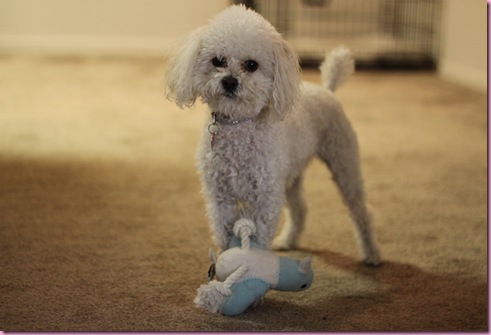 So I've received quite a few questions about Insanity and Bodyrock via Twitter and the comments section. Last spring/summer, I completed Insanity (you can check out the final recap *here*), and absolutely loved the program. Since then, I've also done TurboFire (probably my fave out of the Beachbody workouts), and just recently started tinkering with Bodyrock as a way to shake things up. It's been extremely convenient on days that I work early and won't have time to make it to the gym.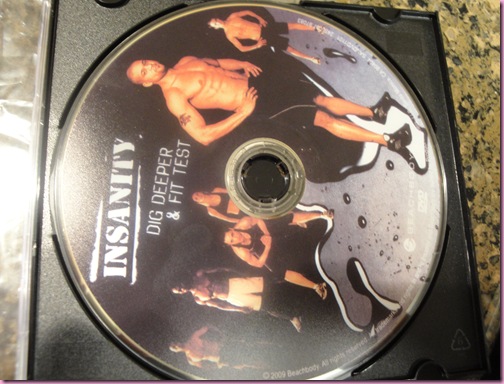 Since Bodyrock is *kinda* similar to Insanity, I thought it would be fun to do a side-by-side comparison for those who are interested.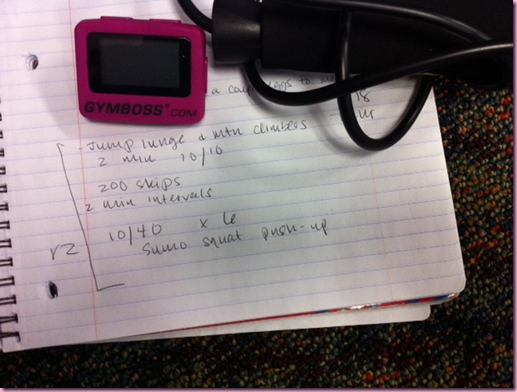 Bodyrock vs. Insanity:
| | | |
| --- | --- | --- |
|   | Bodyrock | Insanity |
| Accessibility | Bodyrock workouts are found at bodyrock.tv, along with recipes, meal ideas, and other fun stuff | Purchased through Beachbody, or Amazon |
| Workout variety | Workouts change everyday | Alternate between 10 workout DVDS |
| Motivation | All your own! | Shaun T. will push you through the workouts |
| Instructor | Hot superfit girl (Zuzana) | Hot superfit guy (Shaun T.) |
| Equipment | Interval timer, dip stand, chin-up bar, sandbag, jump rope (about $200-300 total) | No equipment required- all you need is your own body weight |
| Cost | FREE! | around $140 |
| Beginner and modification-friendly | Yes- Zuzana gives alternate exercises and many modifications | No- this program is for people who are already athletic and have no injuries or physical limitations |
| Intensity | As intense are YOU make it | Same |
| Frequency | I wouldn't recommend doing these workouts everyday | Can be done everyday if following the program |
More thoughts:
As you can see, Insanity and Bodyrock are pretty much equals are far as potential for a killer workout goes. Like almost all workouts, it's up to you and how hard you want to push yourself to get the results you're looking for. I find that for the Bodyrock workouts, I have to motivate myself to finish them, instead of depending on Shaun T, but it's also nice to have the variety of constantly changing workouts. I'll watch the Bodyrock video, blast some music (usually the Muse station on Pandora) and get er done. With Insanity, by the end, I could tell you everything Shaun T was going to say during the DVD- they get a little redundant after a while.
He's always very nice to look at, though 😉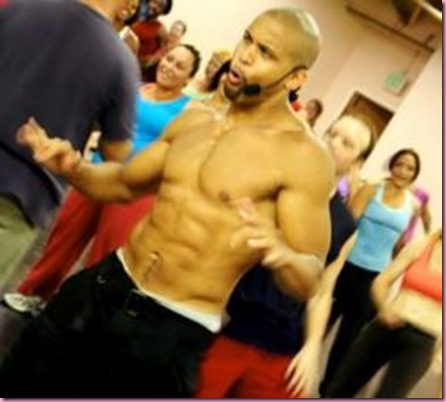 I love how convenient both of the exercises are. They can be done at home, or while traveling with minimal equipment. This weekend I'll be traveling, so I'll stash a jump rope and my interval timer in my suitcase in case I feel like cranking out a Bodyrock workout.
The reason why I don't recommend doing the Bodyrock workouts everyday is because they're High Intensity interval workouts, which take your heart rate to the max for a short burst of time and then you recover and repeat. This is an amazing method for fat loss and quick calorie burn, however, you'll get better results in the long term if you don't do this style of training everyday. Insanity is MAX interval training, which means that you spike your heart rate up and sustain it for much longer, with a short recovery time. The program does a pretty excellent job of alternating between interval and steady state or toning (strength training) days.
All in all, I give both programs two almond butter covered thumbs up. Always research workout programs to see if they're a good *fit* for you, and check with a doc before starting anything new 🙂
I'm off to breakfast with my mom and nana <3
Have a lovely day!
xoxo
Gina
Something to read:
Healthiest fast food breakfasts
Fun alternates to Girl Scout cookies