Katie: Chocolate Zucchini Muffins
Hi guys! Hope you're having a wonderful weekend. I'm getting back in the swing of things, but in the meantime, I have two more guest posts from some very lovely people. This one is from Katie, who shares my obsession with all things chocolate-related. We've never met in *real life* but have been friends via our blogs for a few years. Hopefully one day, we'll finally get to hang out! Here's her post with a new zucchini muffin recipe! Hope you enjoy! xo, G
Hi! I'm Katie, of the blog Chocolate-Covered Katie.
I'm honored to be posting on Gina's blog today… she is honestly one of the sweetest and most caring people I know. For today's post, I wanted to share a quick on-the-go weekday breakfast recipe that is equally perfect to serve at a fancy brunch: 
If you try them, I hope you will love these zucchini muffins as much as I do!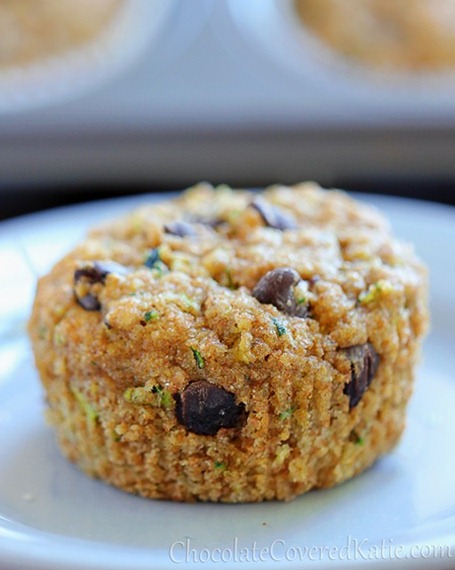 Chocolate Zucchini Muffins
1 1/2 cups spelt, all-purpose, or Bob's gf flour
1/2 tsp baking soda
3/4 tsp salt
1/2 tsp cinnamon, optional
1/3 cup granulated sugar of choice
1/16 tsp pure stevia, or 2 tbsp more sugar (or 2 NuNaturals packets)
1/2 cup chocolate chips, optional
1/2 cup applesauce
1/3 cup vegetable or melted coconut oil
1 tsp white or apple cider vinegar
1 1/2 tsp pure vanilla extract
1 cup zucchini, finely grated
Preheat oven to 350F. Place cupcake liners in a muffin tin. In a large bowl, combine all dry ingredients, then set aside. In a large measuring cup, combine all liquid ingredients, including zucchini. Mix wet ingredients into dry, and immediatelyportion into the baking cups and place into the oven. Bake 19 minutes or until muffins have domed and a toothpick comes out clean. Allow the zucchini muffins to cool before removing from the tray. Makes 10-12 muffins.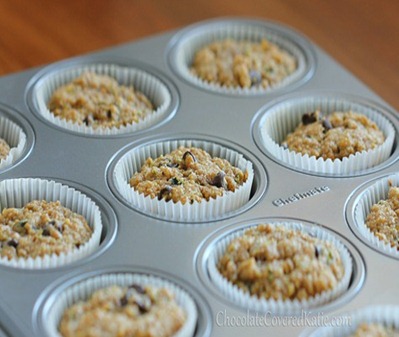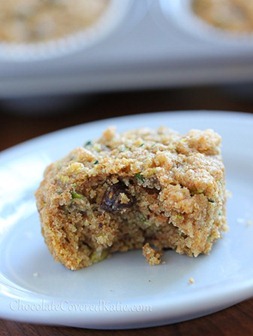 Zucchini Muffins Nutrition Facts

Please do stop by sometime at Chocolate-Covered Katie and say hi. I love meeting new people.