I've always been a big fan of Halloween candy.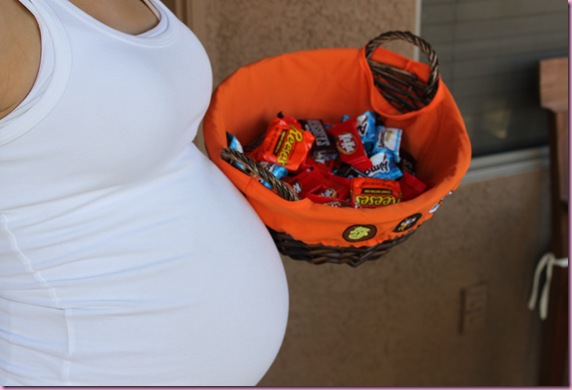 When I was younger, my friends and I would go to the "good" neighborhood, where many houses gave out full-sized candy bars. One guy even gave out dollar bills (?) instead of candy, and a dentist gave out toothbrushes. I secretly liked the toothbrushes, too, but never told my friends, since they were like "ugh! a toothbrush!" That's pretty much the only neighborhood we'd hit, and return home with buckets and pillowcases stuffed full of candy.
My mom or dad would go through all of our Halloween goodies, and from then on, we could eat them however we'd like. Our buckets of candy were in the pantry, and we knew that a sweet treat was ready and waiting for us. For the first couple of nights, we'd take advantage of it and eat chocolate until it gave us stomachaches, but after those initial candy gorges, it wasn't too difficult to space it out. I don't ever remember finishing all of my Halloween candy… I'd eventually get sick of it, and it would end up in the trash.
I've heard a lot of different methods in families when it comes to Halloween candy, or treats in general. Some families allow a little bit of candy, and take the rest away, others allow a certain amount each day, and so on. One of girls I used to teach at the dance studio (and babysat) was only allowed one sweet treat each day. We went out for dinner, and I asked her if she wanted to share a pizookie, and she said "no thank you, Miss Gina, I've had my sweet treat for the day already."
Now, I'm not trying to get too ahead of myself here, as the little lady hasn't even been born yet, but pretty soon it will be execution instead of theory. Since tomorrow is Halloween, I can't help but wonder what our own candy situation will be like.
We really want our little girl to have a healthy relationship with food. There won't be any "good" or "bad" foods in our house, but she'll learn which foods make you feel good and contribute to your health, and others that are just delicious to eat but have very little nutritional benefit. We've agreed that we'll keep the same foods that we always have, with some kid-friendly versions in there (Annie's makes fantastic kid-friendly snacks). I'd like my baby to eat as healthily as possible, but at the same time, I feel like every kid needs some confetti cake or chicken nuggets in their life. I don't want her to grow up and feel like she has to experience all of the foods she was never allowed to have in her childhood, and let her find her own balance.
I've also heard that kids eat the food that they see the parents eating, so if that's the case, she'll like green smoothies, oatmeal, salmon, goat cheese, and pizookies 😉
If you trick-or-treated when you were younger, what was your family's candy policy like? Did they help you moderate, or let you have full reign? How did your parents influence your eating habits today?