Local Honey and Walnut Baklava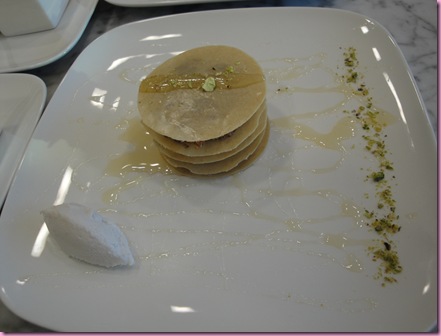 Local honey and walnut Baklava
Phyllo Dough:
-Meat of 2 young Thai coconuts
-3/4 C. soaked cashews
-2 T. Flax meal
-Pinch salt
-1/4 C. honey
-1/2 C. water
-1 T. vanilla
Blend all ingredients until smooth. Spread onto Teflex sheets and dehydrate until dry but still pliable.
Filling:
-2 C. walnuts
-2 t. cinnamon
-1/2 t. cloves
-1/4 t. cardamom
-1/8 t. nutmeg
-1 T. vanilla
-1/2 cup honey
Combine all ingredients in food processor until well-mixed but slightly chunky.
Cut the phyllo dough into 5 circles and layer with filling. Top with honey drizzle and chopped walnuts, serve with cream.
Coconut vanilla cream:
-1 C. coconut meat
-1/4 C. coconut butter
-2 T. agave
Blend all ingredients in Vita-Mix until smooth and fluffy.