I feel like besides cramming my brain full of as much information as possible, I haven't really done anything to actually get ready for the little nugget's arrival. I'm extremely superstitious, and this entire time I've been afraid to buy anything baby-related, or do too much to get ready, in case I jinxed it.
And then last night, I gave myself a reality check. I realized that if I kept this up, I'd have a ton of book knowledge ready to go, but before I knew it, I'd have a baby in my arms, no real-world learning experience and none of the necessary supplies to care for it. All of a sudden, I was super motivated to start researching baby items for our registry.
First, I tried to go about it the easy way. One of my best friends, Jeni, who had a baby last winter, extensively researched everything she registered for. We have basically the exact same style, too, so I figured when the time came, I would just use her registry to get ideas and go from there. Done and done. Except it's not online anymore, so I'm hoping she might have a copy saved somewhere.
After the Pilot got off work, I had cabin fever from being in the house most of the day, and thought it would be fun to look around at baby things. We were to a couple of stores [and I found so many amazing things that I love!] and I bit the bullet and we bought our first baby-related thing: a heartbeat listening thingamathing.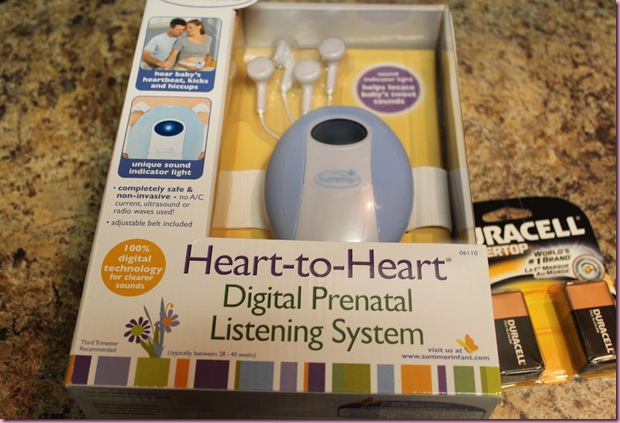 We got a little jipped on this one.
Actually, we didn't read the packaging very well. See those tiny words on the bottom left-hand corner? Third trimester recommended. I'm in the second trimester. Punks. I do have to say that laying on the couch, with the sensor strapped around my belly and trying to find the heartbeat with the Pilot was an incredible moment, though.
Another thing I accomplished on my "let's get ready" task list: registering for childbirth classes.
After researching various options, from experiences I've heard from other moms and per my doula's recommendation, the Pilot and I decided on the Bradley Method.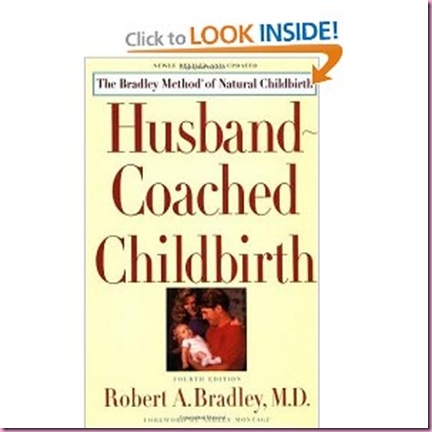 Here's some info from the website:
What is The Bradley Method®?
The Bradley Method® teaches natural childbirth and views birth as a natural process. It is our belief that most women with proper education, preparation, and the help of a loving and supportive coach can be taught to give birth naturally. The Bradley Method® is a system of natural labor techniques in which a woman and her coach play an active part. It is a simple method of increasing self-awareness, teaching a woman how to deal with the stress of labor by tuning in to her own body. The Bradley Method® encourages mothers to trust their bodies using natural breathing, relaxation, nutrition, exercise, and education.
How is The Bradley Method® Unique?

The Bradley Method® teaches couples ways to stay low risk. While occasionally there are risk factors out of your control, staying healthy and low risk can help to avoid complications. Low risk mothers have more choices.
Relaxation is the Key to The Bradley Method® during labor. It is the safest and most effective way to reduce unnecessary pain and to handle any pain that you do experience. While other methods seek to control the sensations of labor (emphasizing distraction as their Primary labor control technique), The Bradley Method® encourages mothers to trust their bodies (emphasizing relaxed abdominal breathing and relaxation throughout labor).
The term The Bradley Method® is a registered trademark to ensure you are getting quality childbirth education. All instructors of The Bradley Method® are highly trained to help you learn how to give birth.

What does The Bradley Method® Teach?

Natural childbirth – Nearly 90% of Bradley Method™ moms having vaginal births do so without pain medication.
Active participation by the husband as coach.
Excellent nutrition (the foundation of a healthy pregnancy and baby).
Avoidance of drugs during pregnancy, birth, and breastfeeding, unless absolutely necessary. No drug has been proven safe for an unborn baby.
Training: "Early Bird" classes followed by weekly classes starting in the 5th month and continuing until the birth.
Relaxation and NATURAL breathing – can be effective pain management techniques with training according to the National Institutes of Health.
"Tuning-in" to your own body and trusting the natural process.
Immediate and continuous contact with your new baby.
Breastfeeding, beginning at birth provides immunities and nutrition.
Consumerism and positive communications.
Parents taking responsibility for the safety of the birth place, procedures, attendants, and emergency back-up.
Parents being prepared for unexpected situations such as emergency childbirth and cesarean section.
What the Bradley Method is NOT:
[Bahahaa. I couldn't resist. Also, if you haven't seen the Backup Plan, it's pretty hilarious]
I'm really excited our classes, which are 12 weeks and during a time when Tom will be able to be there with me for all of them. I already spoke on the phone with one of the instructors (who is also a certified doula, midwife and mom of 3 Bradley method-born children, one of whom is about my age) and she was fantastic. I can't wait to meet her.
Through the Bradley Method, Tom will be acting as a labor coach, along with my midwife and doula. We'll be able to learn various techniques and positions to help me relax, and with the 3 people I'll have on my birth team, I feel really good about the entire process. Also, if anyone knows how to relax me, it's my husband. He is the most level-headed, calm under pressure person I've ever met.
I'll never forget the first *fight* we got into: I was in the kitchen switching the dishes into the dishwasher, yelling and clanking things around, and he said so calmly, "Come here, baby. Sit down and we'll figure it all out." Um, yeah. I still don't know what planet he came from, but that I'm very lucky.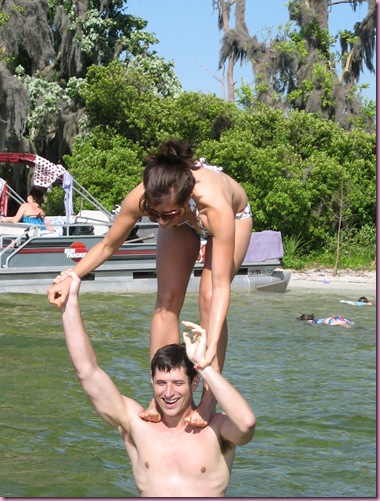 Have you taken any childbirth classes? What's the #1 most awesome baby registry item you know of? I'll be putting together a favorite things style wish list soon 🙂