Meg: Do or Don't: Self Tanning
I will openly admit that as a senior in high school I regularly tanned in a tanning bed. Thinking back on it, the month or so I spent fake-baking would never be worth some of the consequences we know result from those harmful UV rays. As a fair skinned and freckled girl, I should have known better. When I look at my prom pictures from that May in 2008, I laugh at how crispy brown I was. But as the sunny weather begins to creep up on Arizona in the next couple of months, I don't want to be stuck wearing jeans for fear my legs will blind the world! The safest/most practical solution I could come up with: self-tanning. 
I can honestly say I know next to nothing about self-tanning, so I did a little research and wound up on Cosmopolitan's website. Their magazine just happens to be a favorite of mine, so I figured they'd be a pretty credible source 🙂 Self-tanning is typically much more affordable than spray-tans. Not to mention, my last spray-tan left me a strange shade of Oompa-Loompa-Orange. Not cute.
In order to get a lovely spring glow in time for "shorts weather" I figure starting now gives us all time to try out a product or two and find something that works for each of us.
Here are three products that especially caught my eye. Their benefits vary, of course.
For a more natural product, Nature's Gate Glow lotion is a great choice. This will give you a fairly gradual glow. Nature's Gate is a lotion, and you would just apply daily as you would any other lotion. Again, this process is gradual, so if you wanted to go from pretty pasty to bronze goddess in one day, this is not your go-to. (All below photos borrowed from Google Images).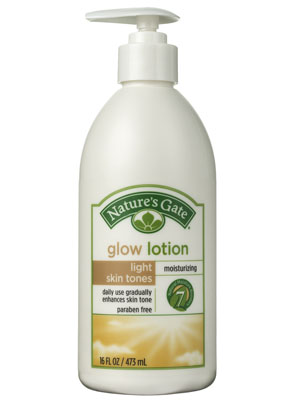 If you're looking for something more temporary and easy to wash off, Victoria's Secret Flawless Airbrush Beach Sexy spray is a great option. It's also only $12! It washes off easily with soapy water. One YouTube review said it leaves little to no residue on your hands. This sounds perfect if you only need a temporary glow.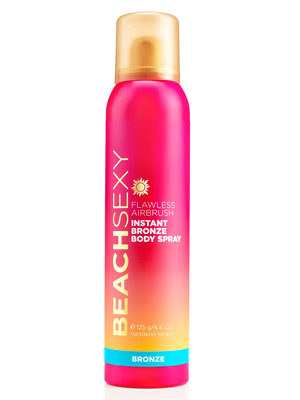 Lorac Self Tantalizer Body Bronzing gradual Self Tanner can be found at Sephora and is said to give you the perfect natural bronze look. A major up-side to this one would be the mitts it comes with. They help you to buff out the product leaving perfectly even! Pretty amazing.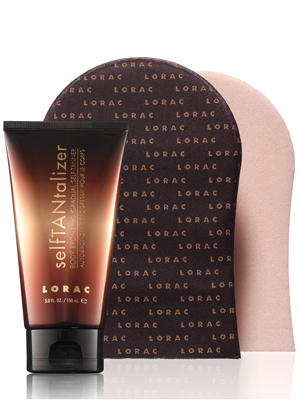 My favorite product recommendations ALWAYS come from your comments! So please, let me know what you've tried. What has worked/failed/kind of worked? Or should we scrap this idea and get a spray tan?
Life's tough decisions, eh? 😉
Xo-Meg