Yesterday morning, Michele texted me to see if Livi and I wanted to join her and Levi for a baby class. Miraculously, it worked out perfectly with both our babies' morning nap times, so we decided to go for it.. and I'm so glad we did.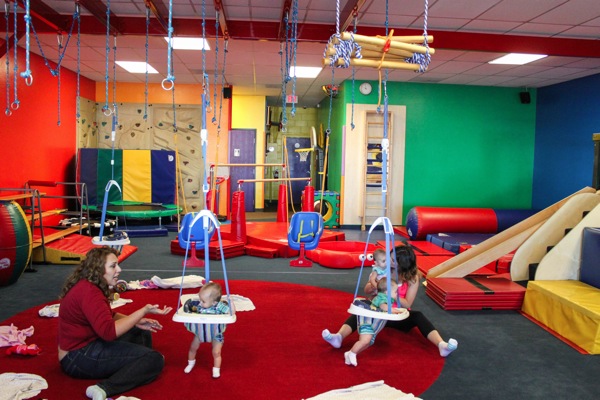 (there were two other babies + mamas in our class, too)
The class was held at My Gym, which is a small indoor play area for kids 6 weeks – 13 years.
It was pretty much the cutest thing I've ever seen.
For our class, we started with an introduction around the circle, a clapping song, a "warm-up" which included singing to the babies, tickling them, gently moving their arms and feet.
We did music time with a couple of songs- one was a "choo choo" song which involved dancing with the baby, and another one with the babies on our laps.
Next, we did activity time- the instructor and gym owner hung up jumparoos and swings from the ceiling so the babies could jump and swing, and she also gave us activities to do with each of our babies at home for their personal stages of development,
free play (we went in the ball pit)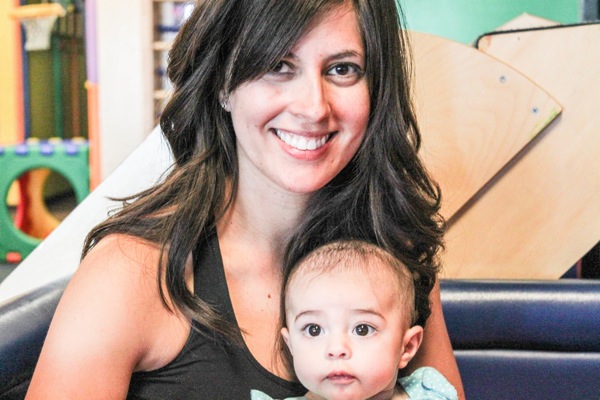 blew bubbles,
puppet time (a song that we clapped to while the instructor sang and danced with a bear puppet- creepy to me, awesome to everyone else)
and then good-bye.
At first, I wasn't quite sure how Livi or I would feel about it. I'm kind of a germaphobe and Livi is low key. She's a strong, smiley girl with a lot of energy (she kicks her feet and babbles like crazy- I love it), but at the same time, she's chill. She loves when I read to her and we sing and dance together, but I wasn't sure if the class would be stimulation overload.
She LOVED it. She giggled and smiled during each song, and the look on her face during the puppet time and when she first discovered the balls in the ball pit.. well, I'll never forget it – a mix of joy and bewilderment.
As far as my germ fear goes, I kind of got over it when we walked in the door. The place was immaculately clean and throughout the class, the owner was cleaning up as we went along. The instructor used hand sanitzer in between each baby when she went around to give us developmental exercises to do at home, and the owner also told me about the ball pit cleaning strategy. He said at least once a month, the entire ball pit is emptied out and the balls are scrubbed by hand. Obviously there are still germs (once a month isn't THAT often, especially with how many kids must go through there), but with how clean the entire place was, I was fine to get in the ball pit with Liv and play.
I really don't want to be chasing her around with sanitizing wipes when she's older and we go to the park or to Children's museum.. I don't want to be afraid to make mud pies or be exposed to a couple of germs (goodness knows the types she'll pick up when she goes to school). I just want to have fun with her, teach her good hand-washing habits, then give her a bath when we get home. After we got home from the morning of fun, she got a bath and took an awesome afternoon nap.
I think the book I'm about to finish, "Bringing Up Bebe" (another post for another day) greatly influenced this, but I couldn't help but think during the class that it must be something that's fairly unique to the American culture. The book indicates that it's not common for babies to take these types of classes and that you shouldn't "force" development upon them, that it will come naturally. I totally agree with that, but also think it's a great idea to expose Livi to different places and experiences. I think classes like this do have value besides the obvious motor skill development- the social value, like learning how to take turns, share and have fun with other kids is important, especially before she starts school.
If anything, it was a blast to play and be silly in a new environment with good friends like Michele and Levi (I'm hoping Kelly and Avery can come next week!). I also had the chance to meet and talk with other moms, which was a lot of fun. It was like playtime/social hour, and that's ok with me.
Have you taken your kids to anything similar? What's the first class you remember taking? 
This is totally crazy but my first tap teacher, when I was 3, could turn her head all the way around on her neck. In other words, she'd be dancing facing forward, and while she was dancing, turn her head around to face us to check how we were doing. It's been 24 years and I'm still traumatized, haha.