Munchkin meals (13 months)
I love reading these posts from other mamas because it helps me think of new snack and meal ideas for Oliv. Posting "munchkin meals" was popularized by Brittany, and you can read a great list of Munchkin Meals and link-ups on her blog. They usually occur the first Thursday of the month (so technically I'm early -or late?- to the party); feel free to join in and participate this next week if you'd like!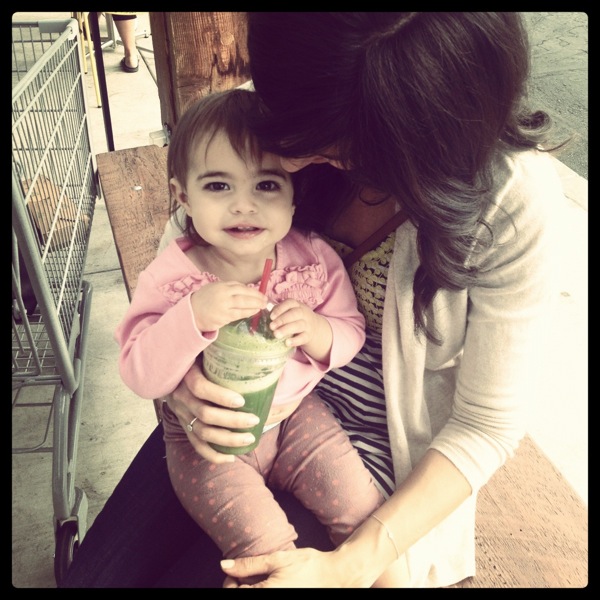 Liv and I will often share the same things, but it's always surprising to learn her food preferences. For example, she'll kill my green juice before I get to drink any, and I ordered a farm fresh juice which had more citrus and less greens and she hardly touched it. I love to watch the excitement (or rejection) when she tries something new. If it's truly delicious, she'll say "mmmmmm" while she's eating and if she's not a fan, Bell and Caro get the rejected pieces thrown their way.
Here are some of the meals and snacks she's been enjoying lately:
(right now she's just under 13 months)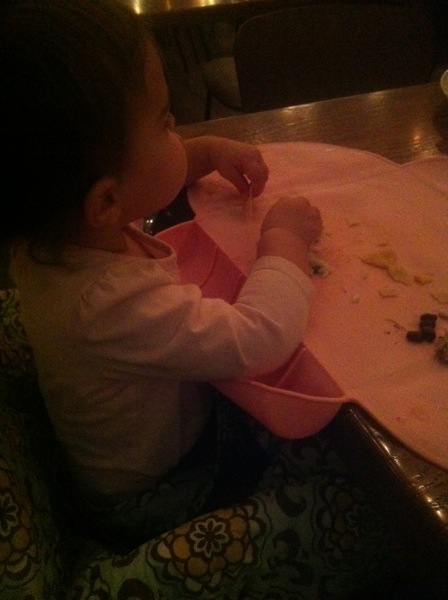 (eating fish taco, black beans, rice, chips with salsa and veggies last night at Blanco)
Breakfast:
-Fruit (banana, kiwi, berries, apple, pear, persimmon, melon, clementines…. whatever we have on hand)
-An egg
-Oatmeal, a yogurt (Stonyfield Farms Yo Baby or Yo Toddler) or pancake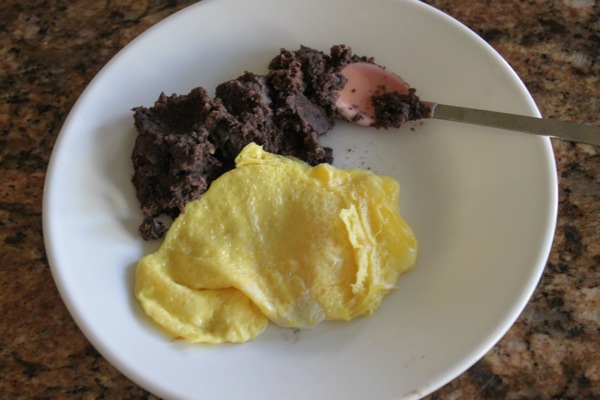 Lunch:
-Fruit and/or veggies (I try to mix up steamed veggies and raw, and will also do cooked fruit purees or raw)
-Leftovers from dinner the night before
-Yogurt if she hasn't had any yet, beans, chicken or fish
I tend to give her lots of different things on her tray and let her pick and choose: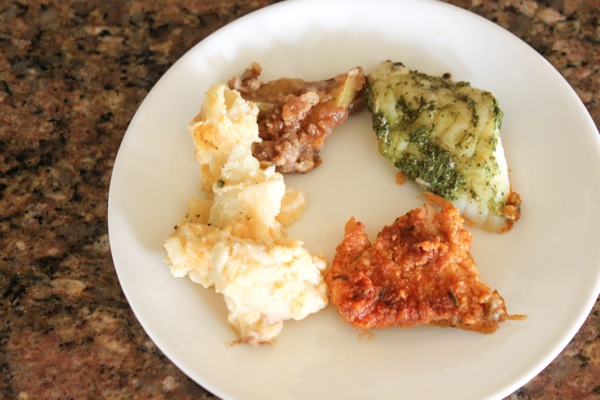 (Hot bar leftovers: mac n cheese, baked apple, turkey parmesan -her fave of the bunch-  and grilled cilantro fish + some veggie soup, bites of my salad)
Dinner:
Whatever we're eating 🙂 If I'm going to heavily season or salt something, I keep her serving on the side and make it a little more plain, even though she seems to enjoy some herbs and spices.
Some of her favorites are pizza, salmon, turkey burgers, anything with marinara sauce, chicken (depending on how it's flavored), sweet potatoes, bites of raw salad (only if it has good dressing),  enchiladas, Indian food.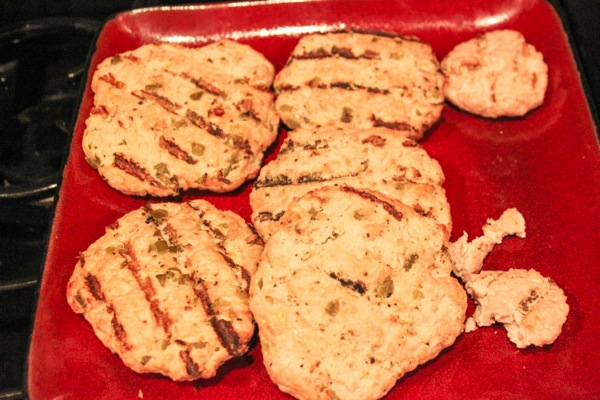 Snacks:
-Juices. We've been having at least one fresh juice everyday for the past few weeks, just because I realized how much she enjoys them and it's an easy way to get in awesome nutrients and fruit/veggie servings. At home I'll usually make her carrot-apple (carrot-apple-beet-ginger for me) and when we go to Whole Foods, she likes the Green Gitty Up with lemon (cucumber, kale, apple, and parsley)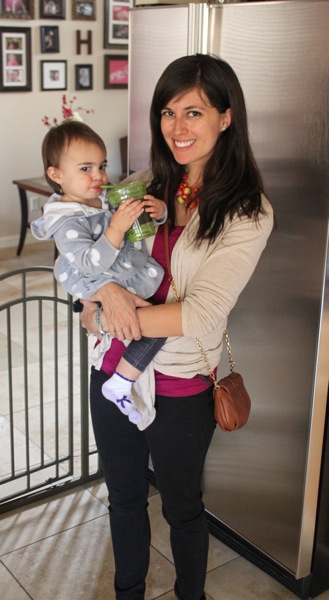 -Fruit (she can eat a whole banana!), yogurt drops, Annie's cheddar bunnies, Snap crisps, homemade oat bars, Little Ducks, turkey lentil muffin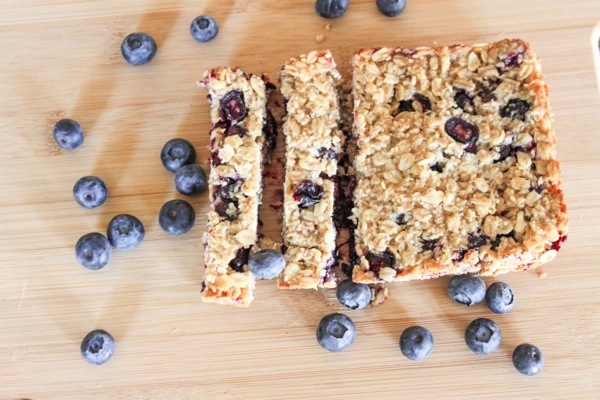 The only thing she seems to dislike for the most part: noodles. She'll eat the macaroni and cheese from the hot bar sometimes, but the rest of the time, she'll cram about 4 noodles into her mouth, suck off the cheesy sauce and then spit them out. She also despises wearing a bib now and will immediately detach the velcro and throw it on the floor. Lucky for us, she's a pretty neat eater.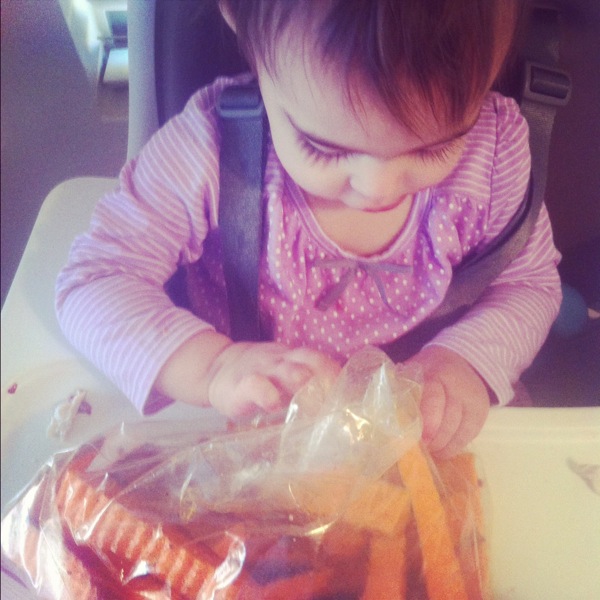 (Helping me make dinner. I put the sweet potatoes and seasonings in a bag and let her mash them around)
New developments:
-We started giving Liv cow's milk this past week. As you guys know, I was on the fence about it since Tom and I both drink almond milk instead. (You can read more about why I avoid dairy here.) I researched some alternative options, like hemp milk, but wasn't particularly happy with the nutrition stats or ingredients for something to be consumed on a daily basis. Many hemp milks contain an ingredient called carrageenan, which is a red seaweed derivative and at first sounds fairly harmless. You can read about some of the effects of carrageenan here, but in the end, I decided I wasn't comfortable giving that to Liv. I'm happy with our decision as the milk we purchase contains 3 ingredients: organic whole milk, DHA and Vitamin Ds. Please don't let our choice persuade you, as its important to thoroughly research available options and make the best decision for your family, but I wanted to share our decision since a few people have asked about it. 
We give Livi milk in the morning and late afternoon, or if she happens to ask for it. When she does drink the milk, she seems to enjoy it, but then again, anything has to taste better than the stinky formula she drank for the past year. (If you've never smelled formula before, I can't say I recommend it. It also makes a horrible accidental coffee creamer.)
 Any fun munchkin meal ideas? I recently got some sunflower seed butter for her to try, so we might have some sunflower butter and jelly sandwiches this week!