This is the part of the post where I would sing the praises of the little angel in my life, talk about how smart and lovely she is, and entirely coat my blog in the same maple syrupy ooze of love my heart is coated in. I feel like whenever I try to write about how well she's doing and how crazy I am about her, words fail me. (That could also do with last night's teething party, but you know.) I'm sure many of my parent friends out there feel the same way; you know what I mean, even though there aren't really words to express it, and words would almost cheapen the inherent emotions.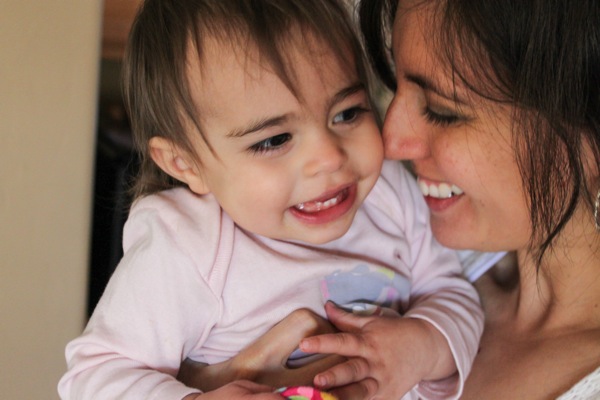 So I'll just cut to the chase of this post:
my baby kisses everyone.
Ok, so not really everyone, but about 99.7% of the people she meets, if she likes them.
The interaction goes like this:
"HIIII!"
[She waves]
I see the wheels turning in her head:
Should I kiss them? Ok, yes I should.
[She then leans in for the big smacker, which is often right on the lips.]
I'm not really sure what I should do.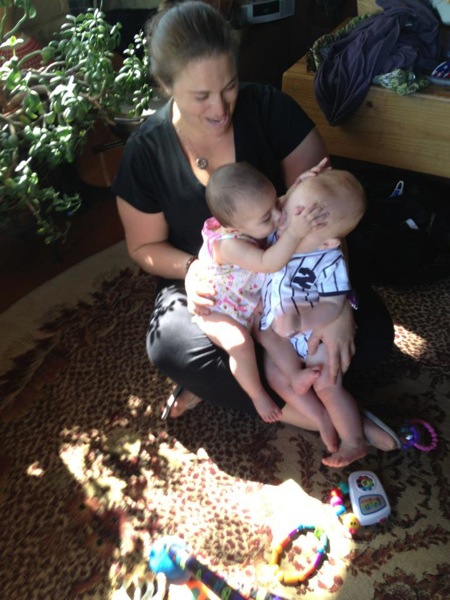 (#proof: kissing her buddy Mason when she was 6 months old. Ps. Hi Lis!)
Of course, I wouldn't mind being kissed by a baby, but I'm not sure everyone out there feels the same way. And then there's the germ thing. How would I feel if another baby kissed Liv on the mouth? (This hasn't really happened yet, but I'm thinking it would be something like, "Oh how cute!….Ew.")
I think she picked this up because it's a cultural thing with my family. We hug everyone we know, often with a kiss on the cheek (especially family members). Liv hugs and loves on her baby dolls -she takes great care of them- but I'm not really sure how to teach her that we can't kiss everyone.. especially on the mouth.
What would you do?
We were thinking about telling her,"You have to ask before you kiss" or something to that effect?
Even though I know she has to learn how to show affection differently to different types of people (hugs and kisses to family members, high fives or handshakes to new acquaintances), it makes me sad to think that we have to teach her to not always kiss. It's the same kind of feeling where your baby waves and says, "Hi!" to someone and they don't wave back.
As always, I'd love to hear any tips or similar experiences <3
xoxo
Gina
Random: Liv is also at a phase where she calls any man who remotely looks like Tom "Da-da." Equally funny and awkward.