Hi! How's the morning going?? Any fun plans tonight? I have a couple of barre classes later, and am excited to make cookies with Liv for cookie decorating tomorrow.
In addition to the fitness questions I get for the blog, I also get a ton of makeup and hair product questions. Since my faves have changed over time, I thought I'd post an updated list. I always love reading posts like this to get new ideas of things to try (and some of my all-time favorite products were recommended by friends). I hope you enjoy the little roundup, and I'd love to hear your faves in the comments!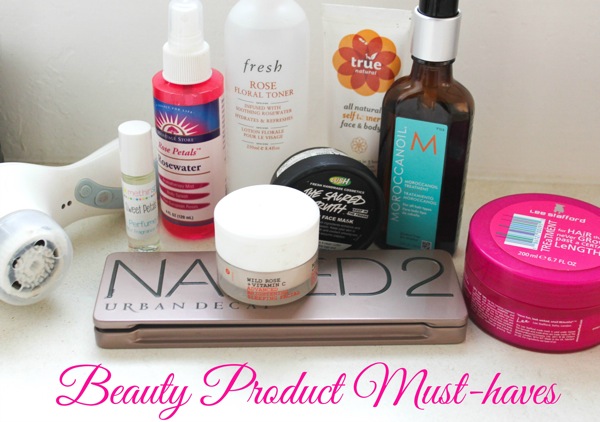 –Fresh toner. I like plain rosewater during the day, but this toner helps to clean and brighten my skin. Even after washing my face, I use this toner and am always surprised by the makeup it helps to remove. It's gentle and smells glorious.
–For hair that doesn't grow past a certain length. Julie first told me about this hair product about 6 months ago, and I've been hooked ever since! It really does work, but you have to continue to use it. It helped my hair grow out after I cut it short (and regretted it about 10 minutes post-chop) and has helped to keep my hair healthy as it continues to grow. It works like a deep conditioner: you put in an egg-sized amount after shampooing, leave it in for 5 minutes, rinse, use conditioner, rinse, and you're done. It smells great and makes my hair feel super soft. I'll usually get it from Amazon, but Ulta had a buy one, get one 50% off sale Black Friday weekend, so I stocked up on a few.
-The diva cup. This is quite a personal product to add in here, but it really was a lifechanger. Caitlin wrote an informational post about it if you want more info! I've been buying my feminine products at Whole Foods (because they have the non-bleach options) for the past few years, but became more aware of my environmental footprint over time. I decided to give the diva cup a whirl about a year ago, and while there is a bit of a learning curve, once you get the hang of it, it's awesome.
–Rosewater. I almost always have a bottle in my purse, or this refreshing rose facial spray. It's great for brightening skin, and the scent is so energizing. Every time I close my eyes and spray my face, I get a little moment of "spa" even if the world around is a little crazy. 😉
–Somethin' Special body butter and fragrance oil. I can't gush over these enough. The sweet petals fragrance smells EXACTLY like my beloved Rose Jam shower gel from LUSH, and I love that Sue doesn't use any creepy ingredients. They're handmade with love, and so many wonderful scents to choose from.
–Anastasia Brow kit. When I started to fill in my eyebrows a little, I was surprised to see the impact. I am totally guilty of over-tweezing back in the day, and realized that full brows help to frame the face and also give a more youthful look (which is always appreciated haha). I get my brows done here at the Anastasia Salon, and while it's a little pricey, I think it's worth it. They measure your brow angles, wax according to your face's shape + teach you how to fill them in with this shadow. I use the wax pencil, some powder, and finish with clear gel. Even on the days I don't wear makeup, I feel more put-together if my brows are done.
–Moroccan oil. I've been a huge fan of Moroccan oil for a couple of years now. I have a wild lion's mane of hair, which takes forever to dry. The oil helps to smooth is out and decreases drying time. We also use it on Liv's hair and, knock on wood, have never had to deal with tangles.
–Yes To CC cream. I love that this CC cream is light, lightly tinted, and also has SPF. My skin breaks out easily from foundation and powders, and I've found that by using this CC cream, I can even out with skin tone without causing breakouts.
–This natural tanner. I had been looking for a more natural self-tanning option, and this one fit the bill perfectly. It doesn't streak and is a lovely brown shade; no Oompa Loompas.
–The Naked 2 Palette. I knew I wanted a Naked palette, but took a while to figure out which one would be the most versatile. In the end, I decided on the Naked 2 palette because I found the original to be too dark, and the third version to be too pink for my skin tone. I definitely recommend hitting up Sephora or Ulta to check out some of the colors before you decide! For the past year, I've used this eyeshadow palette pretty much on a daily basis.
–This night cream. It smells GLORIOUS (like roses) and is gentle on my skin. I like to rotate out my skin care products, and always make my way back to this one.
-Coconut oil. When I transitioned to using coconut oil as a beauty product (in addition to a baby product!), it changed my life. I like it as a lip gloss and used it on my stomach post-baby to help with stretch marks.
–The Clarisonic. I can see a difference in my skin tone when I use the Clarisonic to exfoliate. The bummer is that after a long life, mine died! The battery won't hold a charge anymore. 🙁 I asked Santa for a new one.
Are there any beauty (or health!) products that have changed the game for you?? See ya later today with an Orangetheory-inspired workout and a new recipe.
xoxo
Gina
*Affilate links are included above. They do not impact purchase price, and allow me to earn a small commission. Thank you so much for supporting this little blog <3