It's funny because you never know what you'll really need (and what you don't) until the baby is here, and going to the store is a little more of a challenge.
Even though we can comfortably venture into public now,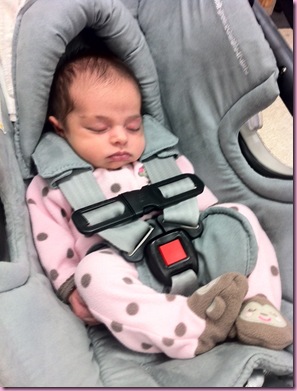 I was very thankful for my Amazon Prime membership in the first couple of weeks 😉 We did a pretty good job stocking up before Livi made her arrival, and also found out that we weren't huge fans of some things, and other things (like burp cloths) ended up being totally forgotten… until we needed them.
Here are some of our favorite things from the past 3 weeks:
We even took a couple of these with us to the hospital: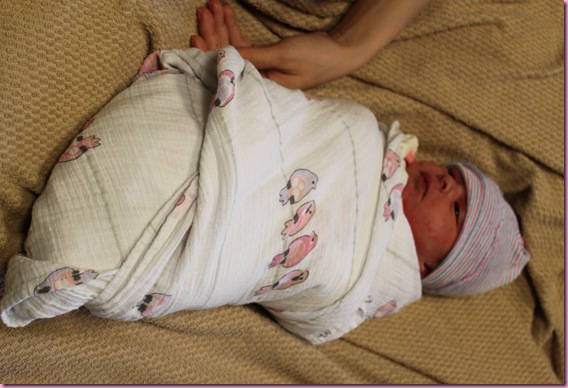 Liv quickly decided that she doesn't like being swaddled at her arms –she likes to have her hands by her face- so we'll swaddle her legs like a little burrito using these blankets. I love how lightweight the fabric is –especially since it isn't very chilly here- and use these all the time.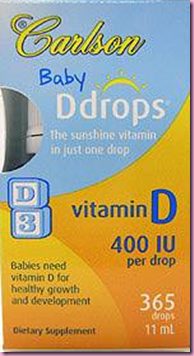 Breast milk is naturally lacking in vitamin D, so our pediatrician recommends adding drops to the baby's diet (formula has plenty vitamin D, but we haven't needed to supplement for the past 4 days- fenugreek and blessed thistle, pumping, emphasis on healthy fat, and staying well-hydrated has worked wonders). These are the ones I picked up- I really like the fact that one drop is all you need (vs an entire CC from the other brands) and it doesn't contain sugar or artificial flavorings.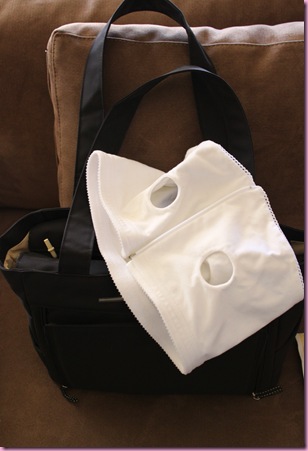 While it's kind of a pain to sterilize everything each time I pump (these bags make it much easier, though), it was a godsend in helping bring my supply up, and for pumping the right side when Livi was avoiding it like the plague. I'll be especially thankful for this pump when I go back to work and can have lots of pumped milk in the freezer ready to go.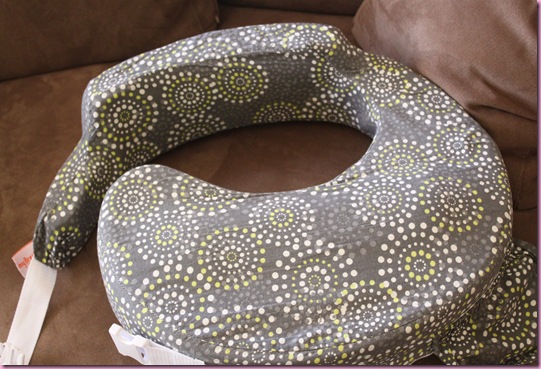 I wrote more about it *here*, but this pillow helped with our positioning and latching woes. I'm also using the Boppy again now at night since Livi is bigger doesn't fall into the middle as easily.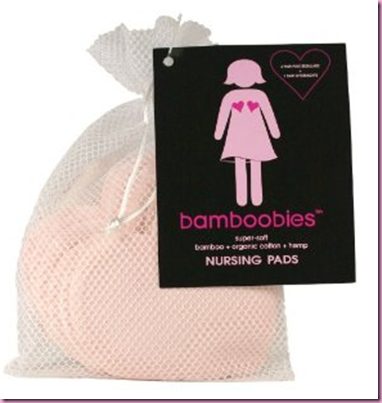 My friend Kelly introduced me to these and they are AWESOME… like a hug for the girls when they're sore. I also like the fact that they're heart-shaped, which is super cute when you feel a little less-than-cute. They come with a pair of overnight pads, too, which are also extremely soft, but I don't like them as much since they have a tendency to get stuck on things (ouch).
Snacks!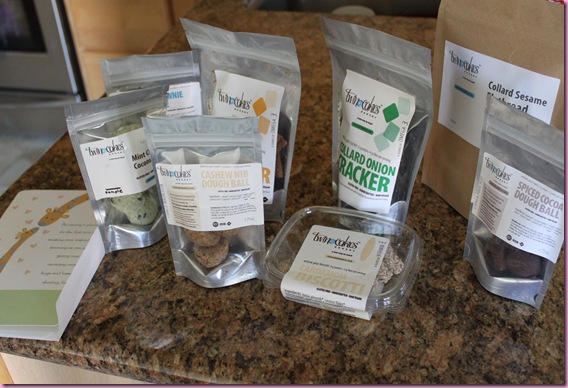 While breastfeeding, you need more calories and nutrients, and I can definitely tell from my increased appetite- I'm snacking more often than when I was pregnant. After each feeding session, I chug a glass of water and grab something to eat. Leftovers from baby meals in the fridge, grab-and-go snacks on hand, or meals I can make very quickly to enjoy during the day have been amazing during this exhausted trying-to-figure-things-out time. Some of my favorite staples: yogurt with 3-4 tablespoons of hempseeds and fruit, omelets with goat cheese and veggies, oatmeal with Brewer's yeast and almond butter, a mug of cereal or soup, wraps or sandwiches with mustard, mayo and organic deli meat, Vega and Larabars, oaties (they're almost gone, and I can't wait to make some), and lots of chocolate 😉
California Baby products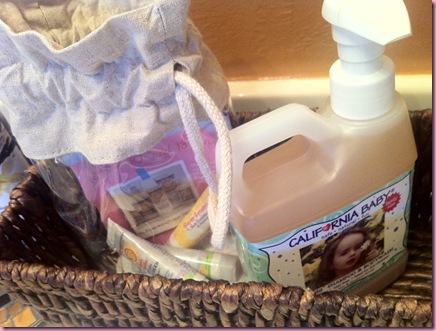 Giving Livi her pre-bedtime bath is one of my favorite things ever. She LOVES the water and her Puj tub, and we use the California Baby products. After her bath, I'll give her a massage with the lotion, and she just lays there staring up at me… so sweet. The ingredients in these products are amazing, they sell them at Target, and don't irritate her baby skin.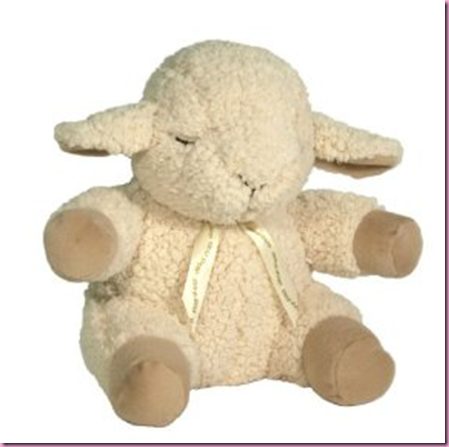 It has a clip and is attached to the outside of her basinet. There are 4 different sounds to choose from, and it's a perfect portable white noise machine. She can actually tell when it stops playing –it has a timer- and starts to stir, so I'll quickly reach over to turn it back on.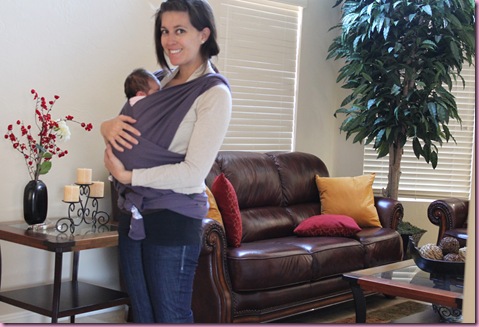 I absolutely love carrying her around in the Moby wrap. The amount of fabric is a little intimidating, but after watching a couple of YouTube videos, it was very easy to figure out. When we went to the birthday party on Saturday, I wore her in the Moby for the first half of it while she snoozed, until she woke up, needed a snack and a fresh diaper, and was awake and ready to be social. During the day at home, I'll wear her in the Moby and tell her about different things and rooms in the house, make a snack or dance with her, and she'll eventually fall asleep.
We also have an Ergo with an infant insert, and while I haven't used it, Tom is a big fan. Livi has so much fun walking around with her Daddy <3
Bouncy seat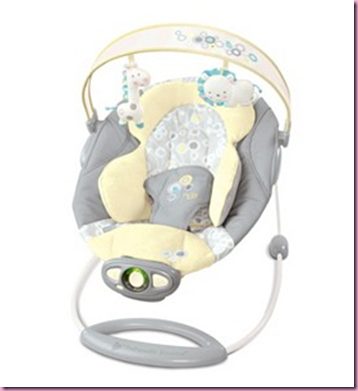 We have this bouncer seat and the matching swing- she adores both of them. They play music and nature sounds, and gently bounce to mimic natural movement. I don't really like putting her in the swing or bouncy because I'd rather hold her, but it's a good option for when I need to place her somewhere for a second (like to brush my teeth or go to the bathroom) and know she'll be safely strapped in.
Zip-ups and nighties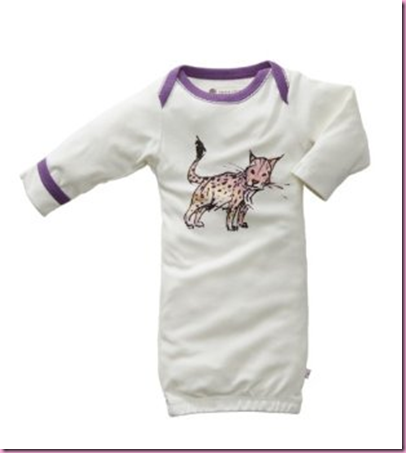 We have quite a few of the sleepers from Baby Soy- nighties are so much easier to deal with for middle-of-the-night diaper changes. Same goes for zip-up footed PJs (Carters has some cute ones), because lots of buttons in the dark makes for a difficult diaper change.
Speaking of diaper changes, this thing gets a lot of use: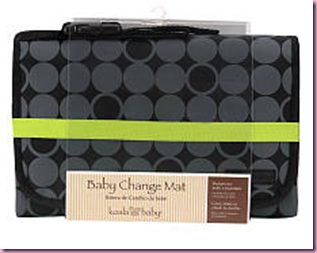 This baby change mat stashes easily in the diaper bag and works perfectly to cover public changing tables, or for backseat changes.
Total Baby App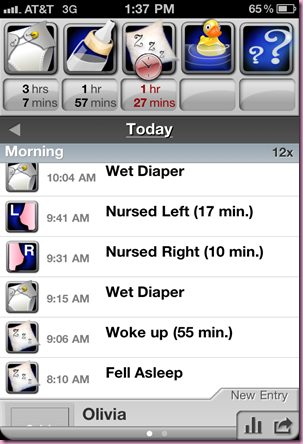 I'm so glad you guys told me about this one, since we were originally tracking everything with pen and paper. It makes it so much easier to keep track of her doctor visits, bath times, naps, diapers and feeding.
So those are some of our favorite things from the first few weeks! This week I'm looking forward to bringing out her activity center to see how she likes it.
I also might bite the bullet and get a Hooter Hider….
What are some of your new mom must-haves?