Thank you SO much for all of your awesome feedback on our baby registry. I'm going to make some changes per your recommendations – you're amazing. I just feel so thankful to be sharing this with all of you because I know so many of you are moms and know what's up –I appreciate your tips so much!- or yet-to-be moms and friends who have offered much-needed support. <3 <3 It's funny because I was apprehensive about creating the family page, and it's ended up being one of my favorite parts of the little blog.
I received a few questions about what our baby nursery looks so far, so I thought I'd post a couple of scary pics. We really haven't done anything yet.
Our nursery: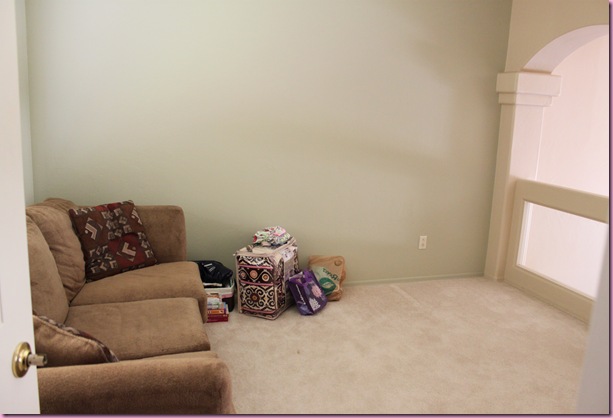 It's going to be super convenient because it's attached to the master bedroom. This way, little nugette will be close to us, but not too close. [I've heard that if they're in the same room with you, every sound will wake you up]
I also enjoy the fact that it doesn't feel confined. I'll be spending a lot of time in there, so it's nice and open and we'll be able to see the living room from up there.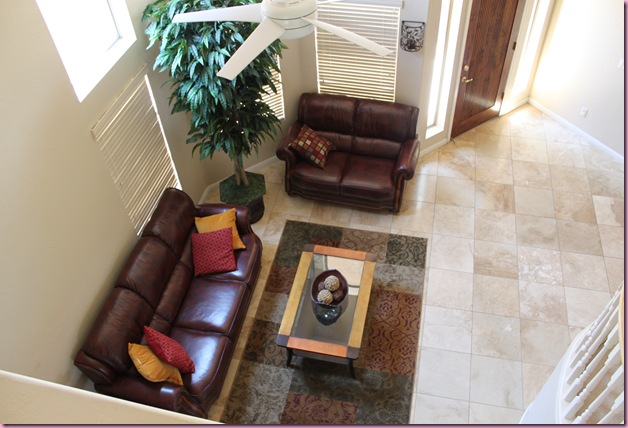 [That pic made me realize I'd like a new ceiling fan. Haha]
Nugette's room: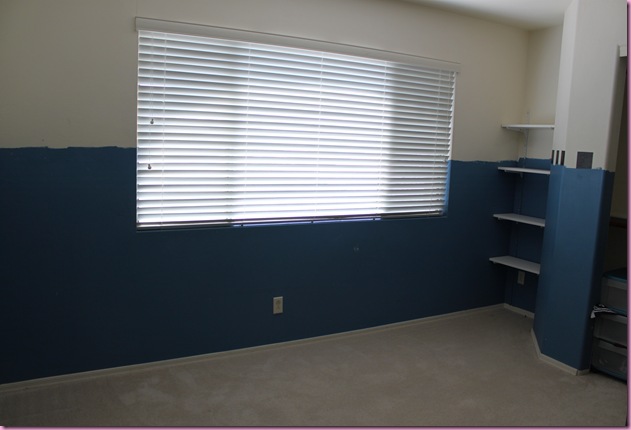 *shudders*
The people who lived here before us had 4 kids- this was the little boy's room. It had train tracks and race cars all over. Needless to say, we have a paint job to do 😉 I think after the Pilot's last project, he's willing to hire someone for this one 😉 It's pretty sizeable for a kid's room and I can already tell the shelves will come in handy.
Part of me wants to wait it out until she's here to decorate her actual room, since her room will be the nursery for quite a while, and the other part is thinking that we should get as much done as possible now.
Also, I'm trying to figure out whether we should get a crib that converts to a bed, or just get a regular crib because ideally (and god-willing) we'd like to have at least one more little one.
Here are the books I've been reading that my friend Jeni sent. [She's an angel. The top book was lent to me from my cousin]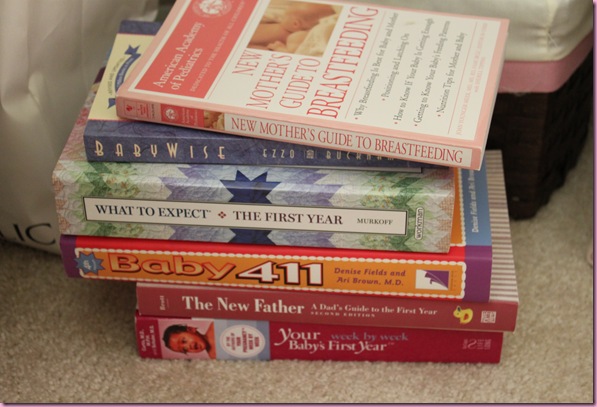 I finished Babywise (which I wrote a little about *here), have skimmed the others, but have *really* started reading Baby 411 and the New Mother's Guide to Breastfeeding.
Baby 411 is AWESOME. It has everything in there that you could ever want to to know. It answered a lot of my questions about baby care (cord care, when to swaddle, feeding) and can already tell it will be our go-to reference book when the baby is here.
New Mother's Guide to Breastfeeding has been helpful because it's something I knew NOTHING about. It's cleared up a lot of areas and while I won't know what works for our little family until she gets here, it's helping me to have as much info as possible.
I'm definitely a book girl when it comes to things like this. I like to study and flood my brain with everything I can, take what I need from it and leave the rest. When the time comes, it will also be nice to have different options and information to refer to.
Every time I feel her kick (which is many times during the day now, I love it so much), I just want to meet her so badly. It's hard to be patient, but I definitely want her to cook away and come out healthy 😉
Things I can already tell she likes:
-Bread (this is not an Atkins baby. Every time I eat carbs, she goes crazy)
-Chocolate (a girl after my own heart)
-Smoothies
-Chicken. I don't even like chicken that much, but baby does. A lot.
-Salads (after yesterday's salad beast, I had to recline on the couch and feel her move around because it felt like she was doing flips)
-PIZZA 🙂
Tom can actually feel her kick now, too, which is awesome.. proof that there's a real little person in there. Last night (after eating a huge kale salad, which she went nuts over), we were laying in bed and he had my hand on my stomach. She was kicking and fluttering about and then there was a huge, unmistakable kick. The biggest I've felt. He said it gave him the chills <3