I love this week's Focus On topic because TurboFire is one of my workout staples. They're designed well, fun, the music is fab, and I burn a crazy amount of calories in a shorter amount of time. I love the fact that HIIT (High Intensity Interval Training) training is utilized and Chalene Johnson is pretty much amazing.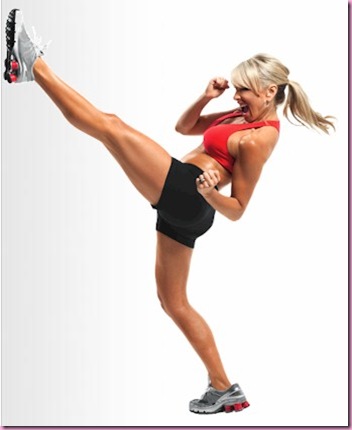 Best part: it's a DVD set, so they're extremely easy to travel with. I've done many TurboFire hotel workouts in the past year 🙂
What is it: A Beachbody DVD set featuring Chalene Johnson (creator of TurboJam and ChaLEAN Extreme) as the instructor. She designed the workouts and mixed the music so that it corresponds perfectly to the choreography. The workouts are a combination of kickboxing with some dance moves thrown in there (think "punch, punch, shake it"), HIIT drills, a core workout, stretch workouts and a strength workout using resistance bands.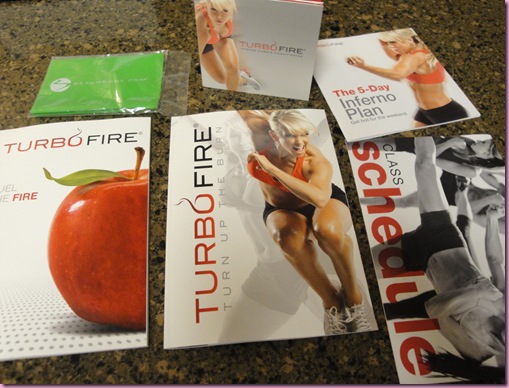 There are workouts in the set, along with a lifestyle nutrition plan, resistance ribbon, 5 day Inferno plan, and class schedule. I recommend following the class schedule for these workouts, to prevent yourself from doing too much HIIT on consecutive days. [For myself, I'll do a HIIT DVD on a HIIT training day, an EZ DVD for a steady state day and a Fire DVD for an even more intense cardio day]
What to expect:
-To have an amazing time. The workouts are extremely fun and Chalene is so motivating – I want to hang out with her 🙂 The workouts are always over quickly, even though I've been doing them for over a year and know what to expect.
-To SWEAT. I'll wear my heart rate monitor during the workouts and these workouts keep my heart rate at a great fitness range for a consistent amount of time.
What to wear:
-Anything – chances are that you're working out at home 😉 A tank or sports bra with shorts is perfect, and make sure to wear shoes that will stabilize your feet and ankles for the kicking and lateral movements.
Pros:
-The music. The music (and instructor) truly make this workout set what it is. She didn't pick trendy at-the-moment songs (so you aren't already sick of hearing them), but rather high-energy remixes of songs you already know. I also love the option of watching the DVDs with the music "Fired Up" so all you can hear is the music, since I've memorized what Chalene is going to say. Insanity was another Beachbody program that I loved, but the music was so lame and dinky.
-The group fitness atmosphere. I thrive taking group classes and this was filmed in a group setting – you'll feel like you're part of the class.
-Suitable for all levels. For every.single.workout and part of choreography, there is a modification. Allie is the girl to watch, and has made it possible for me continue to use the DVDs throughout my pregnancy. She keeps the intensity up, but offers low impact modifications, so you can still get in a safe, but effective workout if you have knee concerns or anything else going on. Also, the HIIT workouts are intense, but anyone can do them (and modify if necessary)- you can go crazy if you want to, or take it back a little, it really is easy to customize and make it your own.
-The instructor. Like I said before, I kind of have a girl crush on Chalene. She explains everything extremely well, keeps it upbeat and fun without being annoying, and you can tell that she knows her ish. I also love the little chats she throws in the workouts during the cool downs.
-Focus on crosstraining. Quite a few workout DVDs will have a strength and/or fitness component and that's it. This set really does include everything you need for a balanced workout routine (strength, cardio with varying intensities, core work, and flexibility).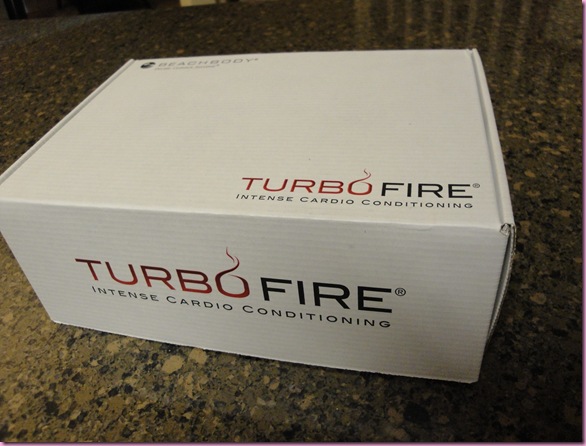 Cons:
-Picking up the choreography. I've danced for my entire life and taught fitness for a few years, but I'm a dancer, not a puncher 😉 The intro video explains the difference types of punches and proper form for the kicks, which helped a LOT, but it still took a sec for me to figure out.
For the longer workouts, there's a "New to Class" option, where she'll break down the combos slowly before continuing with the workout. This is helpful because once you learn it slowly, chances are that you will remember it next time.
Have you tried TurboFire or any of the other Beachbody DVDs before? Do you enjoy at-home DVDs or would you rather take a class? I've done Insanity (you can read my review *here*) and TurboFire, but would love to try ChaLEAN Extreme or Insanity Asylum in the future.
A vintage video from the first night I tried TurboFire:
Maybe I'll make a new one with my baby belly 😉