Penelope is 2 months old!
Hi time, where did you go?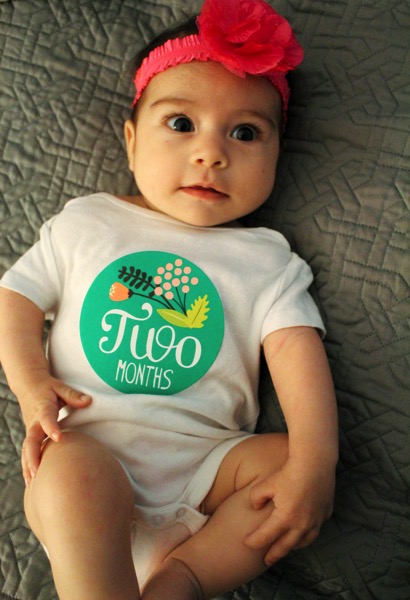 It's hard to believe that that what was once a tiny, snuggly squish has already emerged into her own person, with a distinct personality, smiles for days (!), and is so much fun to have around.
Here's what's happening at 2 months:
–The reflux is becoming more manageable. She's spitting up more than ever (so we'll be heading back for another weight check), but she doesn't seem to be in nearly as much pain. The laundry is no big deal; it just makes me happy to see what she's not crying as much with the reflux, and seems to be much happier all in all. Now if we could find a way for the food to stay down, it would be wins all around.
-She likes holding her head up -she'll push away to look at everything she can possibly see- and is getting control of her limbs. Instead of flailing her little arms about, she brings them to her mouth, clasps them together to play with her fingers, and can hold her Oball and rattle.
-Her baby coos are incredible. She's already very good at making conversation… and I am currently the goo-goo ga ga queen. It makes me laugh because Liv mimics everything I say to her, so Liv will get up in her face with the most ridiculous smile and high-pitched voice. I just can't help myself.
-She got her first set of shots last week, and no matter how many times you see it, it is heartbreaking to watch your baby get a shot. She was lying on the table kicking her feet, smiling and cooing at the nurse, who promptly injected her in the thigh. P's face turned bright red, and she cried so, so much. It was heartbreaking.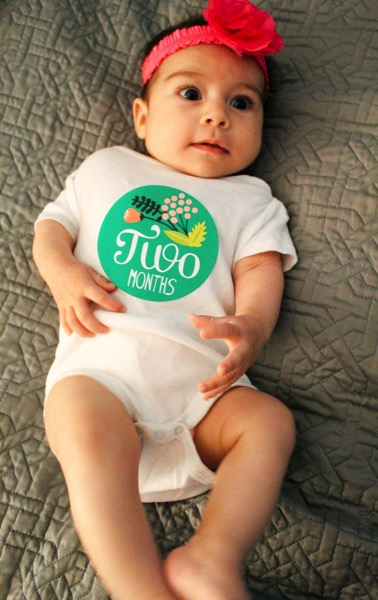 -I have no idea how to do tummy time with a reflux baby, because when we try, it turns into a spit-up festival. She's held often, so her head isn't flat, but I'd love some ideas to help her with head and arm strength without direct pressure on her tummy.
-Since we're starting to get into a groove a little with her routine (we do the EASY method in the Baby Whisperer books as we did with Liv), it will be fun to start planning more outings and adventures! It would be fun to do a baby music class, similar to the MyGym classes we did with Liv.
Likes:
Bath time!
Getting her hair brushed
When I rub her little eyebrows before bed (she closes her eyes until she crashes)
Anytime big sis is around
Reading books
Dislikes:
Cold
The carseat (still)
When I sneeze (understandable. My sneezes are frightening haha)
We love you, Miss P. Keep growing, little love bug.
xoxo