Penelope's Minnie Mouse Themed First Birthday Party
Hi friends. How's the week going? Happy humpday to ya! I'm already looking forward to the weekend, especially considering the lack of naps we've had around here. I'm convinced it's just an off-week from all of the festivities of lately. (We can only hope.)
I'm so excited to share today's post with some pics from Penelope's first birthday party this past weekend. It was such a special day, and an opportunity to celebrate this lovebug who has brought us so much love and joy in the past year. Our newborn phase brought some additional challenges, but I feel like it made us stronger parents, and gave me newfound appreciation for all of the *good.* These girls are everything I could wish for, and more amazing that I could have imagined.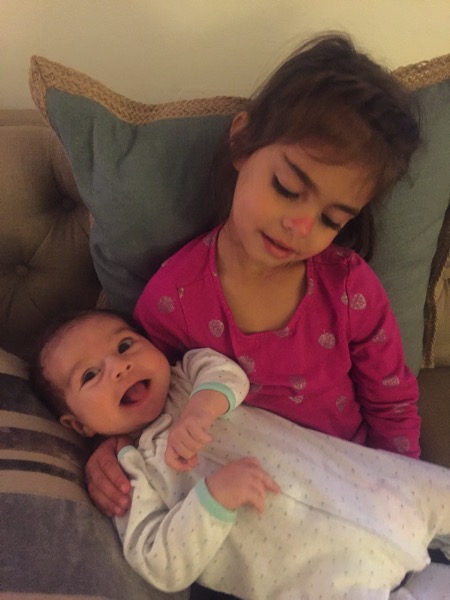 (P was only a month and a half in that photo!)
I was trying to brainstorm ideas for her party, since most of our family is in Tucson. I figured the logistics of traveling out there for her party would be tricky, especially since we'll be there for Thanksgiving and have the big move on the horizon. Instead, I decided to throw a low-key party here in town (which I kept adding to as I got more excited), and invite our San Diego friends + their kiddos. It was like a birthday/almost-farewell party, and a great chance to get everyone together.
For the theme, I knew it had to be Minnie Mouse because P is obsessed with the "Hot Dog" song.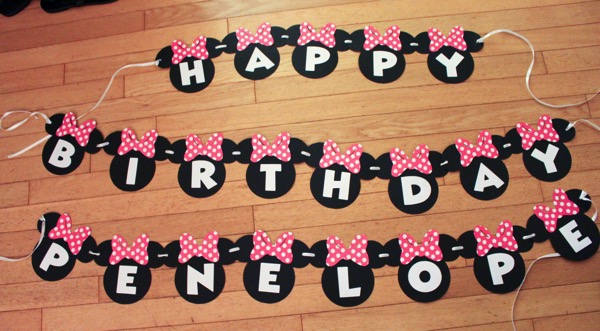 How is it that kids LOVE that song? I'm convinced that science was involved.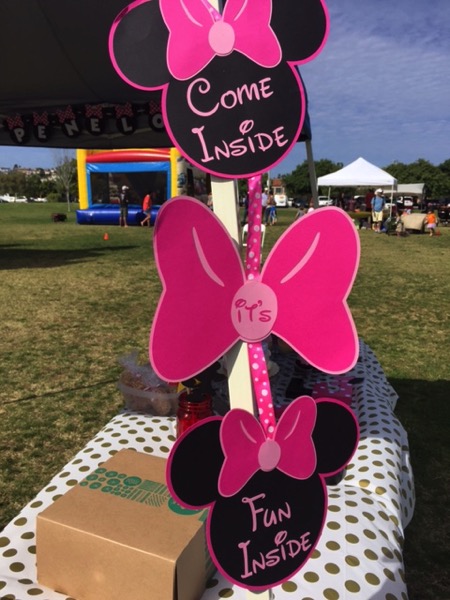 (PS anything crafty you see was ordered from Etsy. I'll link to everything at the end of this post.)
The best part: mom and nana made the drive from Tucson to spend the weekend with us!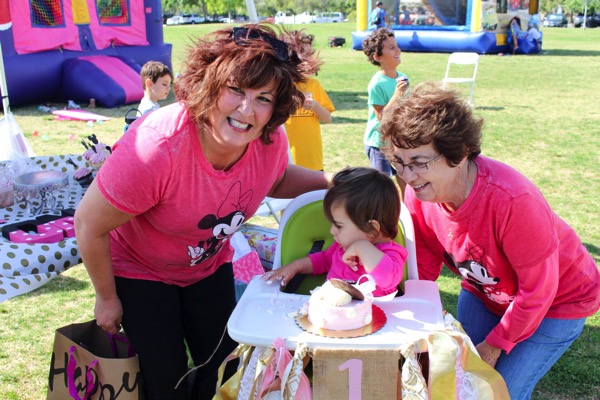 The girls were in heaven to see their nanas, and of course, we loved having them here, too. The 4 of them were constantly giggling together, and in the morning, we'd have "pajama party" in Livi's room.
Friday night, mom and nana were my partners in crime for the last-minute Target and Party City run. We were quite a sight filling the Target cart -I always joke that they come all the way to San Diego and we always end up at Target haha- and nana was in the backseat with all of the balloons after we ran to Party City. We laughed pretty hard at that one.
Friday night, they helped me pack up treat bags (Mickey and Minnie mouse bags filled with bubbles, Play Doh and small toys), and I made some cake batter Mickey Mouse-shaped rice crispy treats to have as favors.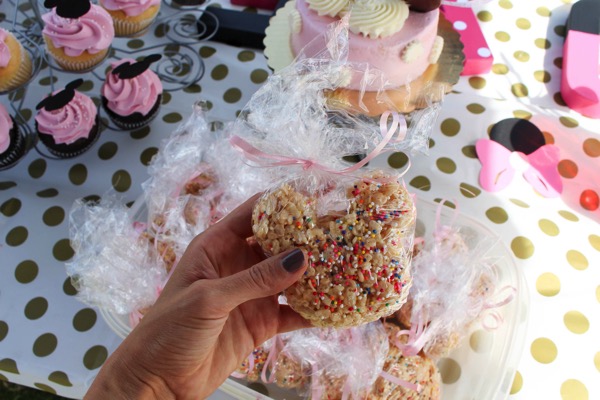 (Pro tip for rice crispy treats: add 1/3 cup yellow cake mix to the butter/marshmallow mixture before you stir in the rice crispies. Add rainbow sprinkles just before you gently press into the pans. To cut them, I used a Mickey Mouse pancake cutter-thing <— technical term and my hands, covered in cooking spray.)
Saturday morning, the Pilot headed out to grab our spot at Liberty Station NTC park -5 other parties were happening that day- and I went to pick up the last-minute supplies + cakes.
Here's what our little setup for the party looked like: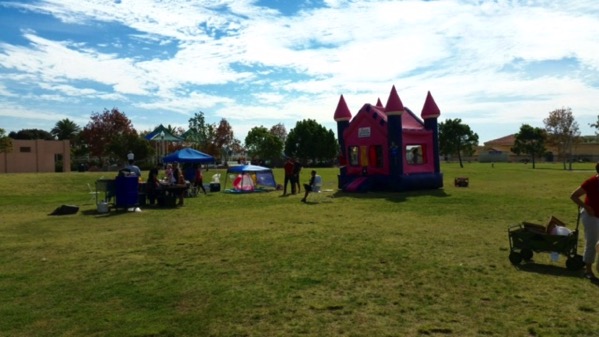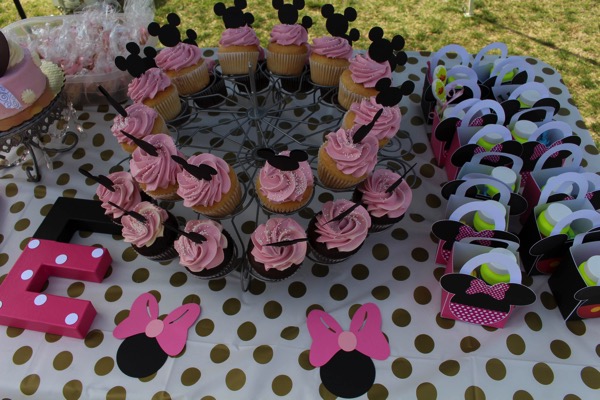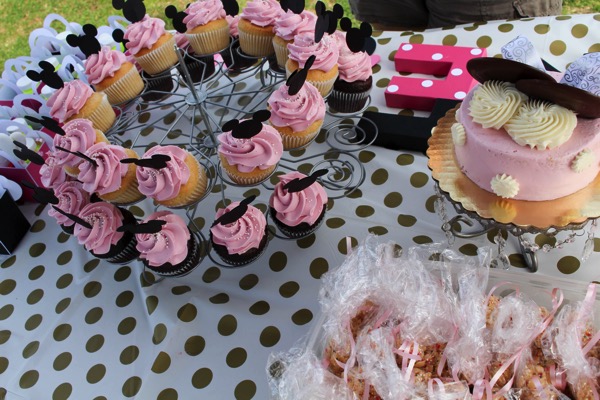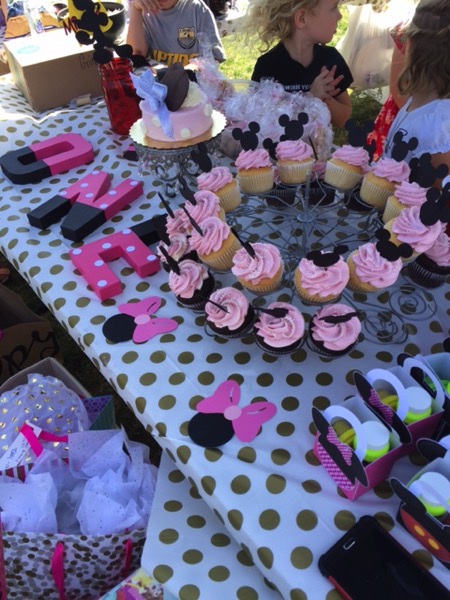 Since we had about 25 people and the kids were various ages (1-7), I tried to think of something they would all enjoy. Kids go crazy for a bounce house.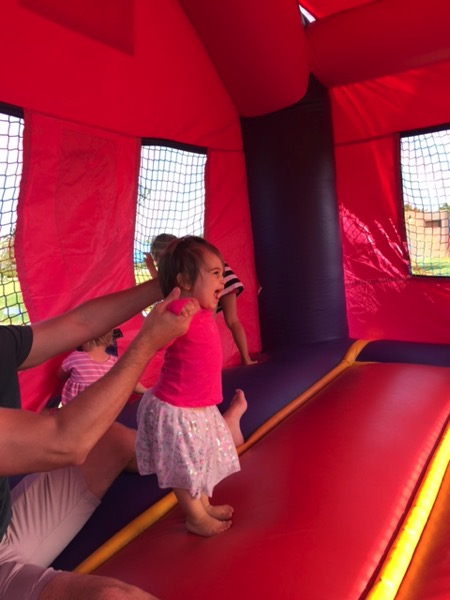 We rented the pink and purple castle from SD Jump (highly recommend them!) and the kids spent almost the entire time jumping in the castle and running over to the park.
For the babies, I set up a baby area underneath an easy-up with a shaded side. We had a ball pit, toys, and bubbles for the babies. At one point, all of the girls were in the ball pit together, and they all sat on the beach blanket eating their tacos and cupcakes.
Street tacos are our favorite party food, so we ordered from the Taco Man.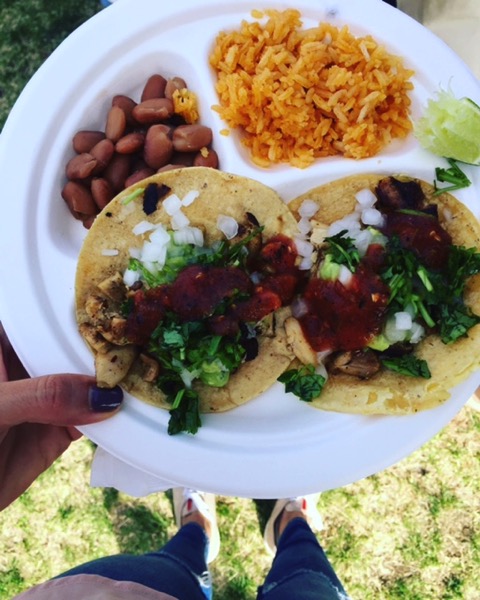 Two guys came and set up the grill, and made fresh chicken, beef, and pork tacos with cilantro, chopped onions, salsa, guacamole, and lime.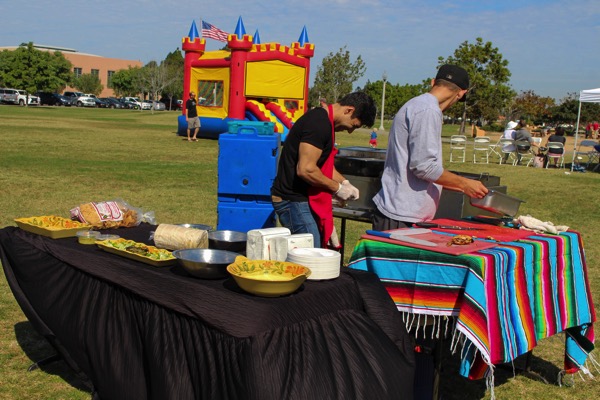 They also provided rice, beans, chips, quesadillas and salads. It was PERFECT. Since the bulk of the food was done, I just picked up some popcorn from Whole Foods, + water, beers, Honest juice pouches, and made homemade sangria. (The recipe is here!)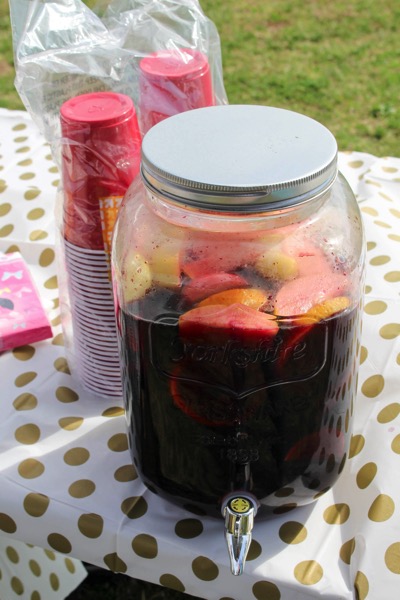 (I used 3 of the enormous bottles of Shiraz and soaked the fruit in 3/4 of a container of Silver Patron. It had a liiiiittle kick to it.)
The cake and cupcakes were from Whole Foods. I've ordered from their bakery quite a few times in the past (and love that they don't use refined sugars, refined flours or food dyes) and can always count on them to create something beautiful and delicious. I asked the cake decorator if she could make a cute smash cake + cupcakes for a pink and white Minnie Mouse party, and here's what she came up with. I had no idea what she would make -and just knew it would be awesome- and she totally nailed it. I also ordered a regular-sized cake (pink buttercream with chocolate cake and chocolate buttercream filling) and forgot to snap a pic of it.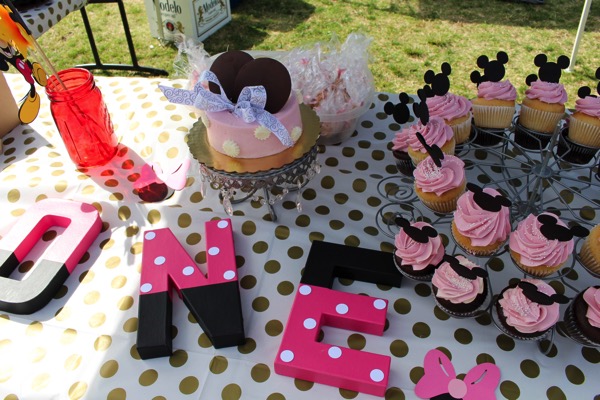 Singing "Happy Birthday" to the birthday girl. It's easily her favorite song; she has the sweetest little smile on her face the whole time.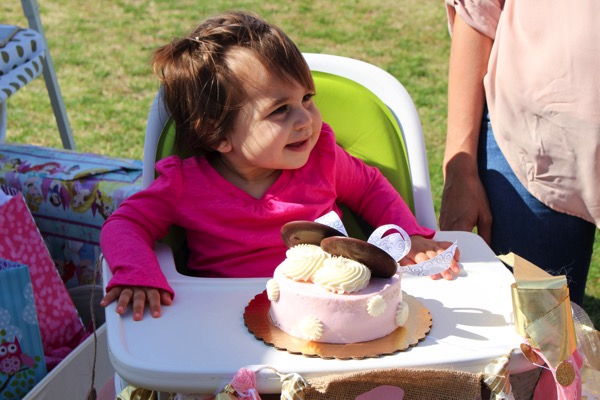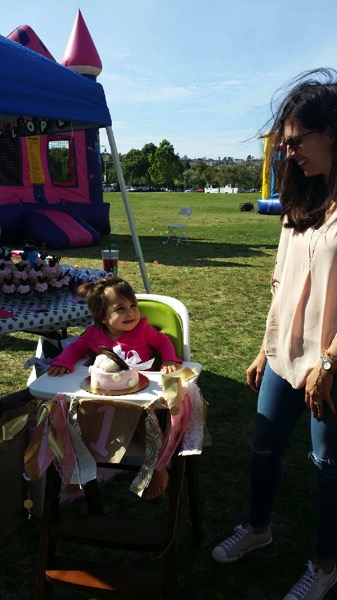 It's funny because she was kind of unsure about cake on her actual birthday (until we discovered it was chocolate, of course. Then she LOVED it) but for her party, she knew exactly what was happening. She happily dug into her piece and fed me a couple of bites.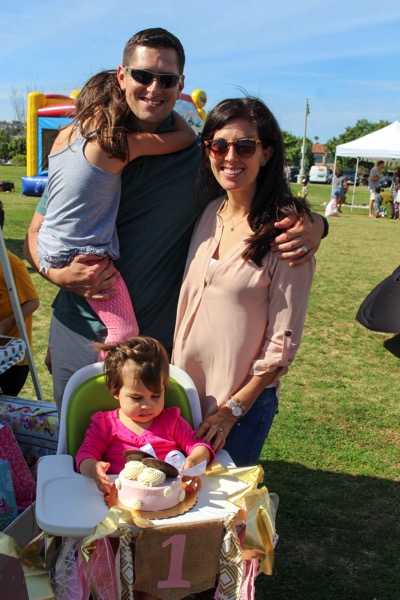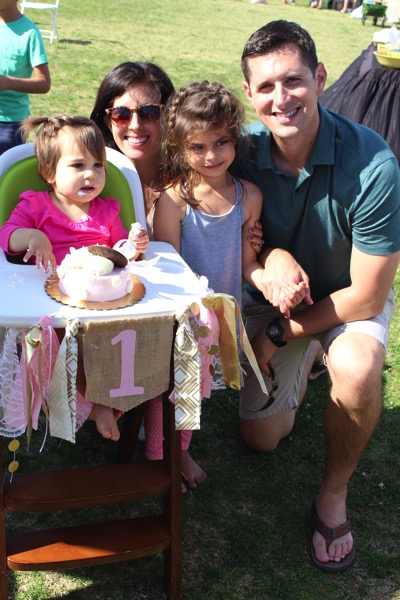 It was an amazing day, and I'm sure that Penelope (and Liv!) felt surrounded by the love of our friends we've been fortunate to meet since we've been here.
After packing up, we headed back home to open gifts, unpack the party gear tornado, and stay up late watching Chef's Table with mom and nana. Penelope crashed hard after a full day of partying.
It was the perfect day to celebrate one year with this little lovebug.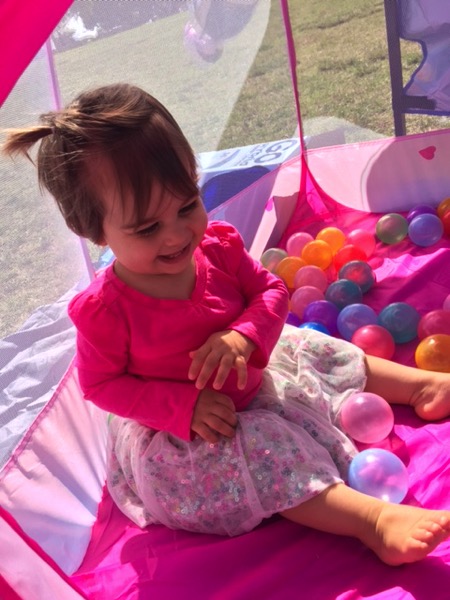 Happy birthday, Miss P. We love you so.
xoxo
Gina
Just for fun: Livi's first birthday party recap is here!
Decor and other goodies (affiliate links; none of these were provided/compensated)
P's sparkly skirt (I ordered a bday outfit from Etsy, but unfortunately the seller never sent it, so Etsy refunded it. It's the first time that's ever happened)
"Come Inside It's Fun Inside" sign
Shaded easy-up (It's short, so you can stand completely underneath it, but the perfect size for a baby play area)