Hi friends! How's the day treating ya? I'm so happy to hear you liked the Knockout November workout! I got in two rounds today + 3 sets of heavy barbell squats.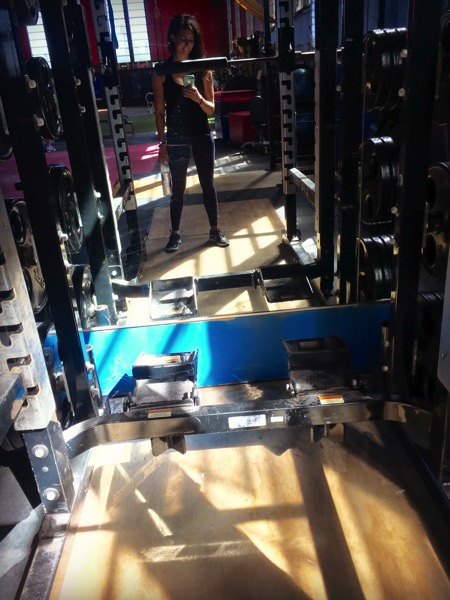 Anyone else moving a liiiiittle slowly after Halloween?? I had to wake Liv up for school! P on the other hand is still partying hard. We're on day 2 of no naps (it's been real, friend) and she still has all the energy and smiles in the world. I've been working on this post in bits and pieces throughout the day, and am hoping this is a fluke and things go back to a routine around here. The last time I tried to put her down for a nap, she cracked herself up for about 15 minutes and then started loudly tap-dancing on the wall, so I went in to get her. Halp. Meeeeeee.
Some pics and things of lately (in random order):
HALLOWEEN:
Since the Pilot and I didn't really plan costumes -maybe one day we'll get it together and have a family themed costume- we were running around the house last-minute so we would at least look liked we tried. The Pilot had bought this wig as a joke, and it was the perfect excuse to wear it. I kind of phoned in my costume haha but I did have my custom patch on there (G-Unit).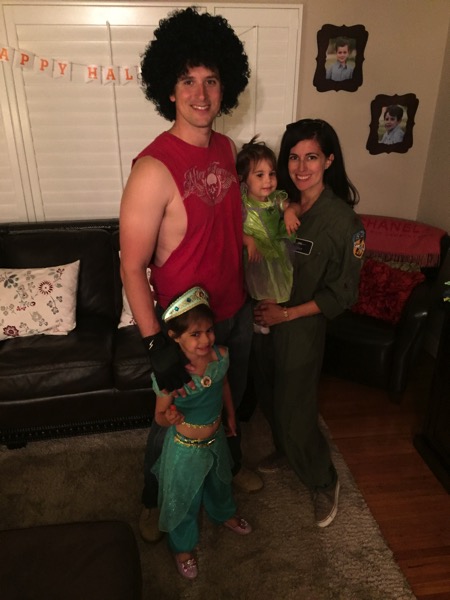 We went to Betsy's house for her annual Halloween party. She had street tacos -the same company who catered P's party, and they were wonderful- tons of appetizers, and I brought some sangria over since I'd made a huge batch.
It's hard to believe that it was our 3rd year celebrating at her house! She invited us over for our first Halloween here, and we had just met at the kids' yoga studio. We hardly knew anyone here at the time. Who would have known so much would change since then, and they've become a huge part of our San Diego family. <3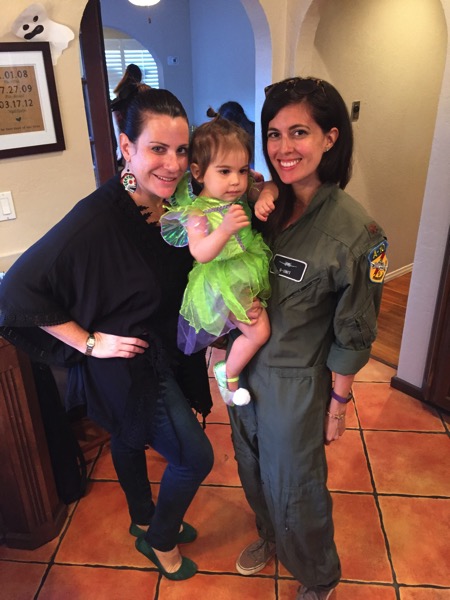 (Last year's Halloween recap is here, and the one before that is here!)
After dinner, we took a group of the kids out trick-or-treating. Some of the houses were pretty spooky for the little ones, but Liv still liked getting candy.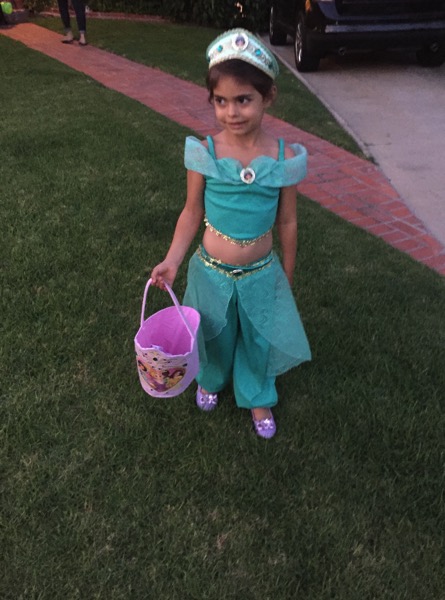 P rode in the stroller while the kids trick-or-treated, singing to herself, jingling her bell shoes, and waving "hi" to everyone.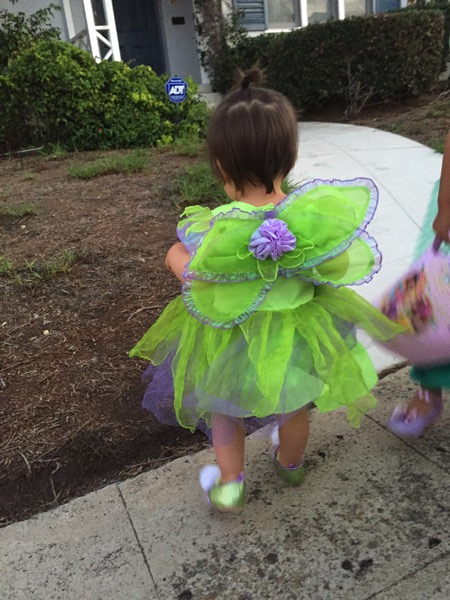 (Those jingle shoes. I just can't even.)
Liv also loved passing out candy at home with us after we came home to put P to bed, and after Liv was asleep, I curled up and drank hot cocoa while watching Hocus Pocus. Not a bad way to end the day.
Rewind to Sunday:
The Pilot had a ton of Master's homework Sunday, so the girls and I ran errands together. One of our stops was Old Navy. Their little girls stuff is SO CUTE. We got them quite a few of the $7 long-sleeved tees, and these adorable critter flats for each of them.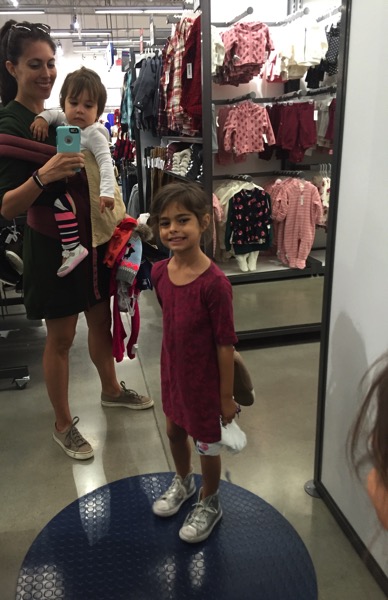 (Also if any mama friends have tips on the Ergo, I would love them! The shoulder straps slide down a little bit, and I have them as tight as they'll go. I do the back snap, so she's very secure, but it drives me bonkers. I frequently have to push the straps up. She's officially too big for the Babyhawk.)
Fast forward to now:
I'm doing the 7-day reset -so far, so good- and made a batch of baked oatmeal to enjoy for the next couple of days. (The recipe is on my Instagram!) I originally wanted to make my pumpkin baked oatmeal, but since I was missing a couple of key ingredients (banana and dried cranberries) I improvised a little. It tastes like a coconut oatmeal cookie, and was amazing with eggs for breakfast this morning.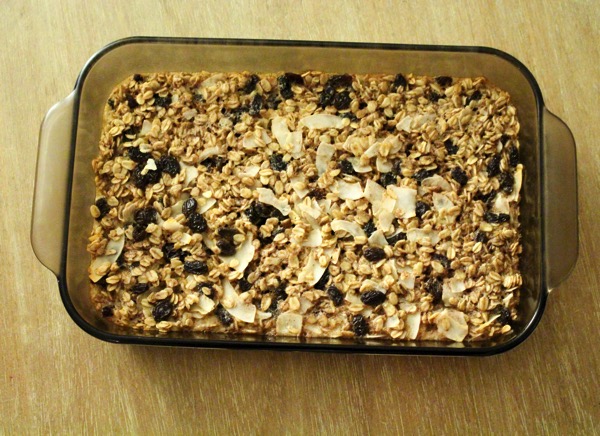 I didn't end up preparing a ton of meals this week, but did make a batch of roasted vegetable soup. The girls have been going crazy for it! I base it off this recipe, and added a couple of peeled apples for sweetness. It's such a delicious seasonal soup; like autumn in a bowl.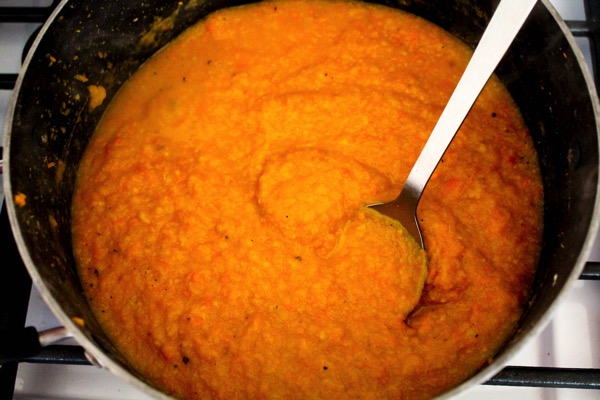 I hope everyone has a wonderful day! I'll see ya in the morning with a recap from P's birthday party.
xoxo
Gina
Something to do: this ab burner. It's one of my faves and is a fast way to get an awesome burn.