Hi guys! Hope your day is going well <3 Thank you so much to those of you who have ordered your Kale Yeah tees already! Remember, we're only doing one run of this fun design and each one of these cute shirts will feed 12 emergency meals this holiday season. <3 I can't wait to wear mine with you!
Today was a perfect mix of productivity and play. I went to Starbucks to crank through some work, and enjoyed a Zen tea + purse trail mix. I'll usually have an easy homemade trail mix in my bag: just almonds, chocolate chunks and unsweetened cranberries.
For some reason, I am so much more productive when I'm not at home. At home, I look around at all of the things I need to clean or do, and it distracts me. At a coffee shop, I park myself at a table, put headphones in + Bastille station on Pandora, and get it done.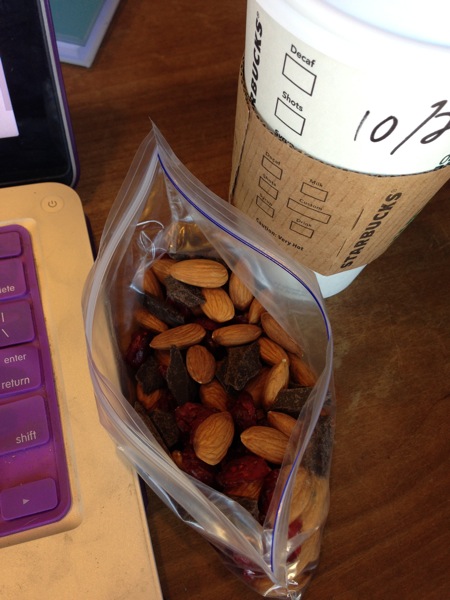 Today was also a perfect beach day! The summer visitors seem to have dwindled down, since the beach was fairly empty and we found parking right away (<— miracle right there). I would say "Well, it was a Tuesday afternoon, but surfers be like "every day is surfing day, brah." I'm old.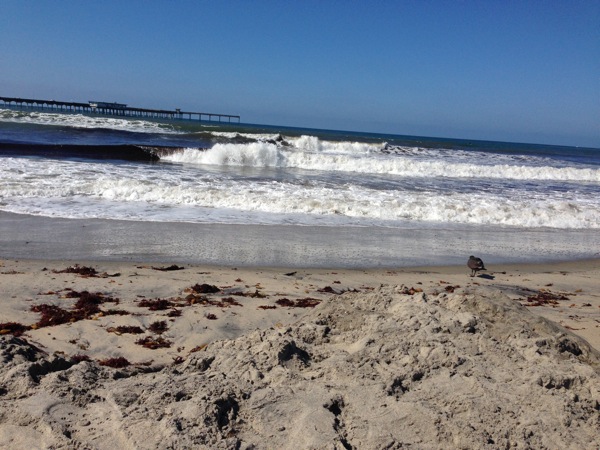 Tiny sandy toes pulling me to jump in the waves with her.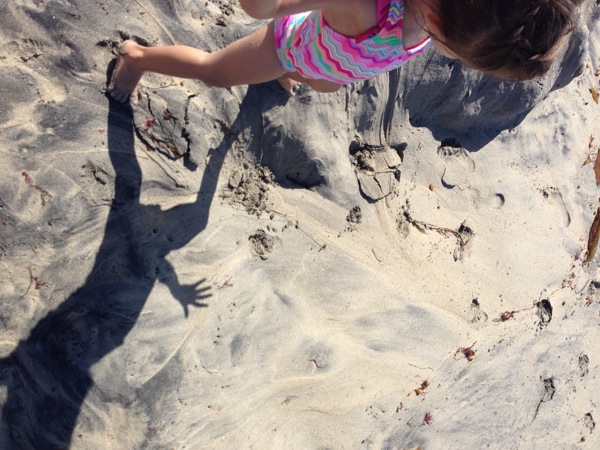 We jumped over waves and ran around in circles for about an hour, while Liv yelled "THIS IS AMAZING."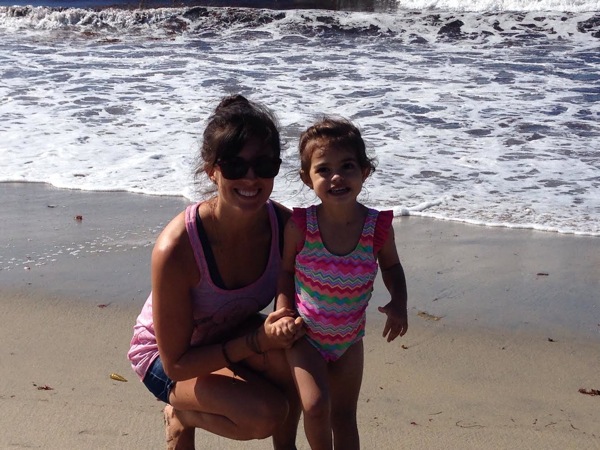 Not a bad way to spend the day <3
Today, I'm excited to share a quick and easy appetizer recipe. We had this one over the weekend; it wasn't quite dinner yet, but we were ready for a little snack.
Polenta bruschetta!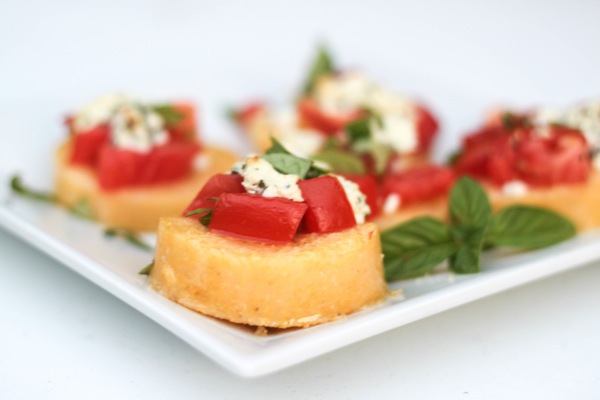 I tend to have a tube of polenta on hand.. and the same tube lives in the pantry for years untouched.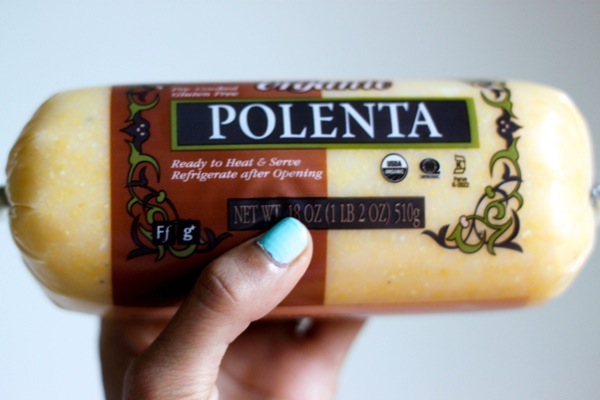 (This was a fresh one, haha)
I think I love the idea of polenta, but since it's not something I've eaten often, I don't have a ton of ideas for recipes or how to use it. The taste is extremely mild, and it has a soft, slightly gummy texture which crisps up beautifully in the oven. Since it's a relatively blank canvas, I thought it would be a fun substitution for bread in bruschetta.
I chopped up a couple of beefsteak tomatoes and added 2 cloves of minced garlic, a drizzle of olive oil, about a tablespoon of balsamic, salt and pepper.
After cutting the polenta tube into slices and placing them onto a cookie sheet, I topped each round with some of the tomato mixture.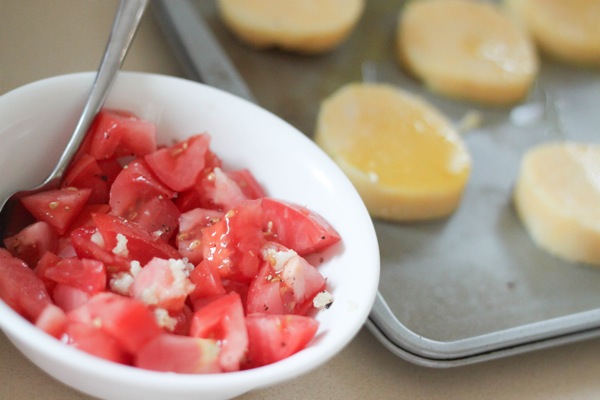 Next, a crumbled of herbed goat cheese, and baked for about 20-25 minutes at 375.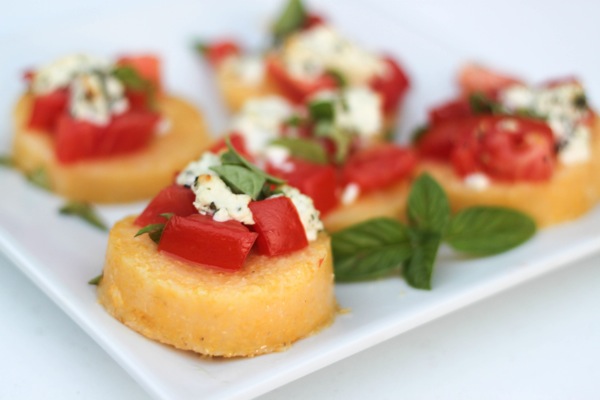 When they came out of the oven, I added some chopped fresh basil. It was an easy and healthy little appetizer! It would be perfect for any upcoming parties or get-togethers, too.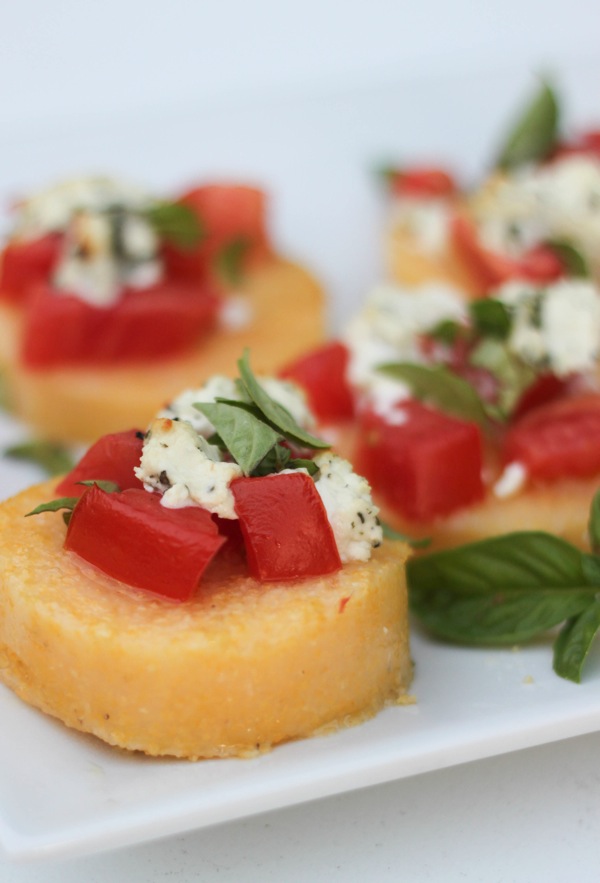 Let me know if you give it a try! 🙂
Are you a polenta fan? Any awesome recipes to share?? Where and when do you feel the most productive during the day?
See ya in the am with a fun Halloween post!
xoxo
Gina