Reader's Request: Fab Abs
Hey bloggies 😀 It's time for another reader's request post!
Hey Gina,

I work out my abs pretty often and still don't see any definition! Any tips? Also, what are your favorite ab exercises???

Thanks!
Ahh, the coveted toned girly abbies.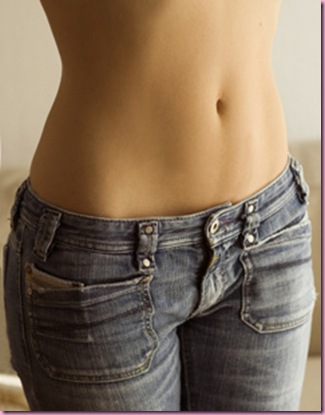 (Source)
Now, I've never been one to desire a serious 6 pack. The abbies above were the ones I wanted most- lean, toned, flat. So after I lost the weight, I started to do ab work everyday. I had no idea that abs are just like any muscle group; therefore, they need REST to grow back leaner. I did a half hour of abs every single day and was pretty frustrated when they didn't look like I wanted them to.
Here's a secret:
You need to do a few things for beautiful abbies, but the most important on the list are:
1. A super clean diet
2. Cardio
You've probably heard the saying that everyone has a 6-pack, but it's just hiding under a layer of fat. This is partially true— we tone our abs unintentionally throughout the day by doing everyday activities. We stabilize our abs to allow us to perform basic functions (walking, putting groceries away), which makes abs some of the most overworked muscles – especially we're doing a ton of ab exercises on top of that. Even though we're working out our abs, we're unable to see definition if our diet is poor or we aren't performing cardio to blast fat.
Cardio and clean eating enable our body to burn fat (in addition to weight training, which also boosts metabolism and lowers body fat) so that is why it's so important to eat well and get your ticker going. When the fat melts away, it takes up less space between the skin and muscle, making the ab 'cuts' more visible.
For cardio:
-Aim for at least 20 minutes, everyday for health; 30-45 mintes 5-6 days per week for aerobic and fitness improvement
-Vary your cardio intensities. There's no need to go balls to the wall everyday. Your body will get used to your cardio routine and kick into cruise control if you don't change it up every now and again, whether you're used to low intensity or super high intensity. To shake things up, try some hill or sprint intervals or using the cardio equipment differently (like going backwards on the elliptical, or doing side shuffles on the treamill)
-Remember that consistency is key. If you stick with it, you're going to see results eventually. Hang in there!
For eats:
-Strive for a balanced diet of whole, unprocessed foods with smart carbs, lean proteins and healthy fats. For meal ideas, check out week 1 of the Summer Shape Up.
-My abs look best when I avoid alcohol and sweets. Since I can't live like that 365 days a year, right before spring I kick things up a little. Stay tuned for the Winter Shape Up where we'll clean up eats and add some pep into our fitness routines 😀
Favorite Ab Exercises
To me, the best abdominal exercises are ones that work the transverse abdominis, which is deep in the abbies beneath the internal oblique muscles and wraps from front to back. Pilates moves target this area well particularly:
Some other favorites:
circle obliques (under August 8 workout)
***A couple of things to remember about weight training your abs:
-Aim for 3 sets of 10-15 per exercise
–Give your abs at least 48 hours of recovery time before working them again (or else the muscles will continue to tear with each workout session and wont have adequate time to repair and grow back leaner and stronger)—when I worked my abs the most, they actually looked the worst. My definition didn't start to show until I kicked up my cardio and gave my abs some R&R time.
-Work back muscles just as often as your ab muscles  (a balanced weight program is muy importante and will help to keep your body proportional)
Happy training and please hit me up with any more Reader's Requests! 😀
xoxo,
Gina
What's your favorite ab exercise??