Review of the BOB Revolution SE
I was pretty sure that despite needing to upgrade to a toddler seat, the Orbit stroller was all we'd need. That is, until I found out that it's unsafe to jog with a regular stroller (the plastic wheels don't absorb shock or take bumps very well) and figured we'd probably need a jogging stroller. Tom is a great runner, and we wanted to be able to safely take Liv on outdoor adventures with us.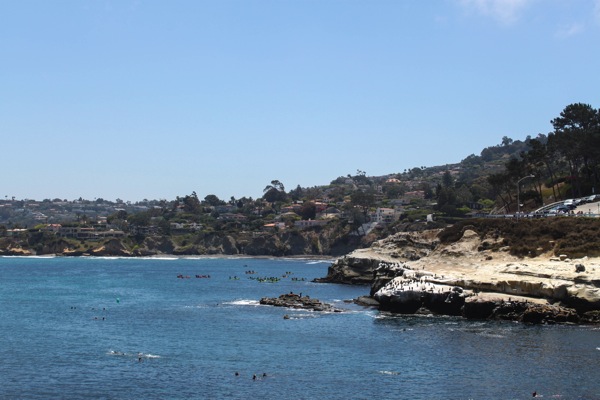 After doing quite a bit of research and talking with friends who have jogging strollers, we decided to get the BOB Revolution SE, which was on sale on Amazon when we made the purchase (it still is over $100 off the original price).
There's mixed information regarding when it's safe to run with a baby in a jogging stroller. First, the company said 6 months and recently increased it to 8. A lot of it has to do with how fast you'll be running, the terrian, the baby's head control, etc., so if you're unsure, err on the side of caution and talk to your pediatrician. I know a lot of people who have run with their babies before they were 6 months old, but it's not something we were comfortable with, so we waited until Liv was 6 months to make the purchase and talked with the pediatrician before taking her out to Sabino.
A nice little tidbit: you can remove the head support from your carseat and easily attach it to the BOB: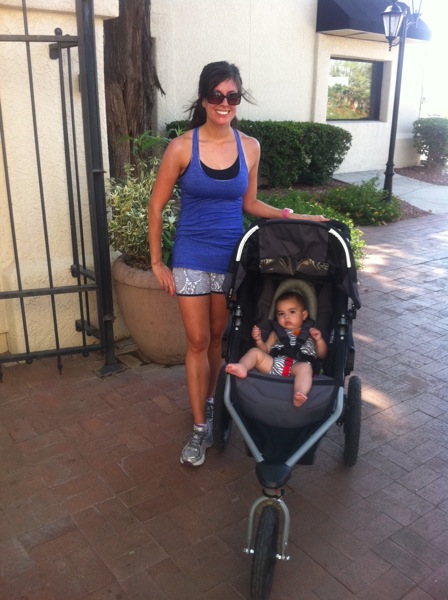 We still put Liv's head support in there for runs, so if she falls asleep, her head stays upright.
What we love about our BOB:
-The shade can be in one of two positions, and goes pretty far down to protect Liv from the sun. There's also a flap on top to peer in and check on your baby.
-SMOOTH ride. It's extremely easy to push and steer, even with the added weight of a child. The front wheel can be in swivel mode (for walks) and even with it locked straight for runs, it's a dream to push it. 
-Oliv loves riding in the BOB. From day one, she's been extremely happy in it, and I have a feeling we'll use the stroller for a very long time (up to 70 lbs!). I think a lot of it has to do with the ability to recline the seat and the light, breathable fabric.
-Easy to fold and use, plus lots of additional add-ins. We bought the cupholder and snack tray for when Liv is a little older. 
-Basket underneath. Plenty of room to store extra bottles of water, diaps, wipes and an extra outfit.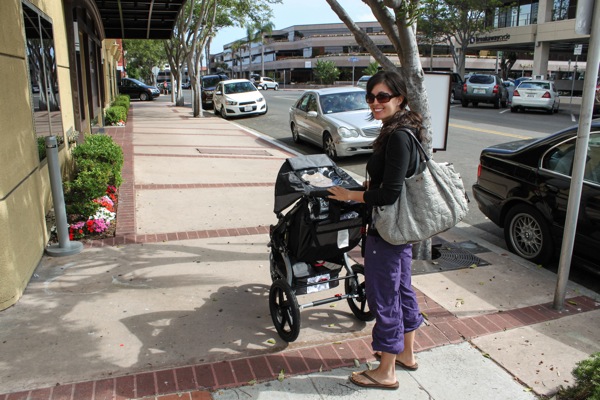 Cons:
-It's extremely bulky. It's definitely not an everyday stroller and a tough fit in the trunk of my sedan. I usually leave it set up in the downstairs storage closet for neighborhood walks, and when Tom and I take Liv running, we put it in the back of his SUV. It's more challenging to transport in smaller cars. For errands and everyday trips around town, I prefer something lighter and more compact.
-We've heard that it's easy to pop the tires and get a flat. We haven't experienced this (yet… knock on wood?) but quite a few of our friends had "goo" put in the tires at a local bike shop and have't experienced that problem. It's definitely something we'll be looking into.
-As I mentioned above, you can't use it to jog/run until the child is older, with sufficient head control. You can walk with the stroller and an infant adapter, but since we had the Orbit, we didn't think it was necessary to purchase the BOB until Liv was old enough to use it. I'm glad we waited, too, since we ended up getting a much better price.
-I wish the seat was padded on the bottom. That's the only thing I think might make it more comfortable, but Liv seems to absolutely love riding in it. Tom and I both love pushing it for runs and walks, so it's been the perfect choice for our family.  
Do you have a jogging stroller? Have you done any races while pushing one? I can't wait to take Liv for her first 5k this fall.
Any favorite outdoor adventures you remember as a child? My nana used to take us to Sabino Canyon. We would get eegee's for lunch, ride the tram into the canyon, have a picnic and explore, then ride the tram back.