Red-faced and Tabata Thursday
The Pilot is responsible for the sudden overpopulation of turtle doves in Tucson. Ever since he built the bird condo, we've had mama birds rotating in and out, and a constant outflow of sweet baby birds. Liv and I love to look at them when we take Bell outside in the morning.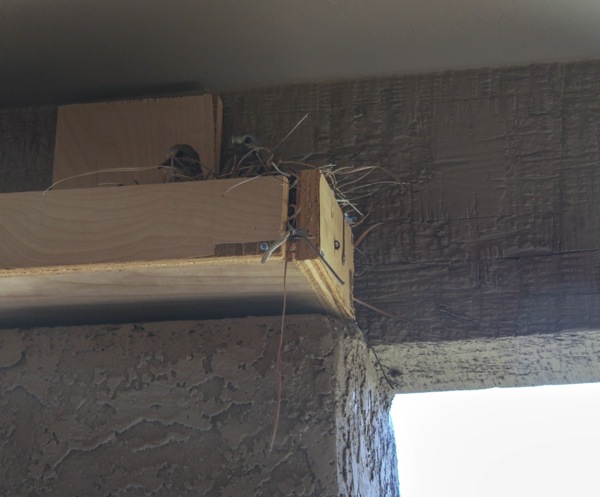 Bird house 4 lyfe.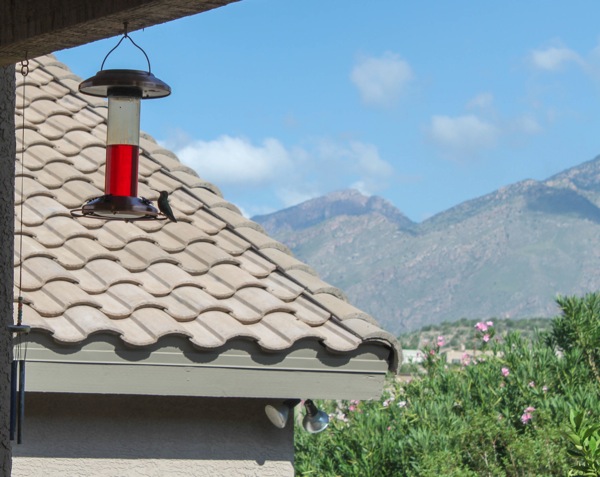 I don't really need to tell you anything about work yesterday. It was every definition of a normal day:
-I dropped the towel basket in the spa lobby again. Every time I walk to take the towels, I think to myself "don't drop the basket. Hold onto this basket for dear life." Maybe it's because I'm thinking about it, but before you know it, the basket is tumbling and clanking on the floor, while everyone reading and waiting for spa treatments gives me the side eye. When I pick up the basket, my face is magenta, and yesterday the guy working the spa desk looked at me and mouthed the words, "it's ok." I'm not usually that clumsy, but for some reason I usually drop the towel basket at least once a day.
– We all ate cookies in the locker room. My friend Susan made them and I had a small relationship with the two I consumed. Butterscotch, chocolate chip and pecan. No words. Awesome pre-Zumba sugar buzz… I jumped really high yesterday.
-Zumba was so much fun. On top of my butterfingers incident above, it was the only other time my face was neon red at work. Does anyone else get a bright red face after they work out? It's always happened to me, even back in my dance days. I sweat, I turn red.
Speaking of sweaty, here's this week's Tabata Thursday video: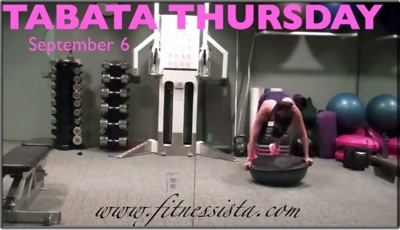 For more info on Tabata training, check out this post.
-The workout is only 4 minutes long, but it's intense! Only attempt Tabata training if you've built up a solid level of fitness and are used to interval-style training. If you're a beginner, try incorporating some speed surges into your usual cardio routine as a starting point.
-Warm up before doing a Tabata workout for at least 5 minutes, moderate intensity. High-intensity interval training is most effective when it's completed on non-consecutive days, max 2-3x a week. The video can be repeated up to 3 times throughout the day with adequate rest in between. Remember, your heart is a muscle and needs rest and recovery, too!
-These moves are high impact, and will spike your heart rate up quickly. That's why plyometric moves are often chosen for Tabata workouts instead of traditional strength training movements- you want your heart rate up FAST since the intervals are only 20 seconds of work. Bonus: the moves I choose will encourage power, speed and STRENGTH 🙂 (oh, and a sore booty) Please modify as necessary, and always honor your body and injuries. Check with a doc before making any fitness changes.
Happy sweating!
How'd it go? Leave a comment here to let me know, or hit me up on Twitter/Instagram @fitnessista
Bonus: complete this Tabata Thursday video + this booty burner + this ab burner 
xoxo
Gina