This past week's trip to La Jolla was our first longer roadtrip with Liv. I was excited to see how it went, as Tom and I love to travel, and we also figured it would be a good test run for a trip later this month (which will be a flight instead of drive, but just Liv and myself).
The verdict?
It took more planning and packing, but all in all, it was NBD, and we had a blast.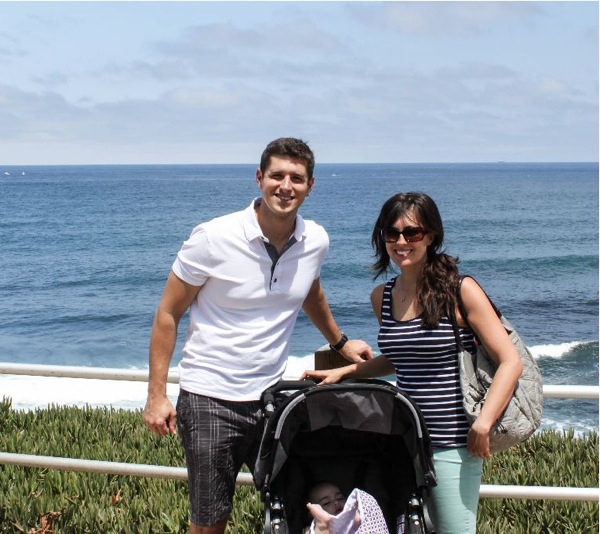 Things that I learned from the trip:
1) Babies need a lot of stuff! Of course there was the obvious clothes, jammies, swimsuit and shoes, but the other things added up quickly, like the pack n' play, bottles, bottle cleaning supplies, sheets, etc.
Here's what we ended up taking:
-Pack n' play, plus mattress and sheets. Tom ordered a comfy mattress for her last week, and with the organic cotton fitted sheet and mattress pad, it looked like a super comfy setup. She didn't *need* the extra mattress, but it made us happy that she would be able to sleep in a similar environment to her crib at home.
-Bottles, formula, cleaning supplies, bottle warmer. The bottle warmed ended up being less of a pain than I thought it would be, since Tom's car has plug-in ports for electronics. At stops along the way, it was really easy to heat her bottles.
-Lots of diapers and wipes
-3 books, 2 toys, her Jewel lullaby CD
-Jammies, clothes, towels, blankets, sunglasses, hat, bath stuff, brush, nail clippers. La Jolla was cold compared to Tucson temps, so I was grateful to find a Gymboree pants outfit (it was in the Goodwill pile since it's too hot for her to wear it here) and she wore jammies, pants with onesies and bundled with blankets. Both Liv and I overpacked on the clothes front- all of her rompers, dresses and sandals didn't make it out of the suitcase, and I ended up wearing lulu pretty much the entire time since it was chilly.
-Jogging stroller, carseat and wrap. I grabbed the BabyHawk as a last-minute thing, and ended up being so glad we had it. It was nice to give her a different point of view as we walked around La Jolla.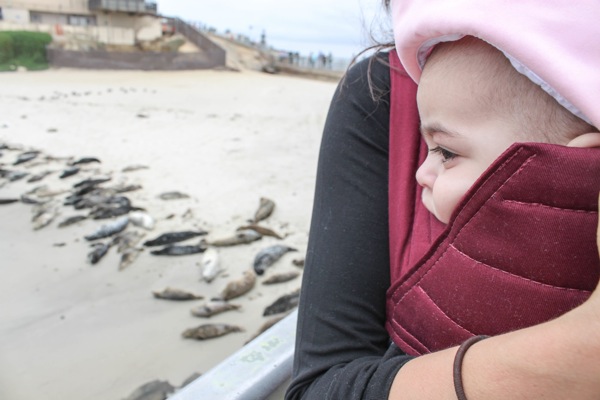 -A couple of spoons and her mesh feeder thing. The mesh thing was awesome for restaurants- I could just put a few pieces of whatever we were eating into it and she could happily chomp away. She has no teeth yet, so we're more comfortable feeding her purees, teeny bites or through the mesh feeder for now. The good news is that many restaurants have avocado, steamed veggies and sweet potatoes, so it was easy for find something for Liv wherever we were.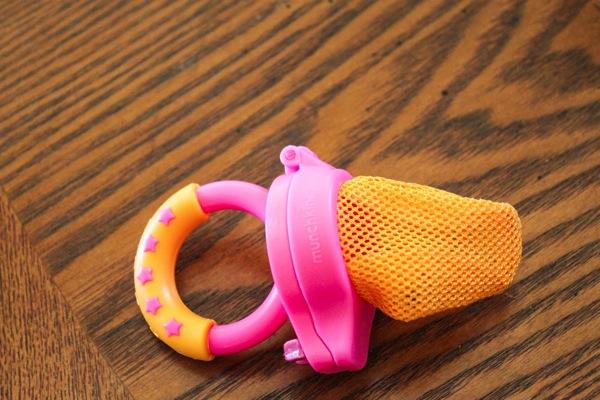 -Teething strips and a teether
I think that's it?
It was a lot more than we're used to traveling with, and I'm sure we could have packed lighter, but it was worth it to have a little bit extra instead of wishing we would have brought something.
2 ) ALWAYS have an extra outfit. I should know this, but I spaced it and paid the price, haha. Every morning, we would feed Liv and then head out for breakfast. One morning, we were at the Coffee Cup, I went to change Liv and didn't put the fresh diaper under her fast enough. All I could do was stand there for a second, laugh, and then strip her out of her clothes, which were drenched, and go back to our table with Liv just in a diaper. I told Tom, "I think we need to get our food to-go" but instead he ran back to the hotel to get her another outfit. So we sat there at our table, getting the side-eye from everyone who walked in (as my baby was in a diaper and I wrapped her in the hoodie I had been wearing) until her new clothes arrived. All aboard the fail boat.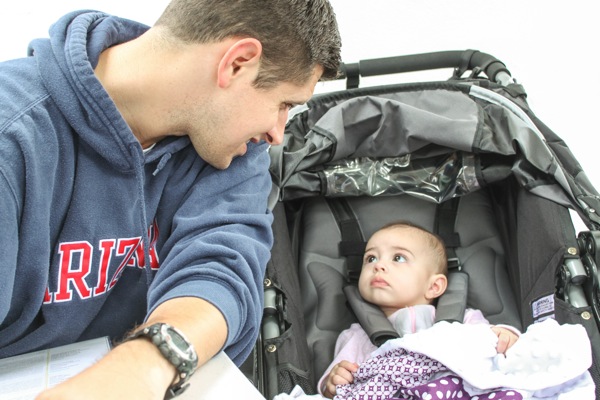 3) Leaving to come back mid-afternoon = not the brightest. On the way there, we left just before Liv's bedtime, which ended up being perfection. She was awake and happy, we fed her at a stop, and then she slept the rest of the way. On the way back, we had to leave earlier since we both had to work the next day, and Liv was not a happy camper to be awake and chilling in her bucket. I can't really blame her, since I get antsy in the car for hours on end, too. We ended up taking a lot of stops to change diapers and give her a change of scenery, but next time, we'll probably leave around bedtime again.
4) There is a lack of changing tables in the world. Many chains have them -we had lunch at Panera one day at they had a very clean changing table- but for those that didn't, I was thankful for restrooms that had a dresser or room by the sink to place her changing pad and change her. A few times, I ended up sitting on the floor (gross), stretching my legs out in front of me, putting the changing pad on my legs and changing her that way. It wasn't the ideal situation (when I told Tom about it later he said it made him sad that I had to sit on the gnarly floor) but we made it work. 
In the grand scheme of things, we're lucky to have a baby who's happy to go with the flow. She was her wonderful, happy self while we were there, and graced us with later mornings (3 cheers for sleeping in!) and patience during the many meals we ate at restaurants. I think she just likes to be a part of things, and as long as she's in the action, she's a happy kid. I feel a lot more comfortable about traveling now and am so excited for family vacays to come.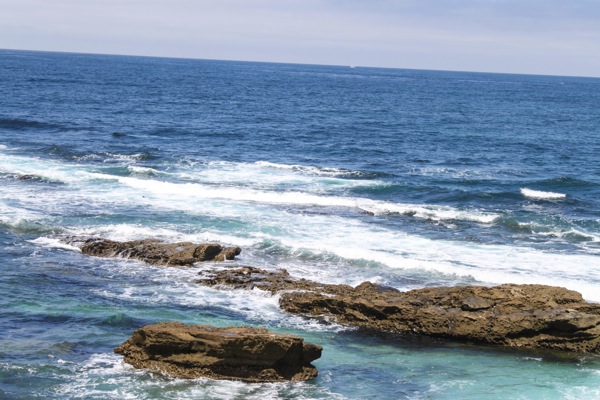 So tell me, friends: how do you entertain your kids on roadtrips? Any fun ideas to keep infants/toddlers from getting bored? 
Friends sans kids, what's the first family vacation you remember? My first trip to Disney World was when I was 4- I cried the entire time we were on the Snow White ride. There's a picture of me and my aunties outside the ride, and I have blotchy eyes and a scowl on my face. I quickly forgot the trauma during the characters parade 😉