Hey guys! How's your day going?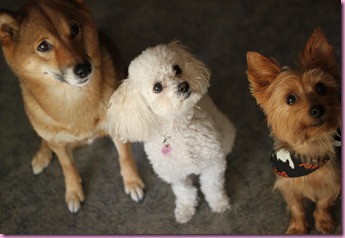 Look who got a haircut!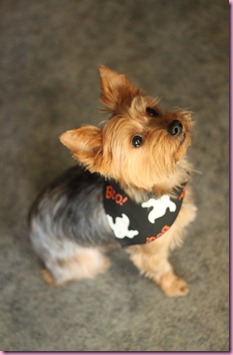 Doesn't he look so handsome? My cousins call him "Senator Suave"
A portable groomer came to the house yesterday and prettied Scamp up. He even has a glow-in-the-dark Halloween ascot!
It's funny though because the tables have turned…
the entire time we've been here, Scamp has spent most of his days trying to lick Viesa on the mouth and every since he got his haircut, she's vying for his attention but he's playing it cool

This morning, while getting ready for Bikram, I decided I wasn't really in the mood to be drill seargent-ed. So I went to the gym for magazine cardio instead 

(<— anyone know how to make those white boxes go away? Not a fan)
Snackage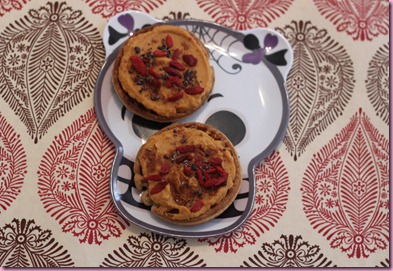 2 hemp waffles with a spread of Sun Warrior, pumpkin and almond milk, topped with goji berries and cacao nibs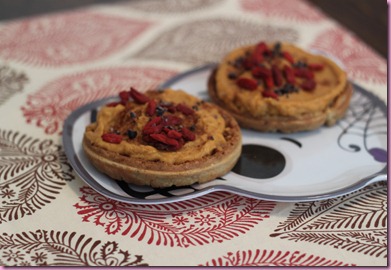 It was pretty face-rocking. As a texture person, cacao nibs give anything a glorious crunch

Next, I made some vegan chocolate chip oatmeal cookies. (Recipe in Eat, Drink and Be Vegan)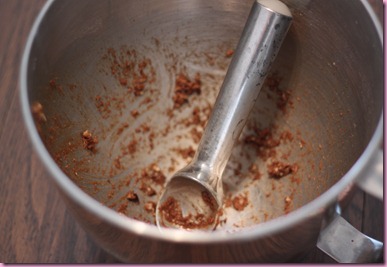 and packed up lunch: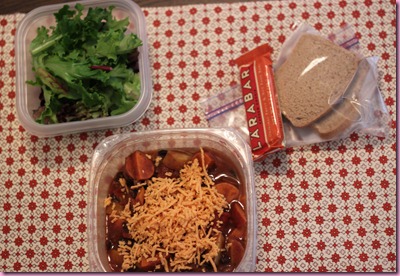 Leftover sweet potato and black bean chili with Daiya, greens, Larabar and two pieces of kamut bread.
I'm currently eating the greens with the chili on top, cold because I didn't have time to microwave it at work. Still amazing though

Fun stuff going down on the bloggy this week:
-How to Foam Roll (this will most likely be a video post!)
-Pilot Eats
-Discussion post
Hope you have a wonderful night!
xoxo,
Gina
Today's workout jam: "Hello, Good Morning" Dirty Money
Happy Thanksgiving to my Canadian friends!

Holler to Lauren, whom I met at work today! It was so lovely to chat with you for a little while <3