Most of the time, I love to cook. 
I can't wait for a chance to try out a new recipe or make an old favorite for dinner (all while singing "Bringing home a baby bumblebee," doing a ridiculous dance or orchestrating a Tupperware drum solo). Other times, I want my food delicately placed on the table in front of me, while Liv sits in the high chair next to me eating puffs and waiting for bites of my food and a side of avocado. In this type of situation, I'm not wearing pajamas, and neither the Pilot nor myself have to do the dishes. 
That's pretty much what I was in the mood for yesterday, but since the Pilot was home last week, we went out to eat more often than usual, and the cost adds up quickly.  We have plenty of food in the house, I figured we should eat dinner at home.
Even so, I wasn't feeling anything labor-intensive (like the original eggplant curry I had planned), so I grabbed this jar from the pantry (curry destiny),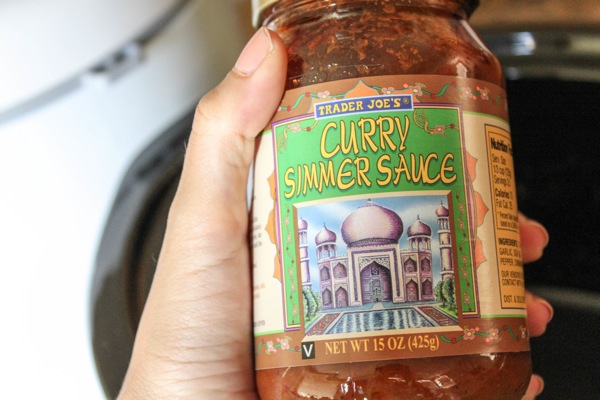 and let something else do the work: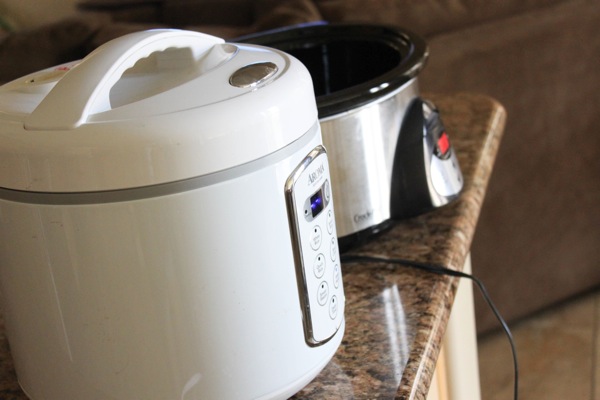 All I did was add the sauce to the slow cooker with 1 C veggie broth,
chopped eggplant and zucchini,
1/2 diced onion and two cloves of garlic.
Set it (on high) 
forget it (for 5 hours)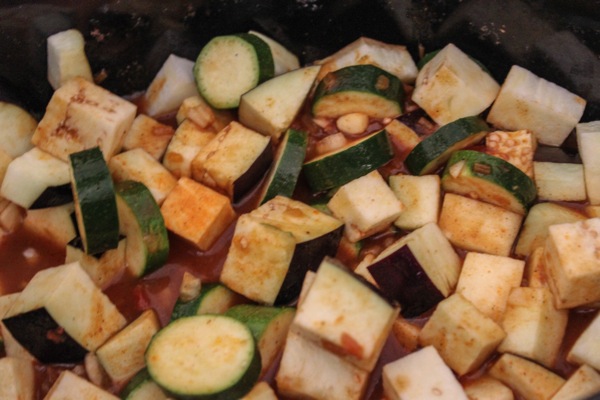 then feast.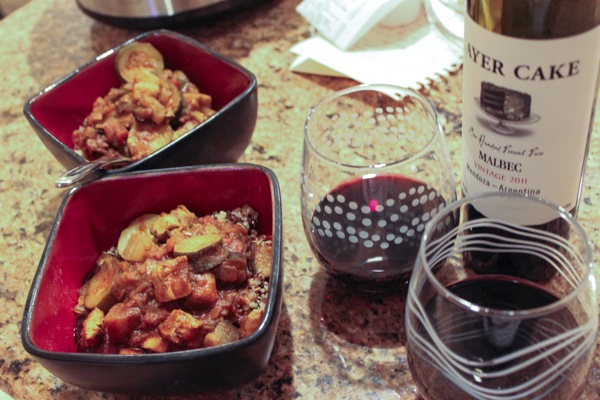 An easy, healthy vegetarian meal, accompanied by quinoa (cooked in the rice cooker) and Malbec. I wish I could say it was insanely delicious, but it was ok. Usually when I make random on-the fly-meals, they end up being gold stars or golden fails. This one was smack in the middle. I wonder what would have made it taste better.. probably some of my own spices added in and some lemon juice to cut the jar flavor? I dunno.
It ended up being a pretty low-key evening and the Pilot had to take it easy with his ankle. I spent some time reading, catching up on emails, and painting my nails orange. I ended up skipping the gym since I might have to teach more classes the next couple of days (our schedules are posted every morning and while we have an idea of what we're teaching, it could always change. We have to be prepared to teach any class), so I'll be extra refreshed.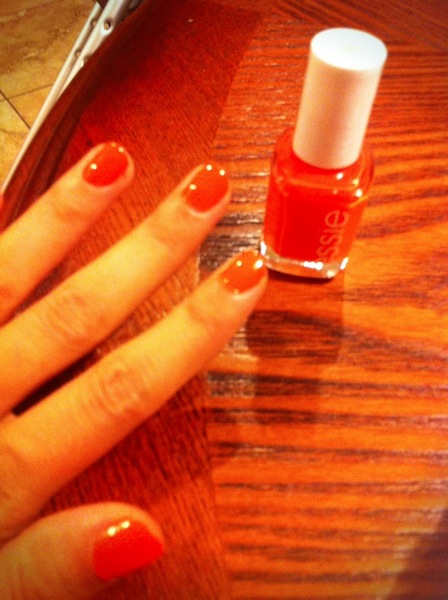 This morning, I'm off to do the work thing but in the meantime, some randomness:
1. I'm trying to teach myself how to glide. When I'm joking around with the Pilot, I pretend to glide around him, except I look like a giant goober because I have no idea what I'm doing. I watched and studied a couple of YouTube videos like this one and have been practicing so that eventually, I can glide around him in a circle and blow.his.mind. 
2. We get asked this fairly often, but we have no idea where we'll be living 2 years from now. It's thrilling and kinda scary at the same time.
3. Usher and Shakira are replacing Xtina and Cee Loo on the Voice next season. I'm kind of excited about it- I LOOOOVE Shakira (would love to teach an entire Zumba class to Shakira songs one of these days) and Usher… well, he's nice. Very, very nice, indeed.
4. I've lost a lot of my Spanish-speaking abilities, but still understand it like I always have. I lived in Tucson most of my life and my family speaks Spanish fluently, but when we lived in Georgia, I rarely heard it. It seems to be kinda like "use it or lose it" because after that 4 years away, my Spanish is choppy, even though I can always understand what everyone else is saying. 
5. This article is fantastic– a great reminder to live in the present and focus on yourself. 
So tell me, friends, will you be living in the same place in two years? Do you speak any foreign languages? Read anything lately that inspired you?
Hope you have a very happy humpday!
See ya later on the Fashion page.
xoxo
Gina
New on the Family page: 1 month of baby food- round 2!