Hi guys 😀 It's me againnnnnnn. 😉 How's your night goin? I'm so glad ya'll like the pasta primavera recipe- totally appropriate for this time of year!
I have a confession to make…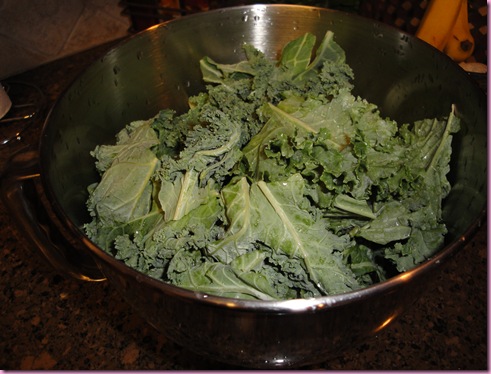 Kale is stinky.
Not just "put some deodorant on" stinky, but "haven't-been-washed-in-two-weeks socks on a haven't-bathed-in-two-weeks man" stinky.
Stanky.
It's one of the very few veggies that has to be disguised for me to like it.
Either in raw chip form: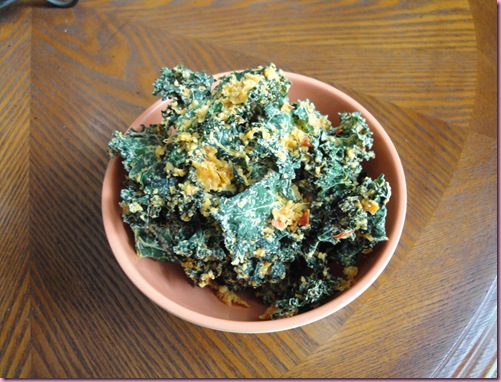 Or raw massaged salad form: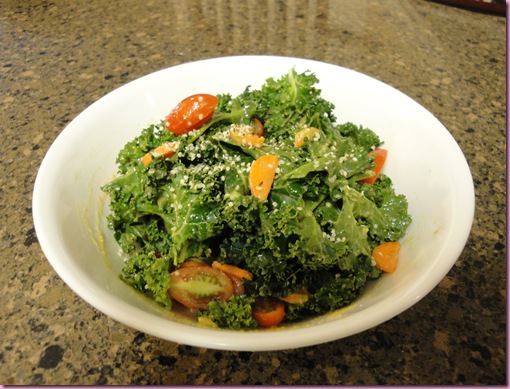 I've also found that organic kale is less rank than the conventional version, so I will usually only make kale goodies after a Whole Foods trip (Valdizzy doesn't have organic kale).
This afternoon, I decided to make use of both bunches by putting some raw kale chips into the dehydrator (the standard recipe is found here– I change it up a little though)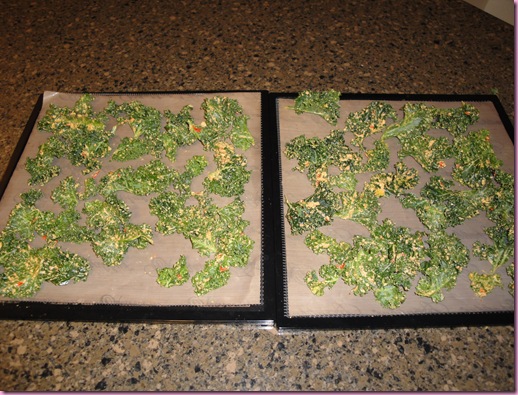 And making a massaged kale salad for lunch.
Super easy.
In a bowl, I put 1/4 avocado, 1 T rice vinegar, 2 t nama shoyu, garlic powder, sea salt, pepper (don't be afraid to be generous with the seasonings), juice of 1/2 lime, 1 t extra virgin olive oil, cayenne and 1 t agave.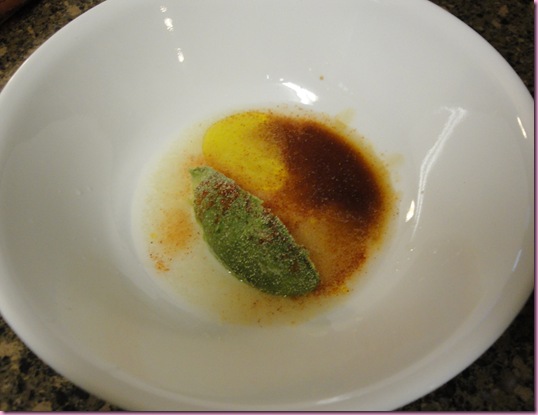 I mashed everything together with a fork: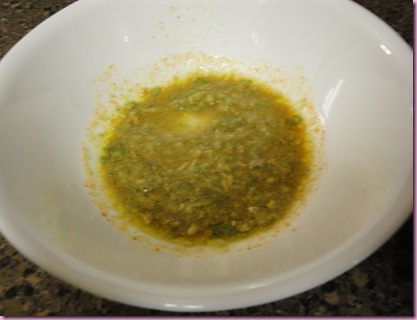 And topped with 2/3 bunch of kale (ribs removed and saved for green juice and leaves torn into large bite-size pieces), a sliced carrot and 8 sliced grape tomatoes.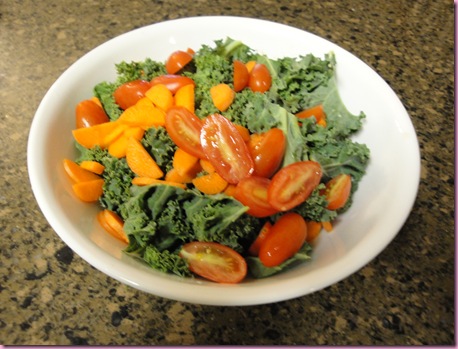 Next was the fun part: massaging the kale. Hubba hubba 😉
You just use your hands to move the kale around the bowl, squeezing and making sure the dressing is evenly distributed. This takes about 3 minutes of so. Next, I like to let the kale stand for about 10 minutes so that the acid from the lime juice can break it down a little (giving it a "cooked" feel).
Topped with hemp seeds, it was pretty glorious.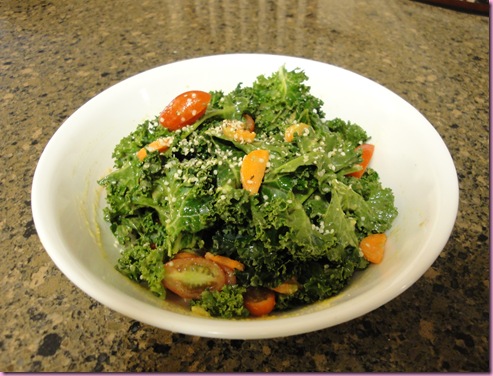 What's your favorite stinky veg???
Mine is broccoli, by a landslide 😀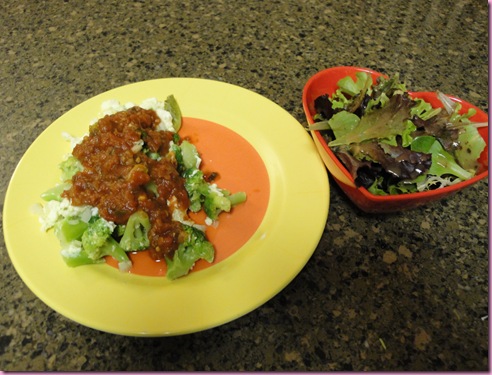 (with 3 egg whites, onion, half a jar of 365 hot salsa –not joking- and a salad)
Any veggies you have to disguise to enjoy??
I used to do it with cauliflower all the time (mashed potatoes!), but now I love it raw 😀
Hope you all have a great night- I'm about to snuggle up with the puppers and watch the DWTS premiere.
xoxo,
Gina
Workout jam of the day: "Imma Be" by the Black Eyed Peas. I know it's been around for a while but I've been singing it all weekend (and on Twitter- sorry guys, haha) and can't. get. it. out. of. my. brain.