Hey 😀 Wow. I loved reading your insanely awesome comments to this morning's discussion post. I know I can always count on you to be honest, classy and well-spoken ladies (and dudes). Thank you!
Here is the general consensus:
-OpenSky is helpful, but can be kind of annoying
-OpenSky is more annoying when bloggers promote things they wouldn't use, and do so on a frequent and unnecessary basis
-When the temps go up, blog views may go down
-There's a lot of redundancy in the blog world right now, which is causing some people to skim down their Google reader
I totally agree with you guys, especially about the redundancy thing. I always try to bring new and fun things into the blog world.. and when everyone and their mom is eating millet bread, maca powder and raw macaroons, I try to find something else to contribute so ya'll don't keep reading about the same stuff (thank you, mung bean pasta haha).
So for now, I'll keep on doing my thang and will continue to keep the reviews and OpenSky promos to a minimum and not the focus of the bloggy. That's not what this is all about anything. It's about food, fitness and shenanigans. That is all 🙂
This morning, I made a green juice to take to the gym: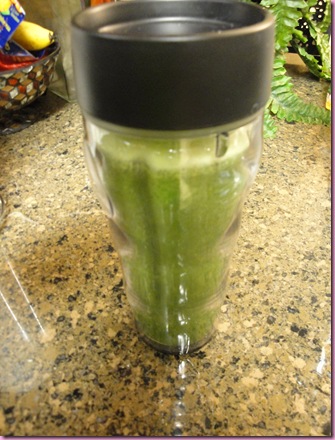 In the mix:
-1 green apple
-1 anjou pear
-1 cucumber
-1/2 lemon
-handful of spinach
-parsley
-1/2 t spirulina
Everyone else was chugging their water and sports drinks, while I sipped on a green sludge 🙂
After Ashley and I did a chest and shoulders workout, I came back to the casa for bfast.
Raw Protein Chia Oats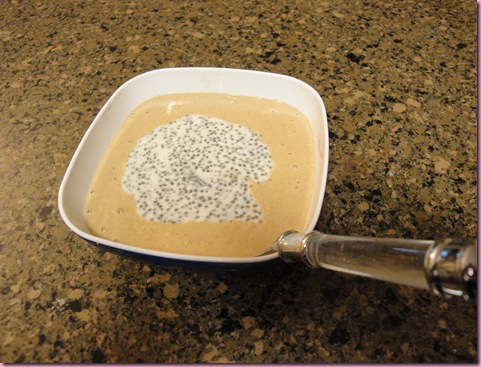 -1/3 C oat groats soaked overnight, blended up with
-almond milk
-1 small banana
-1/2 scoop Vanilla Sun Warrior
–mesquite <—not the brand I use, but has a great description of the taste and benefits
-cinnamon
-vanilla
Topped with 1 T chia seeds that soaked in almond milk overnight
Face was rocked.
Next, I busted out some of this stuff….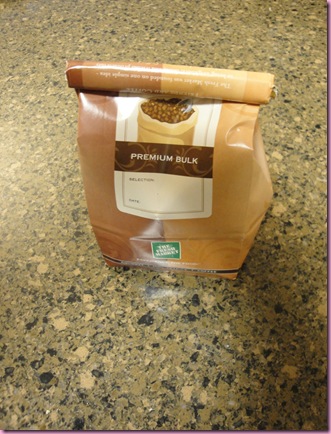 COFFEE!
The Fresh Market was tempting me, so I bought some.
1/2 Decaf Almond Amaretto and 1/2 Molten Chocolate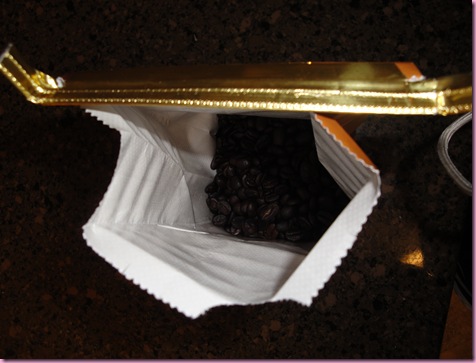 Gah!!
As ya'll know, I gave up drinking coffee about a year ago. I'll still have it every purple moon, but didn't want to be dependent on it anymore (in college, if it were the night before an exam, I'd drink up to 16 cups. Terrible, I know).
Well, today's moon is purple 😀
Productivity in a mug: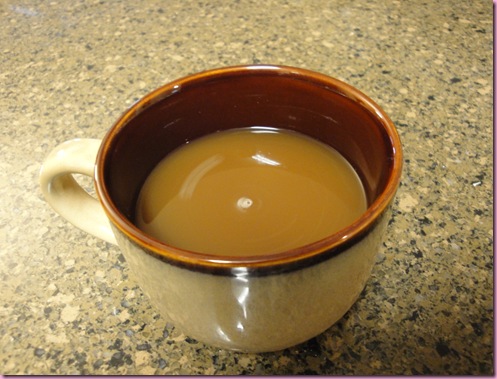 I may have been bouncing off the walls and rocking out to Glee as I cleaned up our vacation tornado this morning 😉
So crazy because ever since I gave up sweets for Lent, I've been hankering for things I wouldn't usually want. Gum… now coffee… I'm thinking it would be better if I just started eating sweets again. Blah! 2 weeks to go. Easter Sunday I will have a Liz Lovely cookie in each hand and a giant shake made of vanilla vodka, Bailey's and vegan espresso gelato. Yeahhhhhhhh.
I'm off to work!
xoxo,
Gina
Something to do: Make this super easy Vegan Pasta Primavera!
Pasta Primavera

Serves one hungry Fitnessista

Ingredients:

-1 zucchini, thinly sliced

-1 carrot, thinly sliced

-1 red bell pepper, julienned

-8 grape tomatoes, sliced in half

-1 serving pasta of choice (I used mung bean)

-garlic powder, sea salt, pepper, extra virgin olive oil

-parsely and nutritional yeast, to serve

1. Pre-heat oven to 450 and spray a cookie sheet with nonstick spray (or EVOO from the misto)

2. Spread veggies onto the cookie sheet in a thin layer, spray with olive oil, season with garlic power, sea salt and pepper, and roast for 25 minutes, stirring and re-seasoning halfway.

3. Meanwhile, cook the pasta until it reaches al dente –I like mine with a little bite to it- strain, and place into a large bowl. (Can drizzle or spray with a little olive oil so it doesn't stick)

4. Add the roasted veggies to the bowl, toss to combine, and transfer to a plate

5. Top with nutritional yeast and fresh parsley

6. Feast

© 2010 The Fitnessista