I have a little bit of fear in my heart. I feel like karma is going to get me back for all of the times I complained about shrieking babies on airplanes within the next couple of months. We're not going to Italy- postponing until Liv is older- but I'll most likely be taking her on an airplane by myself in the near-ish future. Tom has to travel for work, and we're thinking of making a long weekend out of his trip since he'll have an easy schedule and time to hang out (+we have friends where he'll be going). This means Liv and I would meet him at his destination, and I'd be taking her on her first plane ride solo.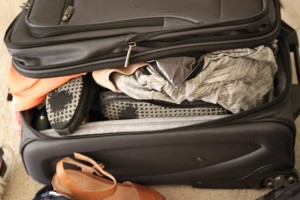 Yikes.
If the 3 of us were traveling together, I wouldn't think twice about it. However, by myself I'm a traveling disaster -you've seen my haphazard last-minute packing and airport dilemmas- and to throw three times as many things to manage on my own scares me a little bit. The good news is that this is forcing me to plan and get more organized when it comes to traveling.
it's a short flight and she's used to sitting on my lap and playing while we're in restaurants. I feel like I'll be able to keep her happy and entertained for the flight if she doesn't nap in my arms.  I just want to help her with the ear popping, and am wondering how I'm going to juggle all of our stuff.
Here's what I'm thinking:
-Send the pack n' play with Tom (or use our friends' if they don't need it?)
-Fly business class so we have more room
-Pack the carseat base in my big suitcase, along with Livi's things and ALL of my stuff – aka no more small rolling suitcase carryon bag. Diaper bag and that's it.
-Check the carseat/stroller combo at the gate
-Wear Livi in the BabyHawk as we walk around the airport
-Carryon: 2 bottles (one for takeoff and a backup if she finishes the first one, to drink while descending to help her ears), toys (maybe a couple of new ones she hasn't seen yet?), teether, diaper stuff, my computer (don't want to check it), Kindle, change of clothes for Liv, large Ziploc baggie for potentially stinky diaper
The trip isn't for a while, but it's going to be here before we know it! Just trying to figure out the logistics before we book my ticket…
So what do you think? Any ideas to help with ear popping? Secret tips for packing lots of baby gear?
As always, I'm excited to hear your suggestions- I'm lucky to be able to ask you all for help <3
xoxo