I was conjuring up a new recipe that I wanted to try for dinner last night, but when I got home and took a look at the Pilot, we knew.
Eclectic it was 😉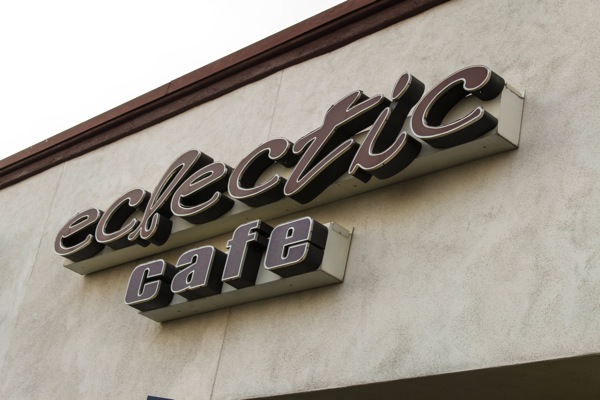 I was absolutely fried from teaching yesterday. Cooking just wasn't going to happen. 3 days of Zumba again this week (whoo too!) and taught a buff booty class that left my biscuits burning and my legs quivering. Today, each step up and down in the house is a profanity in my mind. 
Also fried?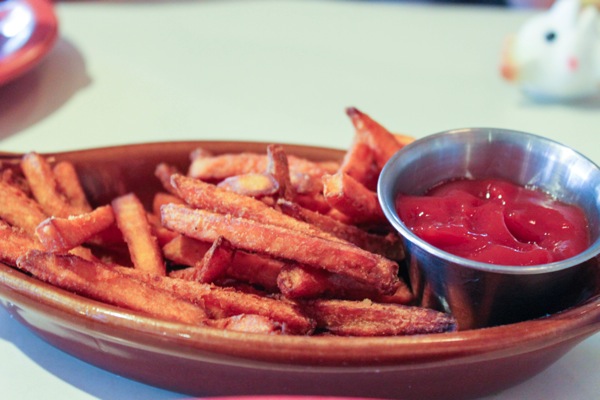 YUM.
We shared those as an appetizer. Usually I don't like fried food, but fry a sweet potato and all bets are off. Monkey Burger has the BEST sweet potato fries- waffle for the win.
Entree: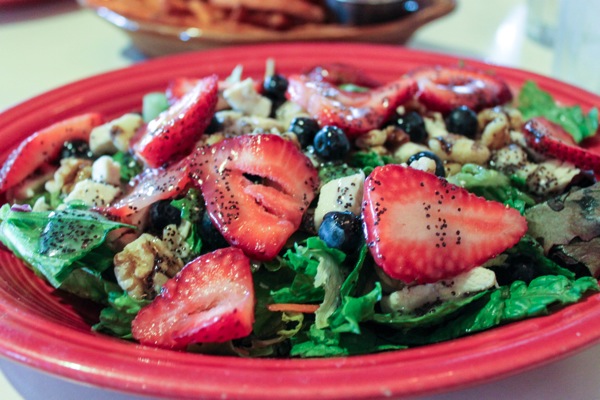 Love this salad so much. Greens, blueberries, strawberries, walnuts, chicken and poppyseed dressing.  It was such a great meal, and I'm glad Liv doesn't mind Eclectic. She sits at the table with us, chews on her giraffe and people-watches. 
Breakfast: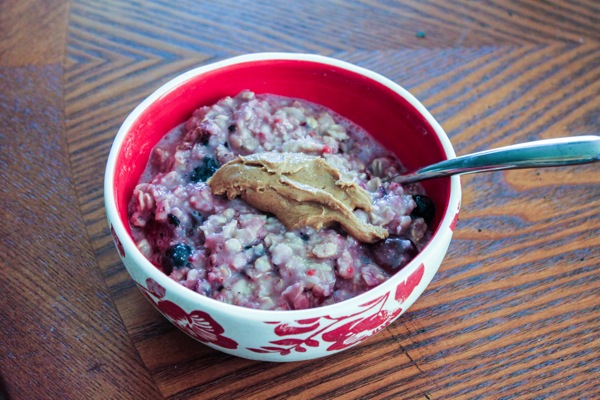 Berry protein oats with 1/3 C oats, frozen organic berries mixed in, Sun Warrior, almond milk, cinnamon and topped with almond butter
I have no idea what Liv and I are going to do today, but it will probably be indoors- it's supposed to be 107*!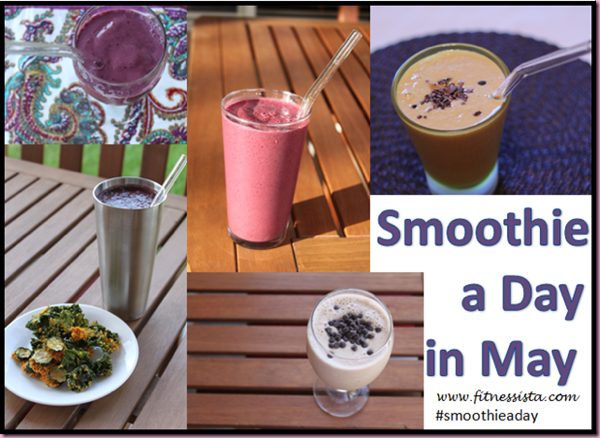 It's weird to not be planning a smoothie for this afternoon since #smoothieaday in May is over. To those of you who joined in, how did it go? What was your favorite smoothie combo?
It was a little bit of a challenge for me and there were a few days when I didn't make a smoothie. I got so sick of bananas and ended up skipping them (avocados were a good replacement to add a creamy texture), and there were a few times when I really wanted something different for my afternoon snack since I knew we'd have a big dinner. I think it would have been easier to follow if I would have said a "smoothie or juice a day" in May, because between the two, I wouldn't get sick of the options and could make a juice for an energy boost instead of a filling smoothie. While smoothies are refreshing, they can be heavy (especially with the way I like to make mine).
Have you done any blog challenges lately? I know Angela is doing a salad a day in June, which will be easy for me to follow along- salad beast is my standard lunch. If you're looking for something to add to your routine in June, I'm going to aim for 5 minutes of stretching or foam rolling before bed each night. Who's in for the fun? If you're looking for foam rolling tips, some of my faves are here, and here's a stretch video I did while I was pregnant.
Have a happy Friday!
xoxo
Gina
Something to read:
-10 one-minute health, fitness and mood boosters
–Simple ways to keep active at work
Something to do:
Stop by the Fashion page or Meg's blog to wish her a happy birthday 🙂 Happy, happy birthday to my "little sis" – it's going to be an amazing year <3 love you.