I will be receiving complimentary Invisalign® treatment in exchange for sharing my experience and I'll be checking in to give updates on my journey and progress. All opinions are my own.
Hi friends! How's the day going so far? I have some fun news: I'm about to start Invisalign® treatment, and I'm excited to share a little bit about the journey with you.
My overbite rejoices.
Invisalign clear aligners is something I've been wanting to do for years. I had metal braces back in the day (during the already awkward years of my adolescence), but my teeth were never fully corrected. For this reason + my not-so-fab retainer, my teeth have shifted over time. Initially, my teeth were very crowded, but my overbite was the most noticeable part of my smile that needed tweaking. Now as an adult, it's back, and it's only getting worse.
At my first appointment, they took some digital VERY close-up photos of my teeth, but since some of you might be eating lunch haha, here are the digital representations.
My smile on the left, and a corrected version on the right: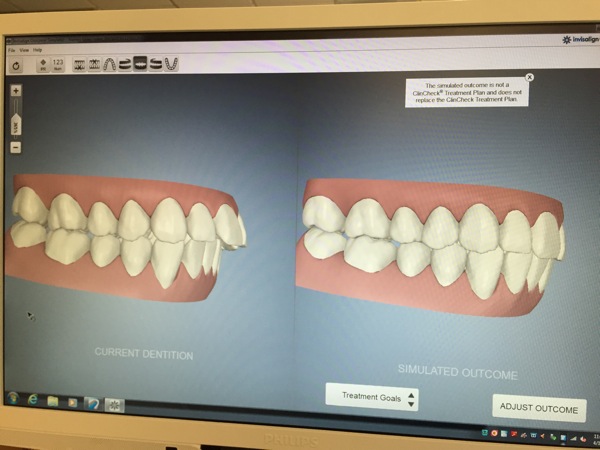 Pretty amazing, huh?
For my consultation appointment, I went to Dr. Styrt's office in La Jolla. Going into the office, I was wondering what type of vibe I would feel, because I remember that when I was young, it was mainly kids my age being treated. Even during my second round of braces, I felt strange going into an office full of kids and tweens as an adult. I think that has definitely changed, and more adults are seeking orthodontic treatment. In the office, it seemed like there were just as many adults as children.
In the consultation area, they took photos (obviously no X-rays until the little one is born) and discussed my treatment plan before the doctor came in to talk to me. I was really hoping that I would be a good candidate for Invisalign clear aligners treatment, as traditional metal braces for a third full time didn't sound very appealing (I've actually had braces 3 times; 2 full sets and a half set of something my then-orthodontist determined was the wrong type). Thinking of the pointy metal brackets, the wax, and picking/prodding all over again makes my skin crawl.
I had traditional braces as an adult (in college), and although they were the clear type, I was still often referred to as "the girl with braces" at work. I didn't love how they looked, and I thought they made it more challenging to floss and brush my teeth. If I was deemed a good candidate for Invisalign clear aligners, I could remove the aligners to eat and brush/floss my teeth. Thankfully, I was, and after meeting with Dr. Styrt, my teeth were scanned for my clear aligners, which should be here in a couple of weeks. So, so excited!
My overbite has been really bothering me, especially over the past year. In photos, I try to see if it's totally obvious, and don't like side profile pics because of the bump on my nose and the overbite. It's funny how small things can have an impact on our confidence, even in the day-to-day routine. I'm looking forward to the day when it's not in the back of my mind.
One of my very favorite pictures, which just so happens to have the overbite in its glory.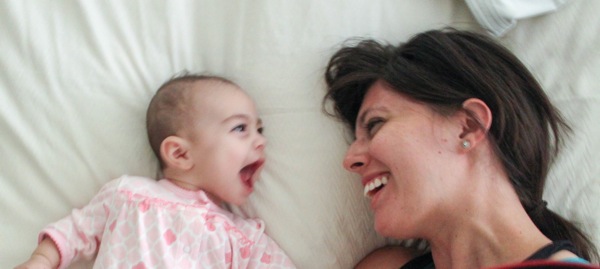 I can't wait to let you know how things are progressing, and I'm so thankful for this opportunity with the Invisalign brand.
Have you had braces before? What was your experience like? Has anyone had Invisalign clear aligners? Any tips for me??
Hope you have a great day!
xoxo,
Gina
I am an Invisalign brand spokesperson receiving complimentary services and I am filled with gratitude for this opportunity. All opinions expressed are my own. Full disclosure is here.
p.s. If you are interested in Invisalign clear aligners treatment, you can request more info, here.