Those bright and shiny lights
From one New York to another 🙂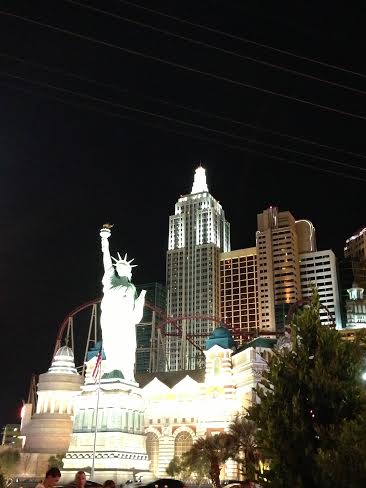 After a wonderful stay in NYC, I hopped on a plane to Las Vegas to meet the Pilot for the Pac-12 basketball tournament. The tickets were our Christmas gift to each other, and we figured it would be a fun little getaway before the moving insanity begins 🙂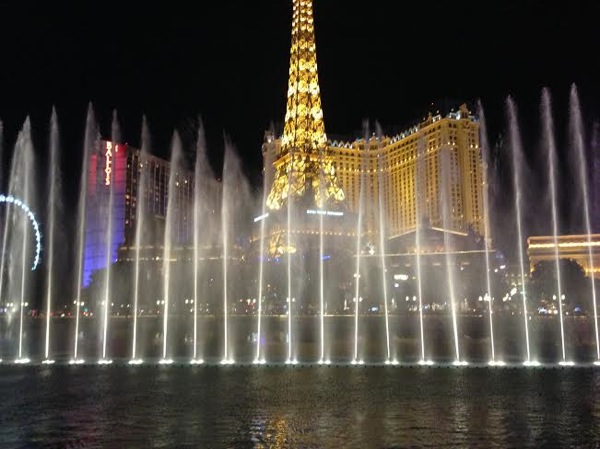 As you guys know, despite the fact that my husband flies planes for his job, I'm a very nervous flyer. It's even worse now after the emergency landing we had to make on my last trip to Boston. For the  direct flight to Vegas, after an hour of turbulence, the flight attendant got over the intercom and said, "Is there a doctor on the plane? If you're a doctor, please come to the boarding area as soon as possible." The flight attendants scrambled around the cabin, and even got out the defibrillator, but thankfully, the person of concern was ok. I white-knuckled the arm rests and said a thousand "Hail, Mary" prayers while the man next to me (wearing a sriarcha shirt = an automatic friend) made small talk, which was a nice distraction. Needless to say, I was pretty stoked when we were on the ground and got a kick out of the flight attendant saying "what happens in Vegas, stays in Vegas" over the intercom.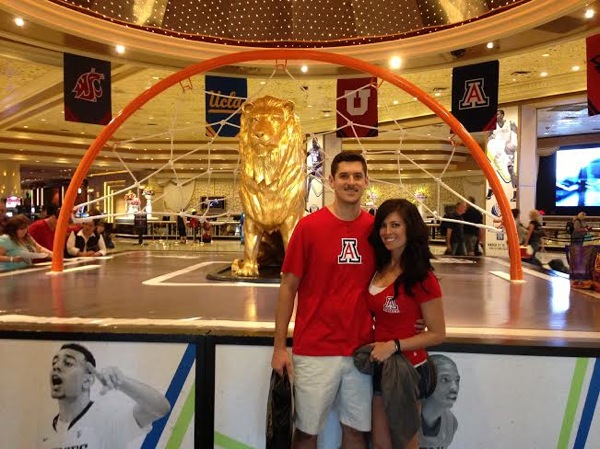 We stayed at the Signature for a couple of nights, and it was my first time at the hotel. We really liked it! It was unique in the sense that it wasn't directly on the Strip (but was easy to walk through MGM to get out on Las Vegas Blvd), and some rooms are individually-owned. I had purchased our room via Groupon, and it was one of the individually-owned suites. Imagine having your own suite when you visit Last Vegas! Baller status.
The room was clean, nice, and had a cute little kitchen with stove: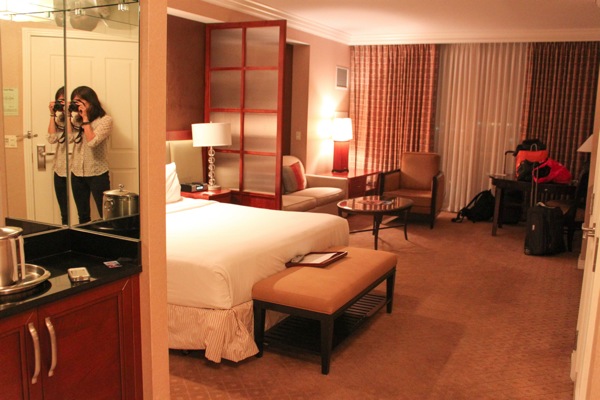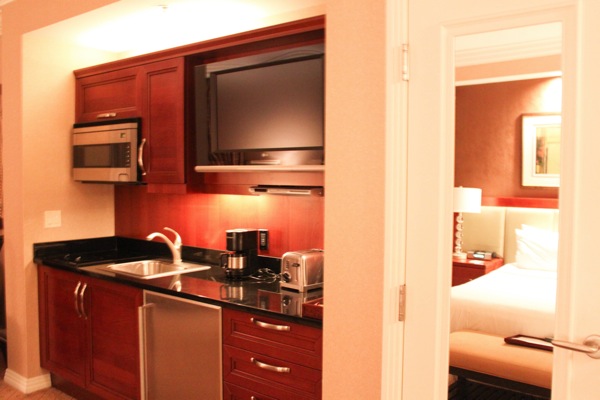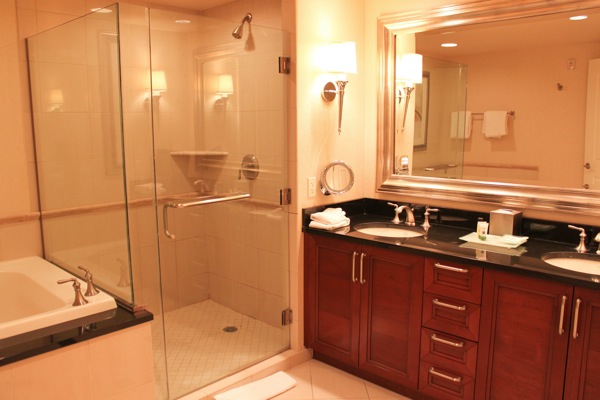 The last night in Vegas, we stayed at MGM Grand since it was where the tournament was held.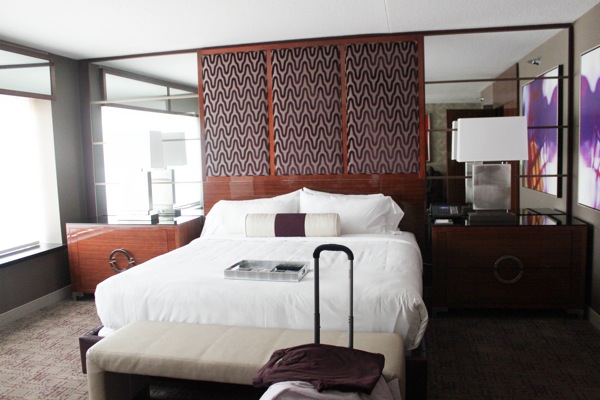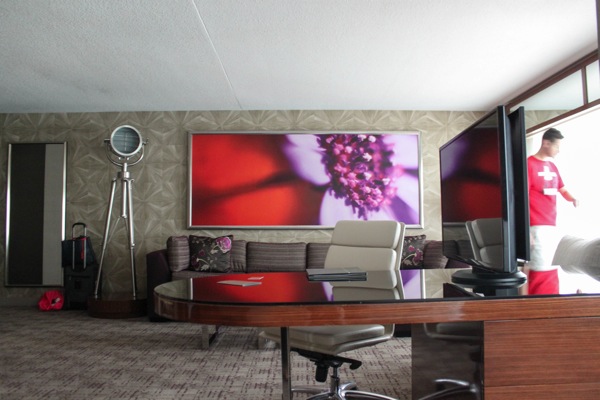 I hadn't stayed at MGM since I was a kiddo, and it's totally different than what I remembered. They used to have an entire Wizard of Oz setup in the lobby back in the day, which of course, I was crazy about. It has changed a lot since then, but we loved it. The hotel lights emitted a Wizard of Oz-esque glow into the room!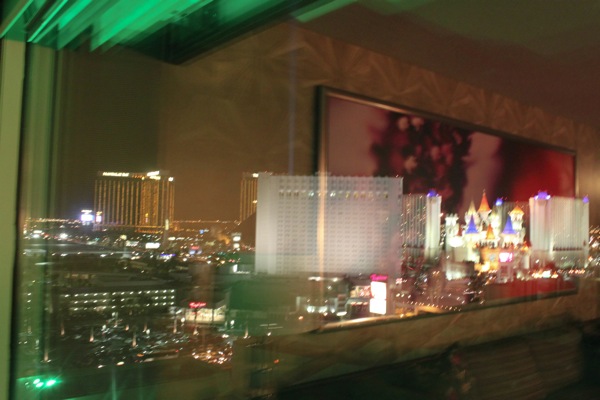 We went to the semi-final and final games of the tournament,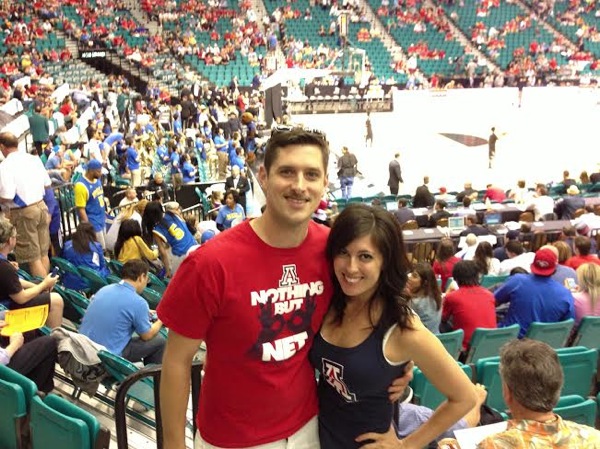 (Cats lost at the end, but it was a great, close game)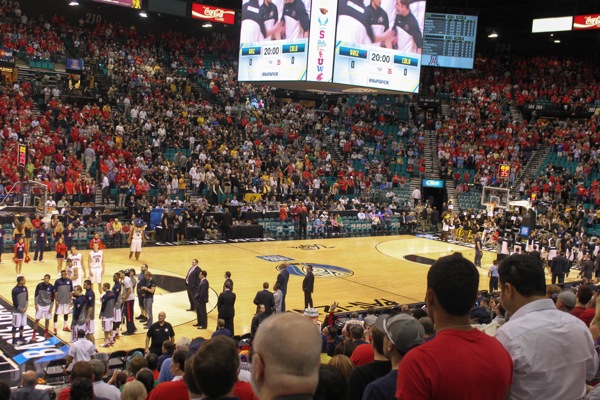 attended some of the insanely fun pep rallies,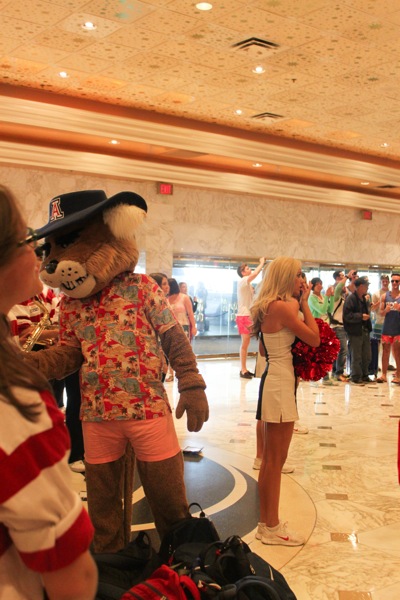 (Wilbur looks so nice in his Hawaiian shirt)
ate at delicious spots,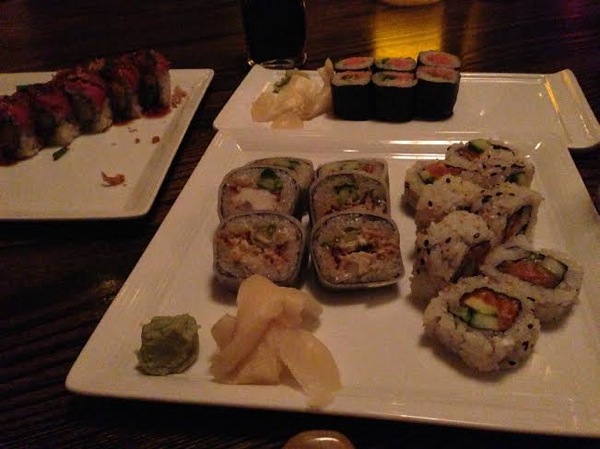 (sushi at Yellowtail)
got to see our friends (and my BFF Jeni) who live in Vegas,
and even went out!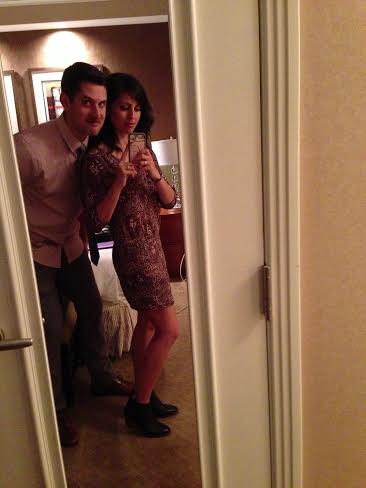 It's been quite a few years since mama's gone clubbin' 🙂 It was fun to put on a dress, pair of heels, and dance the night away 😉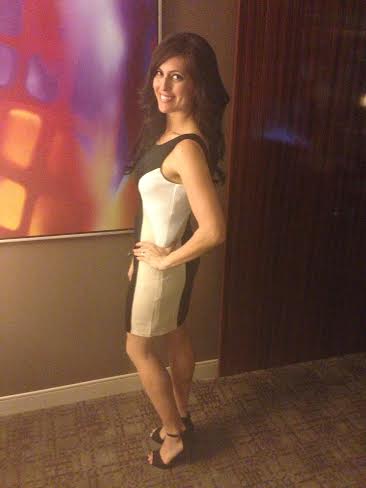 Notable:
-We sat a table away from Questlove at brunch! 
-I was pushed by an unruly UCLA fan. It was especially shocking since this little lady had to be pushing 70. I walked through a door that apparently wasn't an exit (despite the fact that it was propped open), and she was walking in from the other side. She shoved me (using both hands and a surprisingly amount of gusto) saying, "You can't walk through here!!" She was a feisty one.
-Mesa Grill was kind of meh. (It's usually one of our very favorites!) The queso didn't disappoint, but then again, there's little wrong you can do with melted goat cheese and chips for dipping 😉
Brunch at Mon Ami, however, was just as wonderful as I remembered it: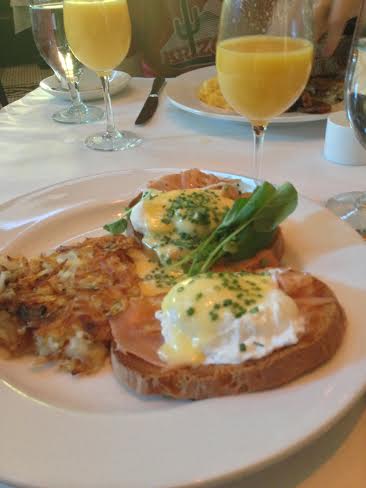 (smoked salmon benedict on gluten-free toast)
-Slow clap for the DJ at Tryst. He played a killer mix!
As much fun as everything was, this was definitely the best part of the weekend: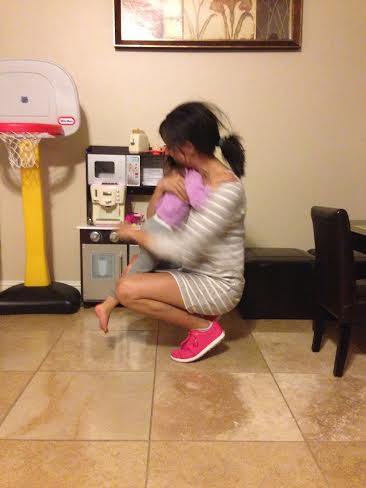 I missed that little noodle with my whole heart.
We're going to enjoy a breakfast date, grab groceries and figure out something St. Paddy's Day-ish to do. Any ideas?!
Did you do (or are you doing) anything fun for St. Patrick's Day?
Hope you have a happy Monday <3
See ya later today!
xoxo
Gina