NYC is a foodie and fitness heaven. There were so many incredible restaurants I wanted to try while I was there in addition to all of the new-to-me fitness classes. Even though I feel like I'd need a lifetime (and $$$$) to truly explore it ALL, we definitely squeezed a ton of wonderful food and fitness into our trip 🙂 I'm so thankful to Reebok and Fitfluential for the opportunity to attend the Skyscape launch, and to my blog buddies (new and old!) who made the trip such a blast <3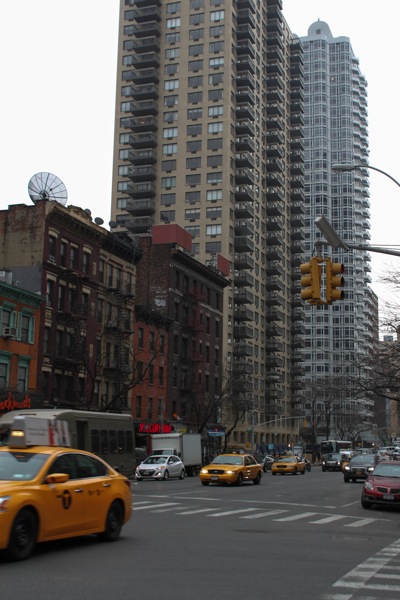 We stayed The Plaza, which was absolutely exquisite.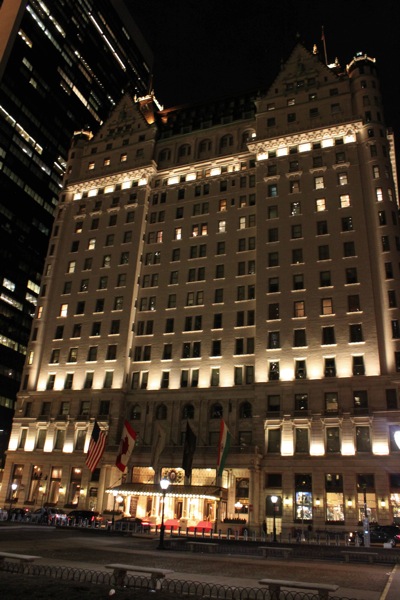 (I couldn't stop thinking about Home Alone 2 and Bride Wars!)
The Plaza was a great location to walk around and explore, and we could easily get on the subway outside the hotel room doors.
One thing that blew us away immediately was the perfume of fresh flowers. The entire hotel is decorated with elaborate fresh bouquets, which are changed out every week. The Plaza is also well-known for their afternoon high tea.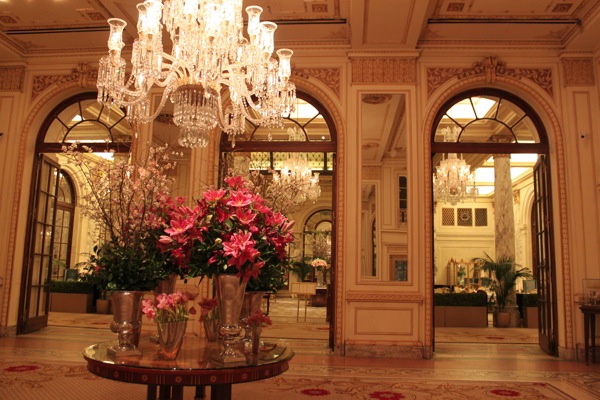 I took a thousand pictures of my room, which was a unique mix of traditional elegance and modern technology: crystal chandeliers and an iPad which controlled the heating/cooling and lighting. You could also order room service and make concierge requests from the iPad.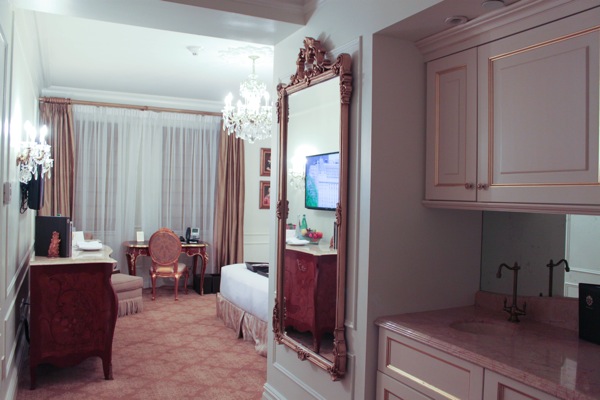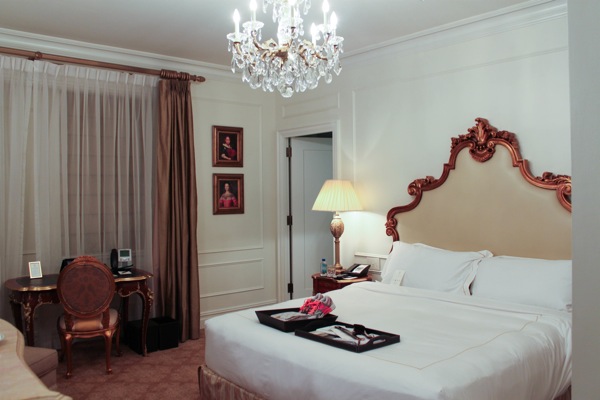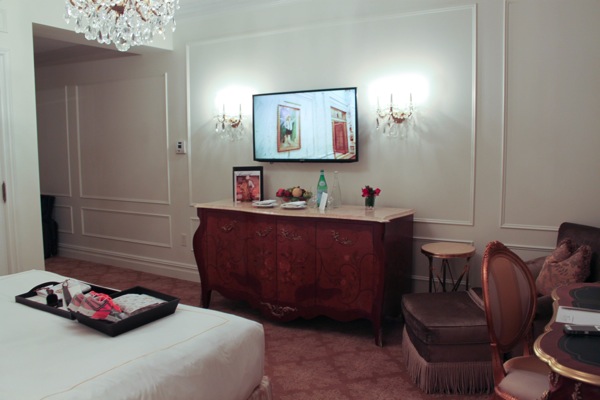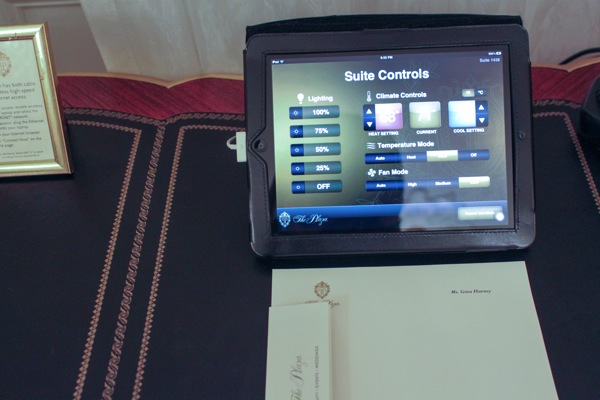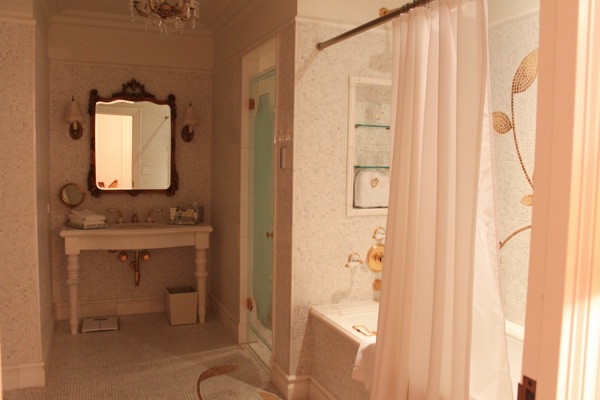 The Plaza truly went above and beyond to create a personalized guest experience, especially with custom printed stationary: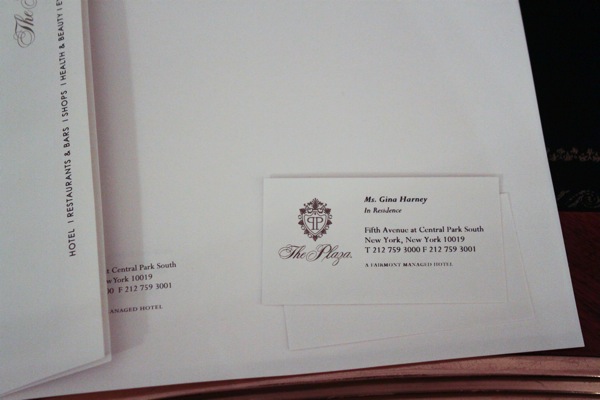 fresh fruit basket (which I attacked like a savage beast– I was definitely ready for dinner when I checked into the hotel), handwritten note,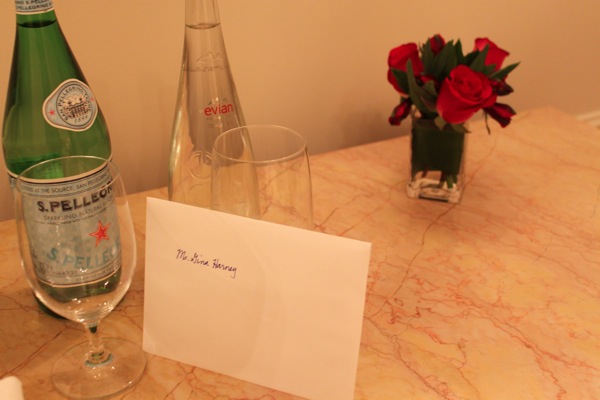 and the Fairmont Fit program, which provided workout attire each day during the stay. On the bed, an entire Reebok athletic outfit was wrapped up for me, including socks and my favorite running shoes.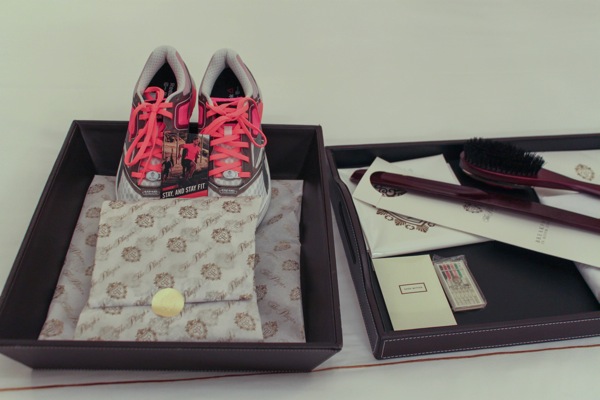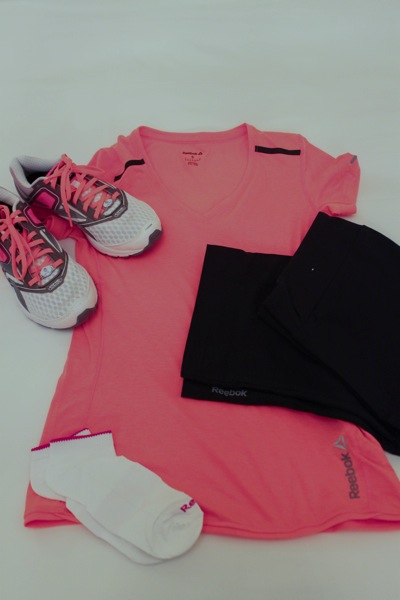 The beauty about the Fairmont Fit program is that you don't have to worry about loading a bunch of athletic attire in your suitcase (especially heavy/bulky sneakers). They also included a running map of Central Park, which was right outside the hotel. At the end of the day, you put your Reebok attire in the laundry bag to be laundered. If you like any of the gear so much that you want to purchase it, you could do so with a 15% discount. You can also request specific items (sports bra, socks) and even an mp3 player loaded with music!
I LOVE programs like this because they help to make fitness (especially while traveling for work) much more accessible. I felt motivated to see the gear on the bed, and if I wouldn't have had fitness classes planned while we were there, it would have inspired me to plan something active. Heather and I wore our Fairmont Fit gear to the Uplift class.
Restaurants we tried:
Todd English Food Hall. I recapped this one the first night of the trip, but the casual restaurant included a variety of foods that you could pick and choose from: traditional American-style food (burgers, fries, etc), Italian (with house-made pasta), raw (sushi and shellfish) and Asian. My kale salad was incredible; I can't wait to replicate the flavor combos.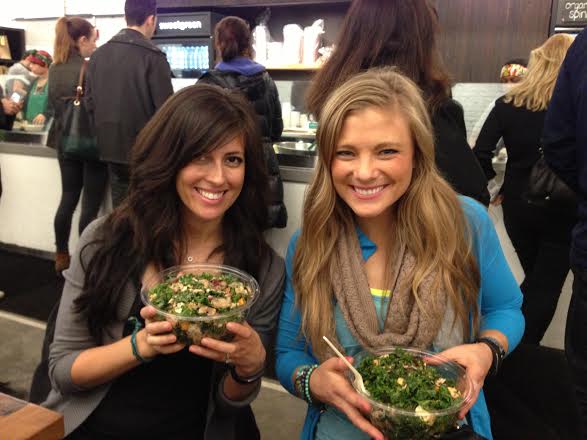 (I've never been so happy about a salad in my life haha)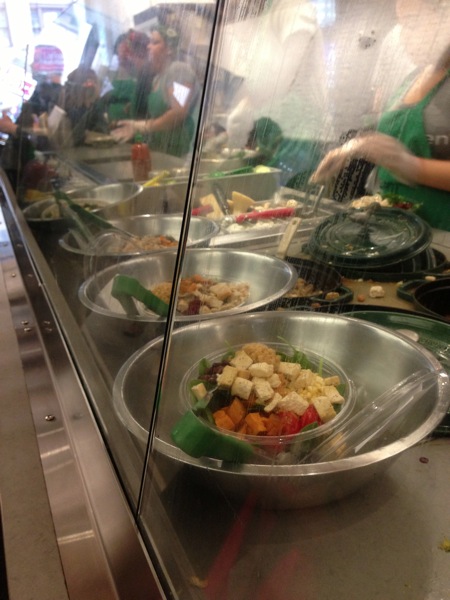 Theodora introduced us to Sweetgreen, which is a custom salad bar. You pick your lettuce, all of your toppings (or can choose from pre-designed salad mixes), dressing, and they toss it up for you. It was AMAZING. My salad had kale, chicken, quinoa, sweet potato, goat cheese and a lemon-tahini dressing.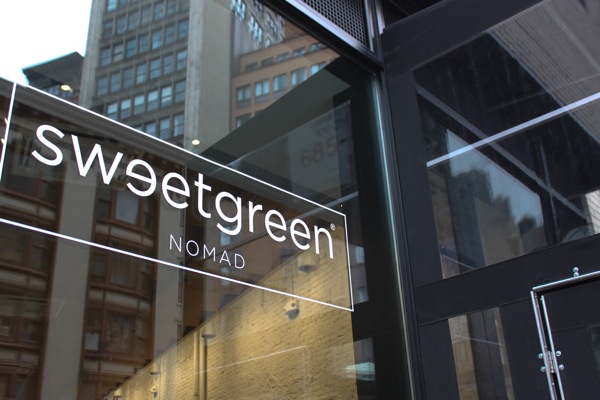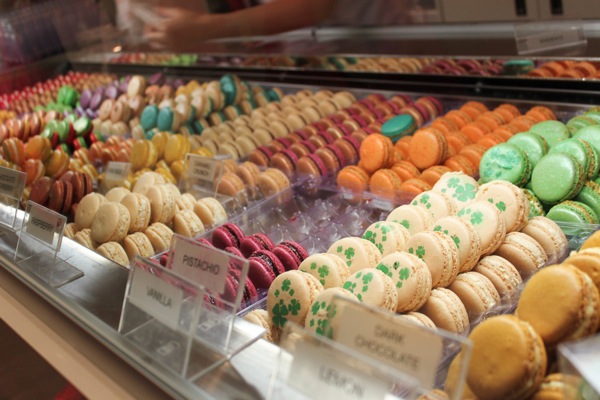 I grabbed a 6-pack of 'rons to bring home for my macaron-obsessed little lady. I tried a dark chocolate one and it was by far one of the best I've had.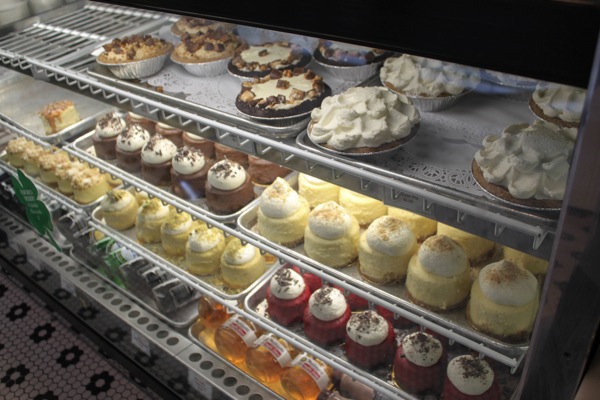 I got a flourless chocolate cake to go with my coffee. It was light, fluffy and perfectly decadent; such a lovely afternoon pick-me-up.
We enjoyed cocktails here before dinner one night, and while my wine and the atmosphere were both beautiful, the bar mix was especially notable 😉 We killed an embarrassing amount of the salty goodness– it was so good with a drink!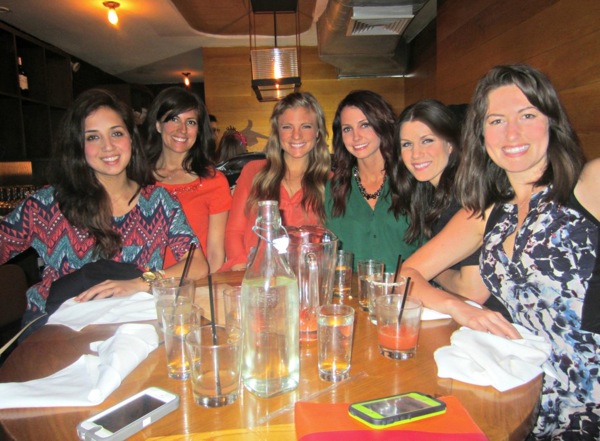 (pic from Heather! With Roo, Julie, Heather, Erin and Merri)
This is a tapas restaurant, so we ordered lots of little plates to share. My favorite was a tie between the cheese plate (with various types of goat cheese) and the potatoes. I love tapas, especially since it's a fun way to try lots of different dishes without committing to a full-sized entree.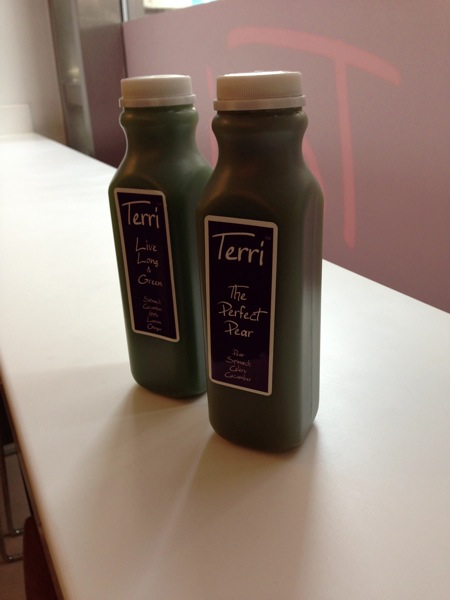 Heather and I grabbed juices here after our class at Uplift. I had a green juice with apple, kale, lemon and ginger. It was sweet with the lightest bit of spice 🙂
After Terri, we braved the chilly weather and walked to Penelope for breakfast. It was such a cute little spot- I should have snapped a pic!- and their menu offerings were fantastic. Lots of locally-sourced and organic ingredients. I had an omelet stuffed with goat cheese, spinach and chicken sausage + perfectly crispy potatoes.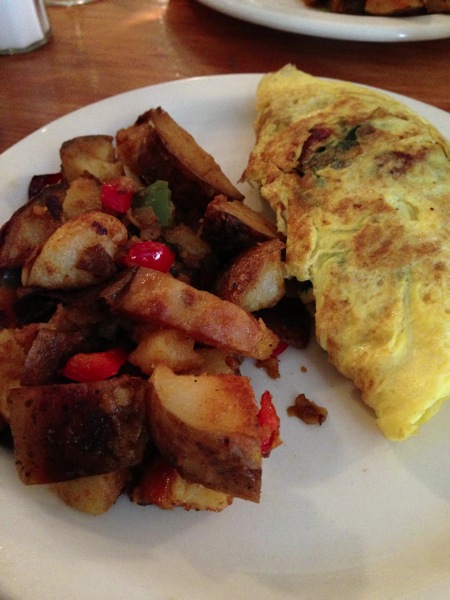 There were a couple of places I would have loved to try while we were there, but some of them were far, and let's be real, you can only eat so much 😉
Pure Food and Wine or One Lucky Duck (<– have had both before, but they're favorites)
Hu Kitchen (Paleo food)
and Levain Bakery.
Now that we're done talking about food, I have to tell you guys that I SAW A RAT! My first rat down by the Subway, haha.
Hope you're all enjoying the weekend so far <3
xoxo
Gina