Efforts to help the baby flip from posterior position to LOA (facing my right side, how she was until a week ago) have gone from pretty simple: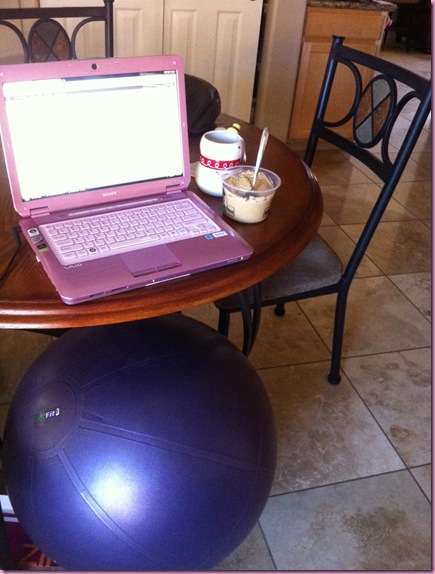 (using my stability ball as a chair and to bounce and rotate my hips whenever possible)
to a little crazy:
I spent 10 minutes the other night with an ice pack on my back, a warm heating pad on my stomach (since they face their backs towards warmth), crawling around on my hands and knees.
I've spent a lot of time walking
and walking around on all fours lately, since the change in gravity is supposed to help lift her out of the pelvis and rotate. Lots of pelvic rocking, on forearms, Kindle in hand. Tom laughs at me because I'll make a lap around the master bedroom on my hands and knees, read a page on the Kindle (my incentive), lather rinse and repeat.
Sitting tailor-style with the bottoms of my feet together,
keeping my torso always leaning forward or upright. Laying back creates a hammock for the baby and encourages them to stay where they are, which means
I've also had to stop reclining on the couch –my favorite position was propped up with pillows behind me- to solely on my left side in an effort to get the little one to flip, which also means sleeping on my left side only. No more changing sides in the middle of the night, and last night I was so uncomfortable, I couldn't sleep anyway, so I just sat upright in bed with the soles of my feet together.
We stopped doing the blanket trick because it didn't feel right to me, and one of the things I've been worried about it where the baby's umbilical cord is relative to all of this.
There are a ton of great tips on *this page*
And tomorrow, I'm trying something new: seeing a chiropractor.
I've never been to a chiropractor before because the thought of it freaks me out a little bit. The idea of snapping bones and joints into place doesn't jibe with me –I always pictured a big dude jumping on my back for some reason- and since I work closely with exercise physiologists and physical therapists, it's been easy for me to refer clients with medical considerations or injuries to their care. However, there is a woman here in Tucson who specializes in prenatal and infant chiropractic care, and is supposed to be a ninja at helping ease babies into a proper position for birth. She doesn't touch the baby (unless the baby is breech) -just makes small adjustments with the mom- and was referred to me by our Bradley instructor. Our instructor assures me that she's incredibly gentle- no bone-popping or anything like that.
Apparently the reason why the baby is flipped could have something to do with misalignment in my hips, which would make sense since they were extremely sore last week, and a small adjustment with my hips might be able to give the baby more room for birth and to flip back over. I'll know all the deets tomorrow after our appointment, and I'm thankful that Tom is going to be able to go with me. If for any reason I don't like what she says or get a bad vibe, I'm not going to do the adjustment, but I'm comforted to know that she sees pregnant women and babies every single day.
I don't intend for this post to turn into a "chiropractors are the devil" debate, but I'd love to hear your experiences or tips if you've seen one before. Some people swear by it, other people aren't a fan, and that's totally cool. Different things work for different people, and it's up to us to research and determine what methods are right for our own bodies.
Before I found out that she was sunny-side up, I was SO ready to rock out this birth, ready for labor to begin at any second. And now, I'm nervous. While I've heard a lot of positive things about sunny-side up deliveries, I've also read a lot of horror stories about babies getting stuck, coming out with nerve damage, unusually grueling labors…. so there's really no telling how it's going to go. While I'm still ready to rock it out, I'm feeling a lot more patient. She can stay in there as long as she needs to, until she's in the best position for her birth. Another thing the midwife suggested was talking to the baby and asking her to flip back over. So my mom, nana and I have been talking to the baby, and I've been asking her to get in her own best position… and who knows? Maybe it's for her to be face-up.