Favorite Workouts of 2011
Getting over the hump! Is it just me, or does this week seem extra strange with two weekend holidays in a row? It's definitely taken me a couple of days to get into the swing of things.
Switching up the usual eggs and toast with some almond butter and jelly waffles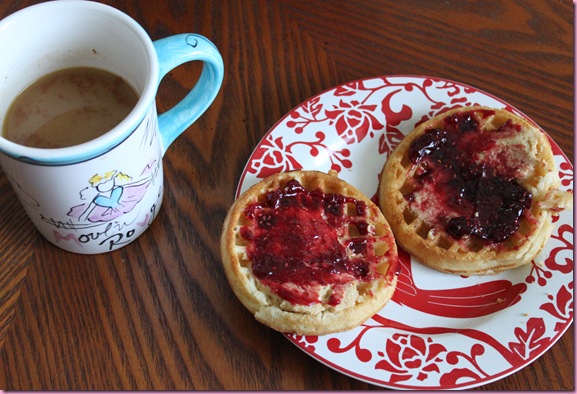 + half-caf coffee with almond milk, Stevia and cinnamon
So as you guys know, I'm a big fan of trying new workouts. I'll try pretty much everything once –it's helpful to be able to know what guests or clients are taking about if they ask about a certain workout- and never know when I'll find a new workout love. I tried a lot of a fun new-to-me forms of exercise in 2011 (hoop dancing, anyone?) and thought it would be fun to re-cap my favorite workouts of the year. There are a couple in here that were new to me this year, a few that are tried and true standbys.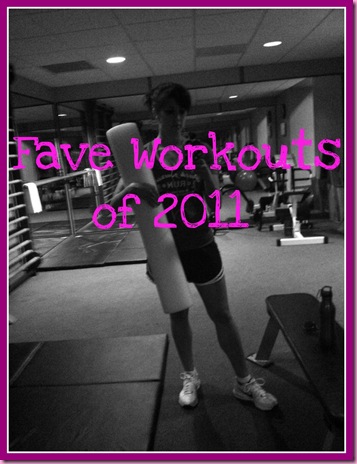 Many of these require you to be free of joint or health considerations, so check with a doc before trying anything new. And guess what? They can all be done at home!
5. Insanity
I completed the Insanity workouts with my friend Ashley, in our upstairs Valdosta yoga room, two springs ago. These workouts made us work extremely hard, I loved having a buddy, and you could do them anywhere. We even took the DVDs with us to Vegas and did one in the hotel room before starting out the day. I've used some of the techniques for my bootcamp classes, and the only con I found from Insanity was that it didn't involve a lot of strength training, so I added my own weight routine into the mix and saw great results. Throughout the year, I'd pop in an Insanity DVD when I didn't have time to make it to the gym and managed to get in an excellent workout at home.
Bonus: Shaun T is very, very nice to look at 😉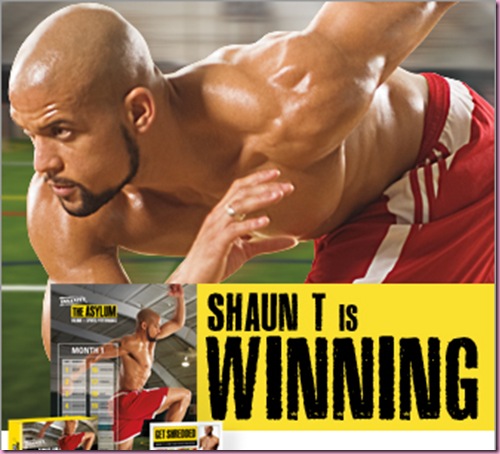 Source
Oh, hey.
(Has anyone tried the Asylum? It looks pretty crazyawesome)
4. BodyRock
I first discovered the BodyRock.tv workouts after my twinnie friends raved about them- instantly, I was hooked. I loved the fact that you could do most of the exercises at home –sometimes I'd take it to the gym to use the assisted pull-up machine since I didn't have a pull-up bar- and couldn't believe how short they were. It definitely goes to show that quality of workouts matter so much more than quantity. HIIT didn't feel comfortable to me when I found out we were expecting, so the BodyRock workouts have been put on the backburner since then. I'm excited to get back into them, though 🙂
Hotel Bodyrock: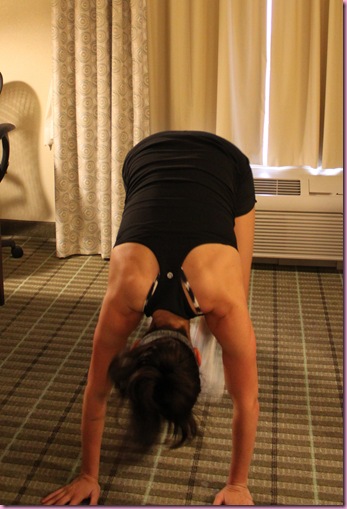 3. TurboFire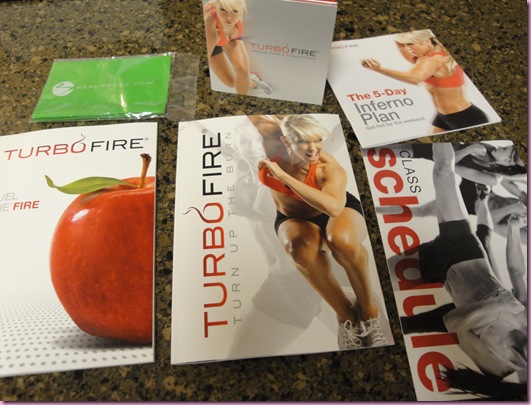 TurboFire is one of the workout DVDs that I'm always recommending. Chalene's energy is amazing, the choreography and music are fantastic, and I love the incorporation of HIIT drills with steady-state cardio, toning and flexibility. It also comes with a well-rounded diet plan in addition to the workout schedule. My favorite thing about these workouts was that I could go balls to the wall if I wanted to, and then when I needed lower-impact, they were easy for me to modify by watching Allie, as she demonstrates the low-impact modifications next to Chalene. I plan on ordering the extra TurboFire DVDs to have here at the house during naptime and when I can't make it to the gym.
2. Physique 57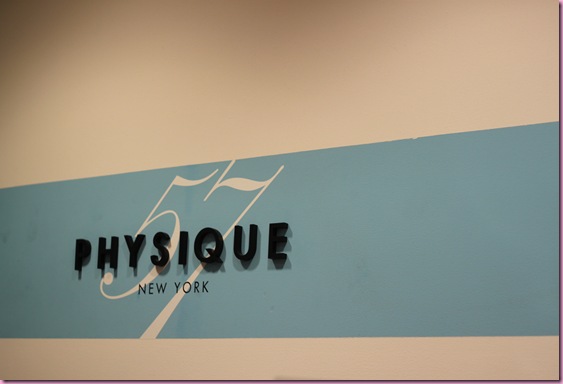 I've said it so many times before, but if we had a Physique 57 studio here in Tucson, it would be in my regular workout rotation. The order of the series, burn potential (this had made my muscles beg for mercy unlike anything I've tried) and the fact that it doesn't involve ballistic movements or crazy pounding is pretty amazing. The company sent me the DVD set, which I really enjoyed, but there's something to be said about the ability to take a live class. If you're ever in LA or NYC, definitely see if it's something you'd be interested in trying.
1. Zumba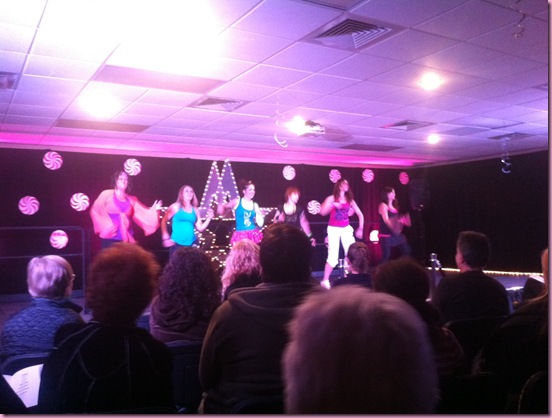 You knew this would be #1, huh? 😉 You guys know I love my Zumba. Anything that makes you feel like you're partying instead of working out is definitely a winner, and the music is my favorite. Of course, the instructor makes all the difference in the world, but if it's something you've been wanting to try, there are a ton of YouTube videos posted with full routines. One of my goals for 2012 is to post Zumba dance videos more often because I love them so much.
What was your favorite workout of 2011? Anything new that you tried that you fell in love with or decided wasn't for you?
Something to read:
Keeping pets safe during the cold winter