I'm not a huge TV person. Don't get me wrong, I LOVE my Kardashians and Project Runway, but besides having the television on CNN most of the day, I don't actively watch it very often. We always agreed not to have a TV in our bedroom –it disturbs the peaceful vibe and a distraction from.. other things- and it's worked out well for our little family. So even though I'm not much of a TV person now, that's not to say I wasn't when I was younger. My little bro and I were SUCKED IN to that thing.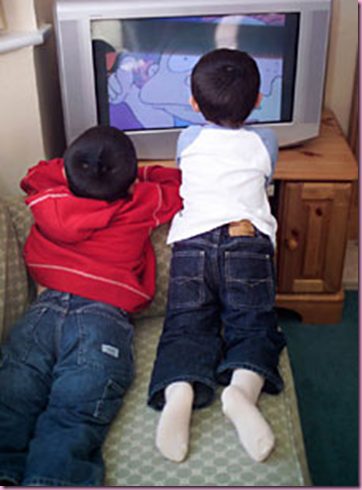 Source
We each had our own TV and would spend hours watching our shows. I'm going to go ahead and date myself here, but we grew up with all of the TGIF faves (Step by Step and Boy Meets World FTW) and the Nick and Disney cartoons (David the Gnome, Lil Bits, Gummi Bears, Duck Tales.. it goes on and on). It's funny because I have no idea what the popular kids cartoons and shows are now, especially since I don't teach dance anymore, but from what I remember, if it's anything like it used to be, most of it is intellectual garbage. We hardly watched educational shows –when the Schoolhouse Rock song started playing, I'd immediately change the channel- and preferred our cartoony fluff. My mom would monitor what we watched, so I was seriously excited when I spent the night at my friend Hayley's house and we'd watch Beavis and Butthead… all night.. and we were in kindergarten.
Anyway…
While we watched a LOT of TV, we still played outside often and were active. We'd go swimming, ride bikes with our friends, build forts, I'd choreograph dances and "shows" with my friends, and weren't totally addicted to technology. Of course, back then, we didn't have iPods or the options that exist today.
It makes me sad to go out to dinner with Tom and see children with their families, totally zoned out from the world, tapping away on their phone or iPad the entire time. Part of me wonders if it's to help the children behave during dinner, but when we were little, all it took was a stern look to know that we better be on our best behavior.
I've heard of many parents who limit their children's time on the computer or TV each day, and I'm sure there are plenty of families out there who give their children free reign of the remote control, too. My bro and I did, and I don't think it affected us too much.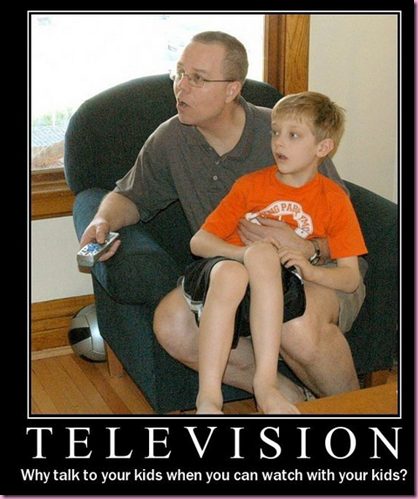 Source
What was it like in your family?
Parents, how do you stand watching kid's movies or TV shows- or are there actually some good ones out there? My friend said that if she had to watch another episode of Phineas and Ferb she would have a breakdown.
What's your TV philosophy?
-Interesting articles: about too much TV and the harmful effects of too much screen time
-Similar topic: kids and social media