("floating on the pool in a raft" wasn't quite as catchy) 😉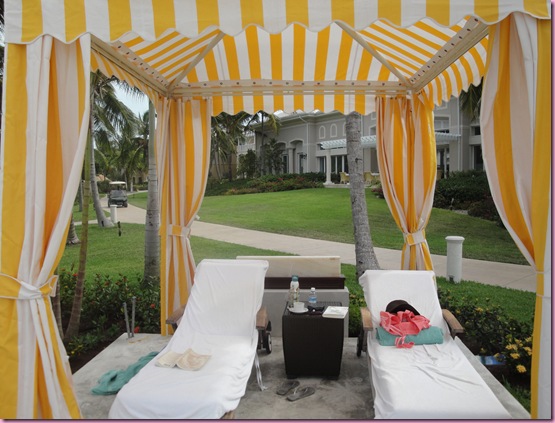 Swimsuit shopping is kinda like jeans shopping: you either don't mind it, or absolutely hate it. I don't mind it that much, but I'm a big fan of all things shopping-related, so there ya go.
Here are some of my swimsuit shopping strategies:
-Every year, I'll buy one expensive suit and a few very inexpensive suits, usually from Target. I'll usually splurge on a classic style that I know I'll be able to wear in the next couple of summers, too, and as far as the Target suits go, I'll get whatever looks fun and don't have to worry about it getting snagged or lost.
This year, for my investment swimsuit, I'd like to get one of the vintage style swimsuits that I've been eyeing since last summer (when I pretty much stopped going to the pool because I didn't want to cook the baby).
Anthropologie has an AMAZING selection of maillots and vintage style bikinis: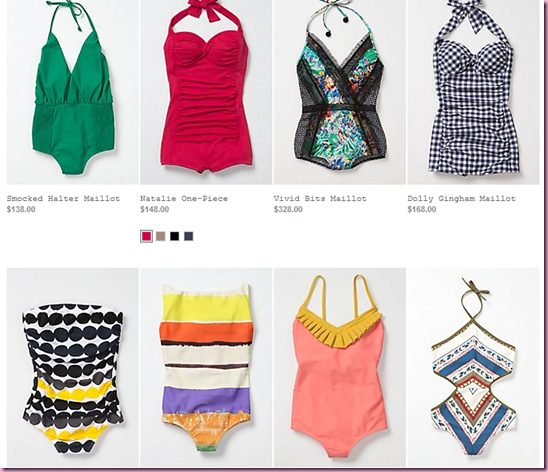 My fave: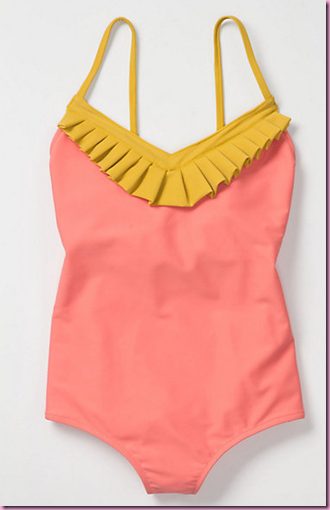 Source
I haven't bought a one-piece in quite a while, so it will be fun to switch things up a little 🙂
-I also love the swimsuits at J Crew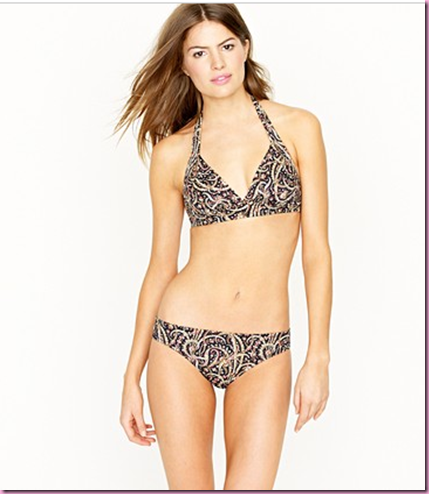 Source
and the ones from Victoria's Secret. I like to get VS swimwear at the very end of summer- they go on super clearance and then they release a majority of the exact same styles the next year. I've picked up swimsuits for less than $30 each, and then the next year, I'll see them again for full price. They're tricky like that.
Forever 21 and H&M are also good spots to find inexpensive suits.
-Experiment with different styles. I found out the hard way that bandeau tops give me a uni-boob, a for me, regular style bottoms are more flattering than the boyshort variety. It's a trial and error kinda thing.
-Go in the morning, or at least before hitting up the Indian food buffet. I speak from experience, and needless to say, did not come home with a swimsuit that day.
-Do the bend test in the mirror to make sure your goodies stay under wraps.
-Watch out for metal embellishments and blinged-out swimsuits. They get very hot in the summer sun, and I've rocked some very sexy square-shaped burn marks on my hips before. Ouch.
Any swimsuit shopping tips? Where do you usually pick yours up?