Hey guys! It's INDIAN FOOD WEDNESDAY! Who's celebrating? I see a trip to the Indian buffet in the very near future….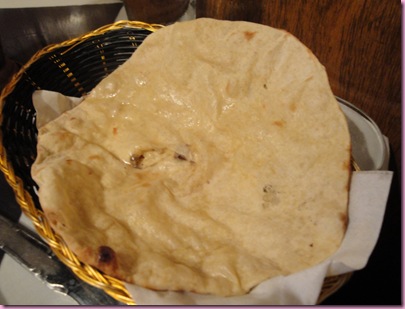 So last night, some friends at I met at Bleu Pub for dinner since the guys were working late. (Except for my pilot love, who stayed home sick yesterday)
Jeni and I split the Greek salad (no cheese on my half)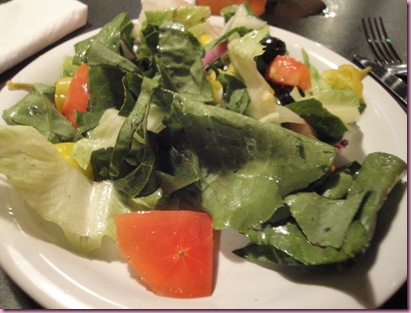 and for my entree, I chose the black bean and bulgar burger (no bun) + sweet potater fries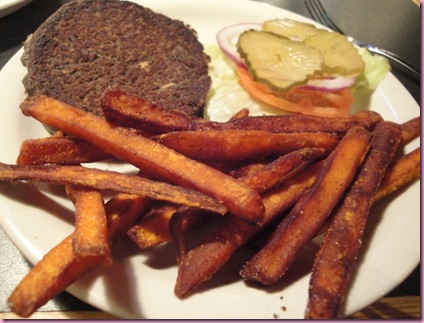 Awesome note about Blue Pub: they have a separate vegan grill for the black bean burgers! There are VEGANS in Valdosta??!! I'm just being facetious, but it was a lovely surprise 🙂
The fries were foodgasmic…. so salty, so crunchy. I die.
This morning, I woke up with my throat killing me (is the sickness back? Is that even possible?) and made some fresh almond milk to go with my cereal.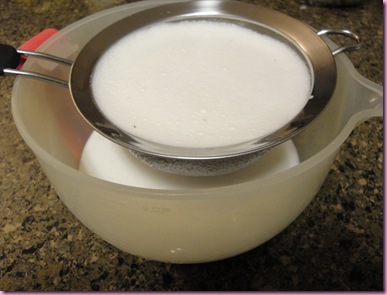 Every few days, I make almond milk for bfast cookie and smoothie purposes. It's super easy and tastes so much better than the stuff in the carton
Raw Almond Milk

-1 C raw almonds (soaked overnight in water)

-4 C water

-pinch sea salt

-1 t vanilla

-1/2 lecithin (optional- you can use soy lecithin or sunflower; it acts as an emulsifier to combine the almond mixture with the water and give it a smooth texture)

-Blend on high in the Vita-mixalicious

-Strain through a fine mesh sieve
I always dehydrate the almond pulp for macaroons and raw cookies, too 🙂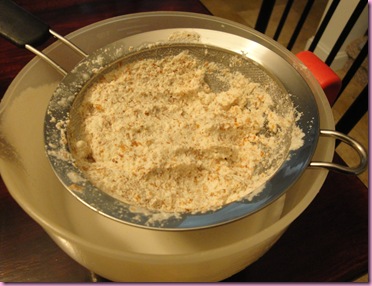 B-fast was the usual B-fast cookie dough cereal (I can't get enough!!)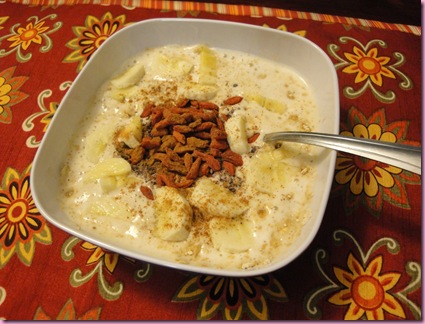 Plan for the day is:
-Snooze and pray that I feel better before work
-Conference call (with a sore throat. Baller)
-Indian buffet
-Training appointments
-Workout? We'll see how I'm feelin'
See ya later today! <3
Gina
Something to do: Get thee a copy a Operation Beautiful! As you guys know, the beautiful Caitlin worked her booty off for the past year + on this book. It's finally THE week — her book was released yesterday and she's promoting OB on the Today Show tomorrow morning at 8:30 (set your DVRs!).
When I first saw Caitlin's Operation Beautiful movement, I thought it was a cute idea. I could see how it would brighten someone's day to find an uplifting note, but always kind of thought that if I saw a note on my car, I'd probably be looking for the creeper who put it there. It wasn't until I held the actual book in my hands at Border's past weekend that I truly understood what it's all about.
Operation Beautiful is SO much more than random acts of kindness via positive post-it messages. It's about changing the way girls and women view themselves and promoting a healthy body image.
If I would have had the chance to read this book as a youngin', I would have breathed a HUGE sigh of relief and maybe cut myself some slack. I'm sure you guys have picked up on my Type A personality, but it was about a thousand times worse when I was younger – I put SO much pressure on myself. I didn't get my first "B'" until college (and cried and cried over it), and it wasn't just the grades thing- I danced, sang, played the violin and piano… and was convinced that I had to be the *best* at all of them. On top of that, I read a lot of teen magazines and wanted so badly to look like the magazine models, and the girls on TV… even just typing this all out makes me realize how overwhelmed I was.
If I would have read this book when I was younger, it would have helped me to realize that I was ok, just the way I was. And I really was! Looking back on pictures of performances I did, or when my mom embarrasses me and plays CDs for the pilot, I'm proud of myself, even though at the time, it wasn't good enough for me. It took me a long time, well until I was in college, to become fully confident in myself.
So I guess what I'm saying is, even if you don't buy the book for yourself (which I highly recommend- it has so many wonderful stories, advice and information- a great warm fuzzy on a blah day), buy it for a younger girl in your life, like a niece, cousin or daughter. It might benefit her way more than you know.
<3
Something *else* to do: Please send some Reader's Requests ideas my way (fitnessista at gmail dot com) or leave them in the comments section- RR post will be up tomorrow morning 😀