Hey guys! I'm publishing all of the remaining posts that I wrote in the last 13 weeks at once; this is the most recent one, as I'm 13 weeks today! I apologize for any confusion the pre-written posts may have caused initially.  To avoid any more of that, I waited until the announcement to post all of the remaining pre-written posts in bulk. I wanted you to be a part of this journey as I experienced everything, but wanted to wait to announce the pregnancy until we were sure it was relatively stable. 
10 week belly pic: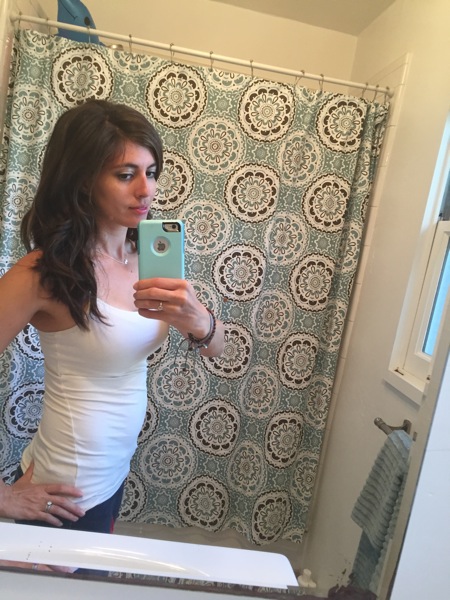 Random thoughts/things I noticed:
-Heartburn is a beast. If the old wive's tale is true, little baby is going to come out looking like it's wearing a wig.
-Even though some parts of a second pregnancy are much easier (like not feeling like I have to read every book on the planet), some parts are exactly the same, like the worry, and praying for the baby's safety and safe arrival. The same intensity is there, and I have to same butterflies before each upcoming appointment. 
-We finally told the family! My mom knew quite a few weeks ago -I tell her everything- and we've also told our parents. Livi told one of our cousins about it at Disneyland -we were going to tell them anyway, and know she's excited, so we haven't asked her to keep it a secret or anything like that- but I had to call my nana that night and tell her, too. Finally, I was able to put together our announcement packages: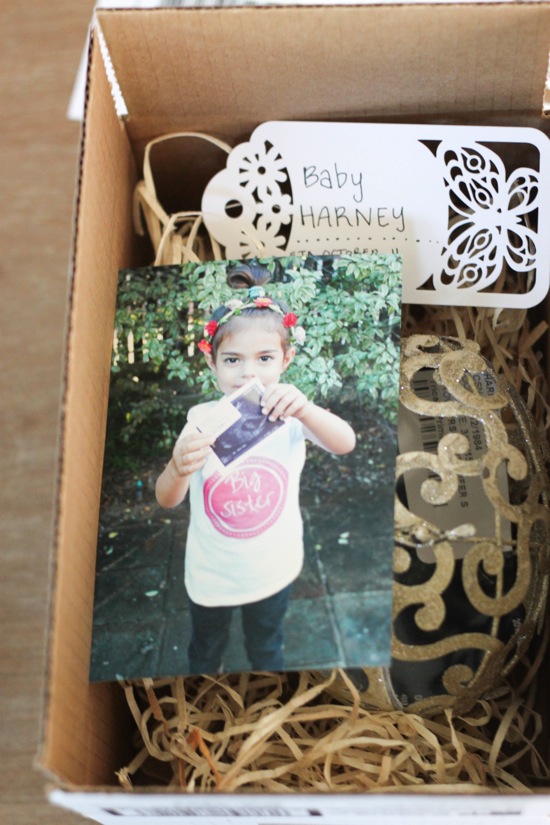 A Easter egg with a picture of the ultrasound inside, and Livi wearing a "Big Sis" shirt (I made the shirt by purchasing glitter iron-on paper and designing the label in Canva)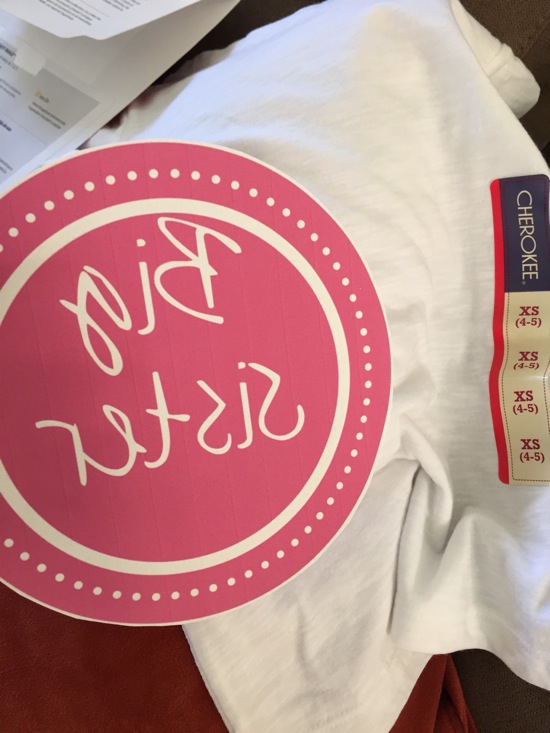 Here is the label if anyone wants to make something similar! The image is flipped for the iron-on paper, which you can pick up at Michael's or any craft store.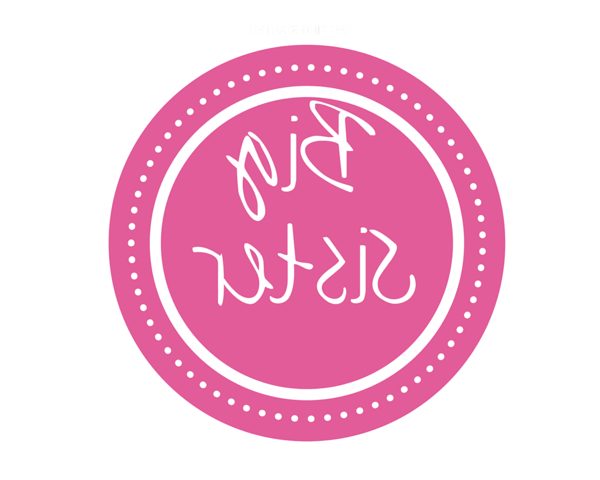 -My cuppeths runneth over. So do my jeans. Things definitely happen a little more quickly with the second one.
-Starting to feel like a semi-normal person again. I still feel more tired than usual, but not as much like I need to eat every hour or I'll get sick. I also don't feel like a walking tired zombie 24/7, so that's a winner. Even with how sick I've been, I love being pregnant. I loved it last time (like, SO MUCH) and love it just as much this time. It feels like such a special time to have your little one with you, always. This time, I'm starting to feel movement much earlier. If I have something to eat that's particularly sweet or delicious, I feel little flutters. Best ever. I can't wait until Tom and Liv can feel the baby kick. 
11 week belly pic: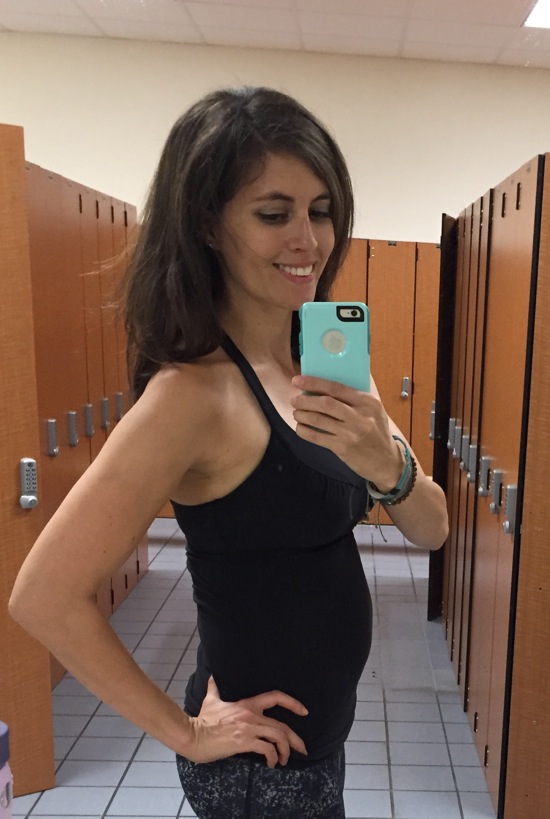 Cravings:
-ACAI BOWLS. I've had one almost every day, either homemade or from a local spot (like Tiki Port or Cafe by the Bay). Thankfully, acai bowls are abundant here.
-Anything cold. I had some Dole Whip at Disneyland and almost cried tears of happiness. It tasted SO GOOD, and I'm not usually a huge ice cream person. I mean, I won't kick any dessert out of bed, but if given the option, I usually choose something cake or brownie-related. Right now, I am loving smoothies, chia pudding, sorbets, and froyo. Banana soft serve has been getting a lot of love around here.
-Chips, especially jalapeño or BBQ. 
-Sandwiches. The People's deli knows me now. I get the same thing every time: gluten-free bread (toasted), Veganaise, lettuce, tomato, pickles, avocado, tempeh bacon, salt and pepper. BRB, need to wipe the drool off my keyboard. 
-Mayo. Any type of tuna, egg, or chicken salad rocks my world right now. I make it at home with chopped onion, cornichons, dill, garlic, salt, pepper, mayo, mustard, and some plain goat's yogurt to thin it out. The best. 
-Pizza. All day, every day. 
-Huge salads (the vegetables need to be chopped into small pieces, or they end up being neglected)
-Eggs. Eggs are my favorite food, so the fact that they still sound delicious makes me happy.
-Refried beans and Spanish rice. Yes. 
Aversions:
-Most cooked vegetables, even though I can eat them if I don't have to prepare them.
-Indian food 🙁
-Anything heavily spiced.
-Chocolate. I KNOW, right? Thankfully, I'm coming out the other side. I don't really think this is so much of an aversion, but I don't crave sweets the way I usually do. I'm kind of "meh" about dessert and chocolate right now.. unless it's some type of frozen treat. Then, all bets are off. Right now, I'm all about the salty/savory. 
-Soup. I managed to eat some chicken tortilla soup, but I can't think about it too much if it makes me gag. This one is starting to go away, too. I was craving tomato soup yesterday and it was actually pretty tasty.  
Weight gain:
-Still 3 lbs overall. Like i said before, it feels like more. The belly looks about how it did when I was 15 weeks pregnant last time, and my legs, hips and face all look softer. 
xoxo!