Weeks 5-9 update (March 11)
8 week belly pic: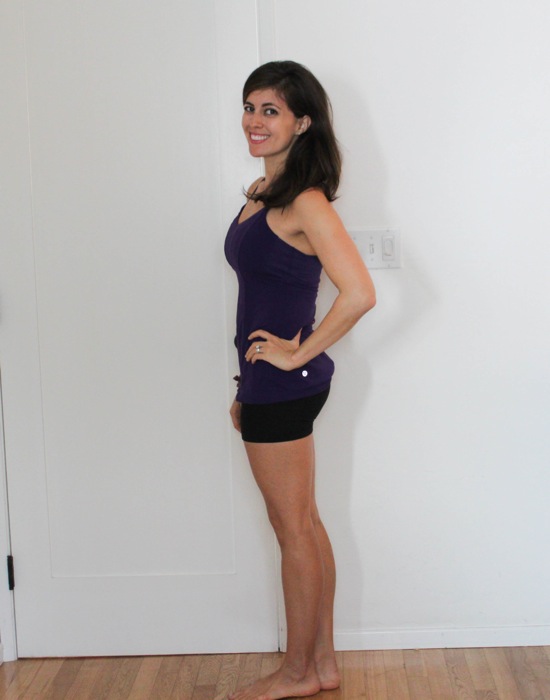 Random things I noticed and wondered:
-Can't wait to find out if the baby is a boy or girl. I told Tom that I wouldn't mind being surprised for this one, especially since we have a lot of baby gear, but after he looked at me like I had two heads, I realized. I like to plan. It will be fun to know, and also fun to start thinking about baby names. We haven't even started to think about baby names yet.. still waiting for the first trimester to pass. According to Liv, it should be named, "Hemmy" whether it's a boy or a girl. I actually think it's a cute name, but with our last name it would be a liiiiittle rough.
-Speaking of the first trimester, now that I'm almost to the end, we're going to tell the family this week! Here's how we announced it with Livi. I'll always remember the pure joy on the grandparents faces. The best.
-How many ways can I enjoy pickles? #strereotypicalpregger
-Preggo dreams are CRAZY. I often have vivid dreams, but preg dreams take it to an entirely different level. I had a dream the other night that I was fighting aliens. Thanks, Interstellar.
-I'm officially ready for a new Snoogle. Hips have been aching, and finding a good sleeping position can be tricky. Thankfully, sleeping is my #1 talent, so *usually* nothing stands in the way.
-Speaking of sleep, I have napped almost every day for the past two weeks. When Liv goes down, I crank out a blog post, and crawl into bed until she wakes up.
-Can I wear genie pants or rompers this summer? My sources would say no… 
Aversions:
-Anything tomato-y (unless it's enchilada sauce)
-Cooked vegetables
-Most meat, though I can eat it if I don't have to prepare it
-Preparing food. I open the fridge, and the sight of the groceries inside turns my skin green. We've eaten a lot of takeout. 
Cravings:
-EGGS
-Pizza
-Fruit
-Bagels with veggie cream cheese
-Salt and vinegar chips
-Almond butter and jelly sandwiches
-Any sandwiches. Wrap it in some kind of bread or tortilla, cover it with mustard and hot sauce, and I WANT IT.
-Bubbles. I am going crazy for sparkling water, and when I'm feeling pretty terrible, a Zevia will do the trick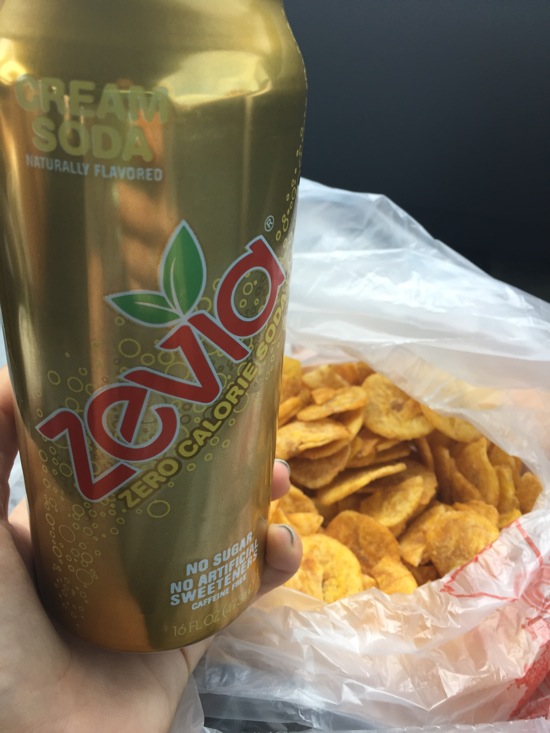 (Along with picante-spiced plantain chips from Sprouts. I went back to get more within a 24 hour period, so the second time, I just got an enormous bag full to last for a couple of days. The cashier was like, "Weren't you just here?" Uh. No. That was my twin.)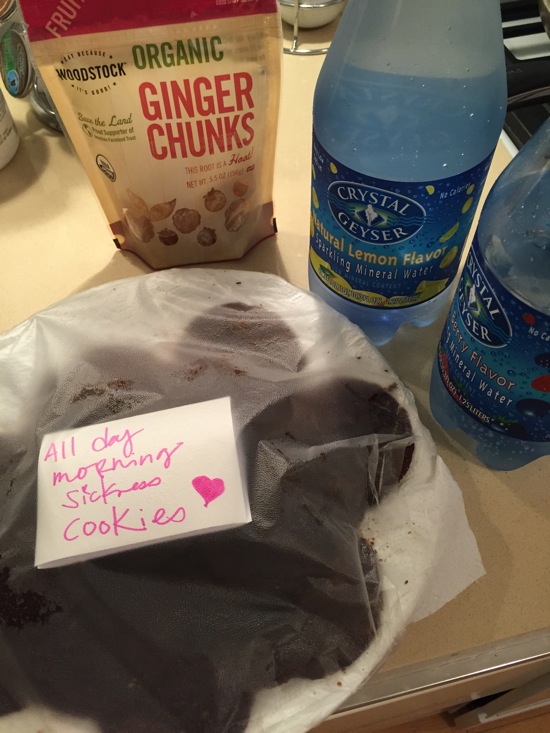 (Whitney surprised me with the sweetest morning sickness care package: morning sickness cookies, sparkling water, and ginger chews. I love her so.)
Weight gained: 3 lbs. I feel like it's much more -I just feel heavy in general, probably because I'm so tired, and my face looks fuller to me- but was surprised when I stepped on the scale at the doc's office and only saw a 3 lb. increase.
Workout routine: Everything has remained about the same, and for now, being active still feels great. I've been able to keep up with my usual teaching schedule and classes, and have only needed to modify a couple of things so far. (For orangetheory, I take it a little easier than usual and modify some of the crunches, but that's it.) I've been pretty nauseous, all day, every day, but I feel great when one of three things is happening: I'm eating, I'm sleeping, or I'm teaching.
This morning, Liv put her face to my belly and said, "Hi baby. It's your sister. Are you having a good day in there?"
Keep on growing, little baby. We already love you so much. <3