Today was another step in the *realness* factor of all of this…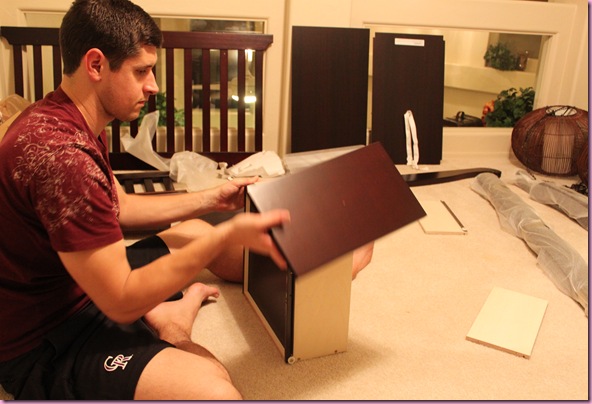 the crib arrived!
It's going to be so fun to look into the nursery and actually see it as a nursery… instead of just a loft with our old couch in there + books and bags of baby clothes.
Now that the crib is in there, I can start to work on putting everything else together. Usually I'd wait since we're supposed to have a couple of months until the little one makes her debut, but from now until that time is going to blitz by. We have the Pilot's birthday, my birthday, Thanksgiving, Christmas, New Years, baby. Lots going on!
Here's what I'm thinking for the nursery plan: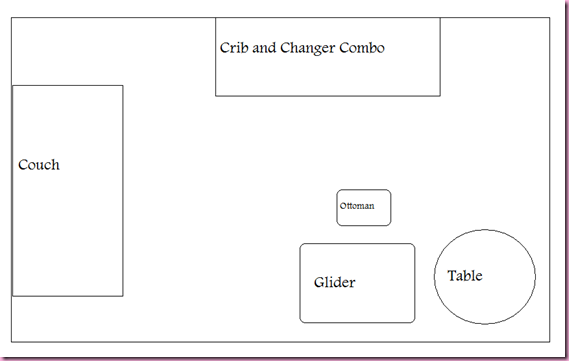 [It will most likely change when everything is in there- it's a smaller space, but a perfect nursery since it's attached to the master bedroom]
As far as decor goes, we're using the colors in the bedding that we ordered a while ago.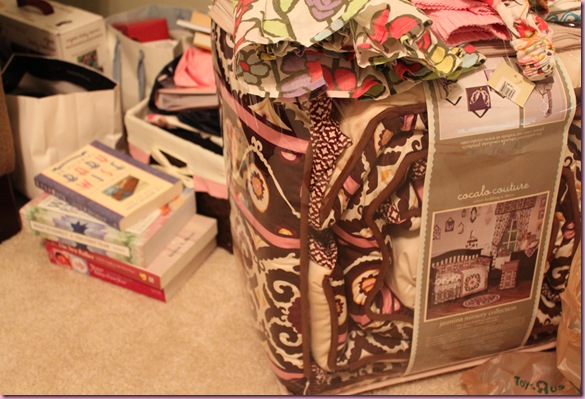 Here are some of the ideas I have for the nursery: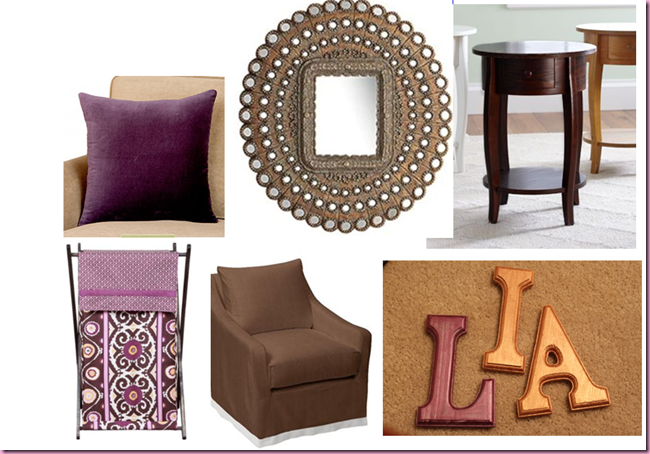 The hanging letters are going to go above the crib with ribbon –I'll def post a pic of the finished product- and the mirror will go above the couch. I'm going to keep the room pretty simple, since she'll move into her big-girl room after that. The salt lamp from our bedroom will become a nursery fixture, so I won't have to turn on the lights fully when she wakes up during the night.
Now if only I could find this kind of decorating motivation with our own bedroom….
_________________________________________________________________________________
Watching Tom put the crib together made my heart swoon in a serious way. There are a lot of romantic and chivalrous things that men can do to win us over, but I have to say that there is no feeling like watching a soon-to-be-dad put together the furniture that his little girl will sleep in.
It also made me feel extremely nostalgic since I remember my own crib from when I was a baby. It's weird because I guess a lot of people don't have memories of when they were very young, especially when they were babies. I remember quite a bit of it, in vivid detail. My first airplane flight when I was 11 months old –it was storming and my mom had me wrapped in a yellow blanket, and the first time I crawled out of my crib on my own are two that really stick out to me – and at the time, I couldn't really talk yet.
My mom had all of these funny little toys attached to the sides of the crib –I loved the button I would press down and it would chime like a bell- and I decided to try climbing out of the crib. I made it and walked into the kitchen, where my mom was making oatmeal and watching "I Love Lucy." Needless to say, she was so surprised to see me out of my crib.
I wonder if we'll have another escape artist in the family….
Do you have any memories from when you were a baby?