When did your kid drop their nap?
Oh friends. Let us all get out our tiny violins, and join in a sad, melancholy tune: 
I think we've reached the end of the napping era.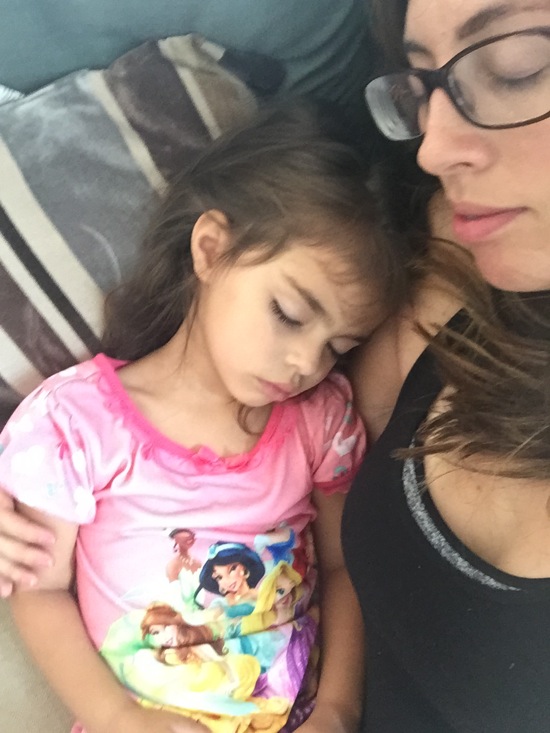 (Sigh. The best. So glad I've been savoring every second.)
I've alluded to this on the blog, but our sleep schedule has been off for a while. Liv has been sleeping late (wahoo!) but also going to bed extremely late. "Extremely late" as in I need something to hold my eyelids open by the end of the night… maybe 11:00 or 11:30pm. We start the bedtime ritual earlier, and have her in bed by 8:30 or 9 at the very latest, but she's been coming out of her room multiple times ("I need another book to read" "I want water" "I'm scared" "Lie with me"), and we can hear her playing with her toys in bed when we walk down the hall. Naps have also been hit or miss. I'll put her down between 1:30-2, she'll either come out of her room a bunch of times before falling asleep (maybe around 4?) and is impossible to wake up until evening, which leads to a later bedtime. It's a whole thing. 
So yesterday, we decided to ditch the nap in hopes that she might go to bed earlier. It worked out really well. (<— sarcasm)
I told her we would be doing quiet time instead, so she played happily in her room for about an hour before I came to get her. At 5:00, she crashed in the car on the way to the gym, and slept on the comfy beanbag chair in childcare during BODYPUMP.  We couldn't wake her up when we left!
Today we're going to try again, and see how it goes. I talked to my mom about it last night, and she said it's going to be hard to keep her awake between 5:30-7 (so probably avoid car rides if we can) until she gets the hang of it. When she does, it will be an earlier bedtime, which sounds pretty amazing right now. 
From what I've read, kiddos tend to drop their nap anytime between 3-5 years. I remember being 4 and was so annoyed when mom made me rest for an hour or so in the afternoon. I'm thinking if Liv's really tired and needs a nap, she'll crash during quiet time. If not, we'll just do a much earlier bedtime. 
So, tell me friends: when did your kiddo drop his/her nap? Any tips to make the transition easier? Anyone else with a 3.5 year old and trying to figure out the best routine? 
In other family news, my ultrasound to see if my placenta has moved is this Friday… and I'm nervous about it. Of all things to ask for, please send any placental migration vibes my way. 😉