Strawberry shortcake energy bites
{vegan and gluten-free!}
Helloooooo. How's the morning going?? Don't forget that there's still time to enter this awesome White Plum giveaway, and your special discount code expires in 2 days!
Hope you're enjoying the day so far. After being away for a while, it's always nice to be home with my favorite people and back in the routine. I took Sunday off from the gym, and was needing it after the various workouts at IDEA, but was back to business as usual yesterday. I can already tell I'm going to be sore from the latest BODYPUMP release. I think my favorite track is the triceps track, and even though I'm so so sick of the song ("Lips Are Movin'"), I think it's a great balance of my favorite triceps exercises. This release may be my favorite since 89. <— I loved that one.
So today, I have a new recipe for you! It's a version of my beloved amazeball, with some new ingredients… and it tastes like cake.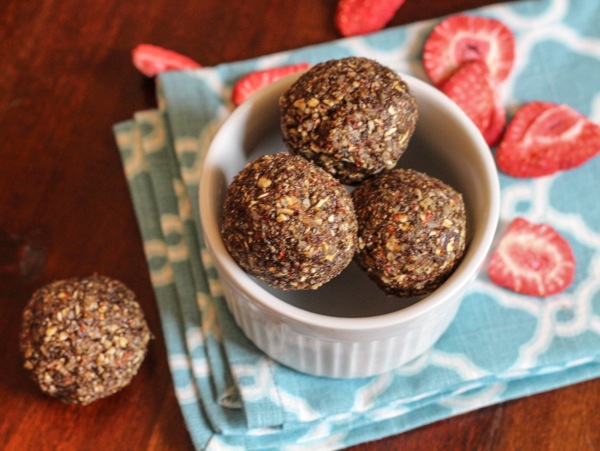 Energy bites aren't the most attractive food. They're a jumble of pantry ingredients, rolled into a sphere for convenience sake. According to my Instagram friends, the latest one looks like a turtle? (Which make me laugh so hard I choked a little on my LaCroix.) Ok, so even though they aren't the prettiest, they taste pretty gorgeous, and make you feel good, too. I'm always about a snack that gives me an energy boost from natural sugars, in addition to satisfying healthy fats and protein.
For the strawberry flavor, I used these crispy freeze-dried strawberries from Trader Joe's.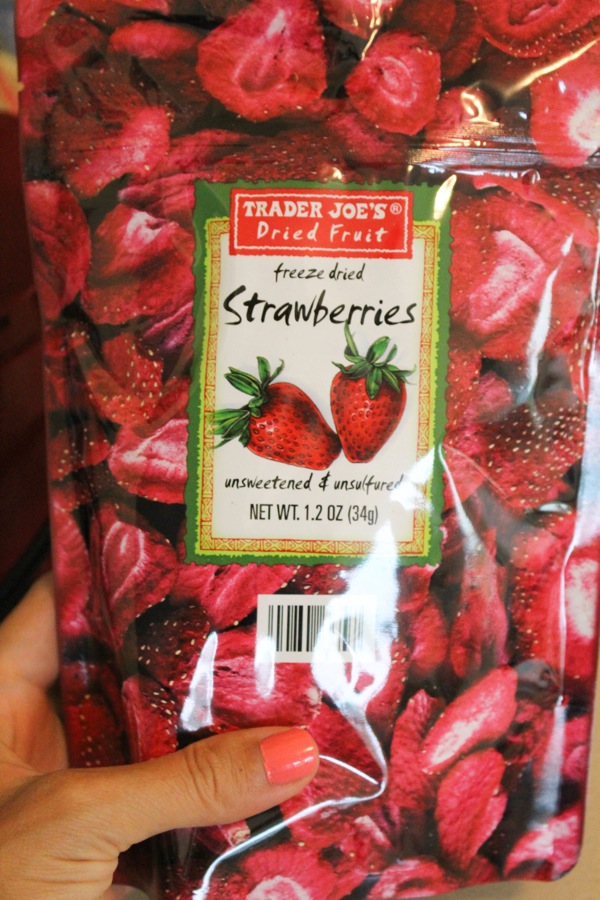 They yield a summery burst of strawberry flavor, but if you don't have them on hand, feel free to add dried fruit or chocolate chips instead.
On the other hand, I highly recommend keeping the almond extract if you have it! This is what gives it that delightful cake-ish flavor.
Here's the recipe if you'd like to give them a try!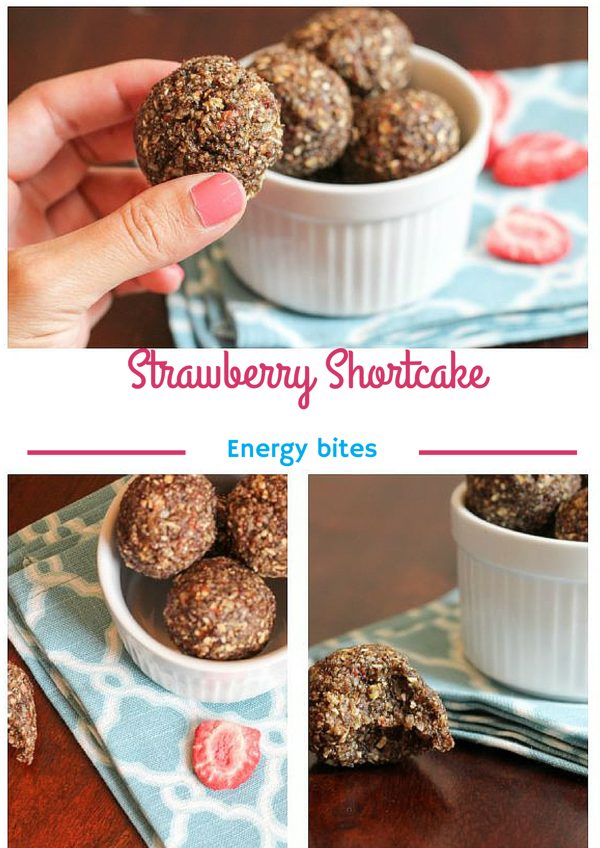 Strawberry Shortcake Energy Bites
A delicious and satisfying snack option! It's perfectly portable and tastes like a beloved summer dessert, with a boost of healthy fats and protein.
Prep Time:

5

Total Time:

5

Yield:

6

1

x
1/4 cup

chopped walnuts

1/4 cup

freeze-dried strawberries

1/4 cup

unsweetened shredded coconut

1/4 cup

oats (use gluten-free oats for a gluten-free version)

3

pitted medjool dates

2 tablespoons

of your favorite vanilla protein powder (can use almond meal instead)

1/4 teaspoon

almond extract
Pinch of sea salt

3 tablespoons

pure maple syrup
Instructions
In a food processor, chop all of the ingredients until a dough forms. Using a melon ball scooper or your hands, shape into 6 spheres.
Store covered in the fridge for up to one week.
Notes
No freeze-dried strawberries? No worries. Try a dried fruit you love, chocolate chips, or another freeze-dried fruit.
Nutrition stats are here
.
What's your snack today?? I'll be having one of these crumbled onto some plain goat greek yogurt.
Hope you have a lovely morning and I'll see ya later today on the Family page.
xoxo
Gina
More amazeballs recipes:
Cranberry orange and cashew butter and jelly
Workout challenge: this barre squat burner! It's short, but will set your legs on fiiiiire.