Hi friends! How's the day treating ya? Things have been pretty crazy over here. Anyone else feel like January has lasted forever? We have a cruise booked for next month and I'm really looking forward to some vacation time together. The Pilot gets real vacation time (whaaaaat) so that's going to be crazy and amazing.
For today's post, I thought I'd share a What I Ate Wednesday, since I received quite a few requests for these and more everyday eats in my annual survey. Here's a recent full day of eats!
6:40am: I'm done making the girls' breakfast (waffles, eggs, and fruit), so I heat up the coffeemaker and eat two Enjoy Life protein balls before heading upstairs to finish getting ready.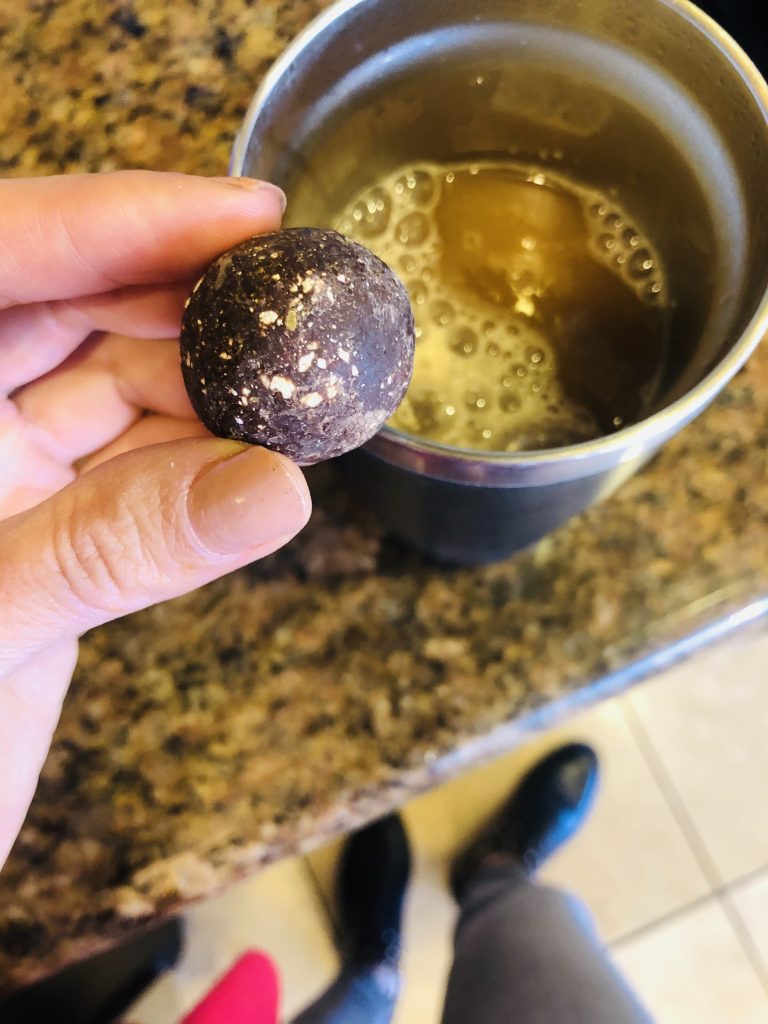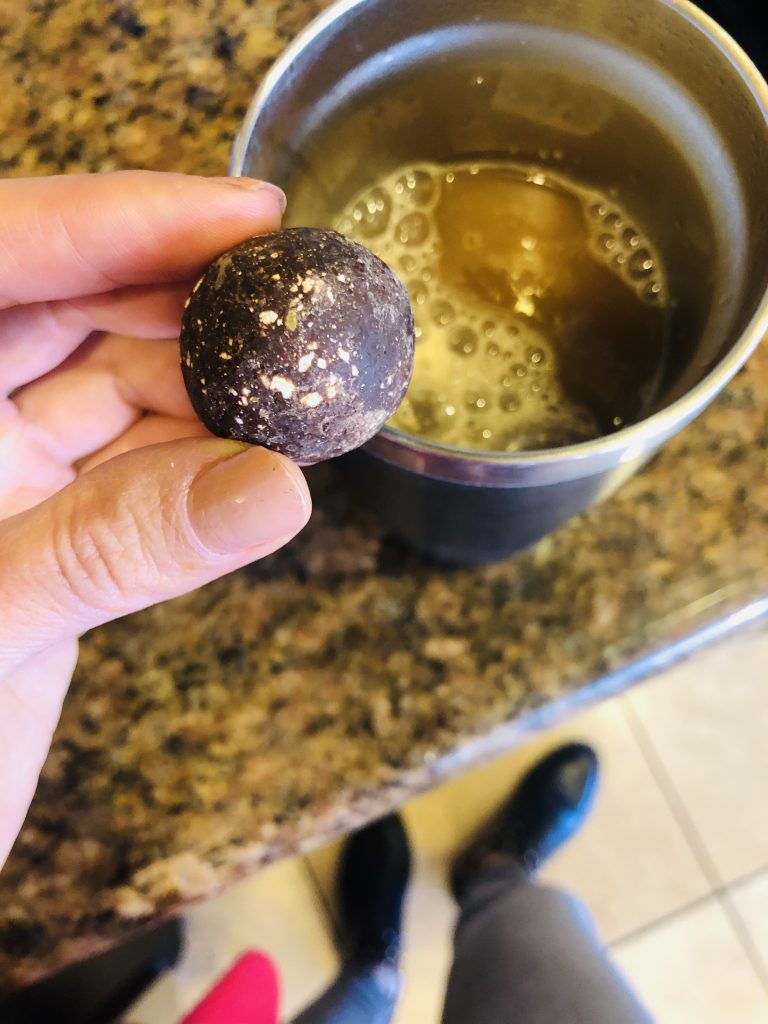 Collegen coffee before heading out the door! Decaf coffee with 1 scoop Vital Proteins, oat milk, and 5 drops of monk fruit
9:10: Back home from drop-off and time for real breakfast. I've been on a breakfast salad kick and it makes it super easy if we have a large salad with dinner. I save the leftovers, add protein, dressing, and eat. This is a leftover dinner salad with greens, cucumber, celery, and carrots, and I add a sautéed Beyond Meat sausage, Primale Kitchen dressing, and some toast on the side.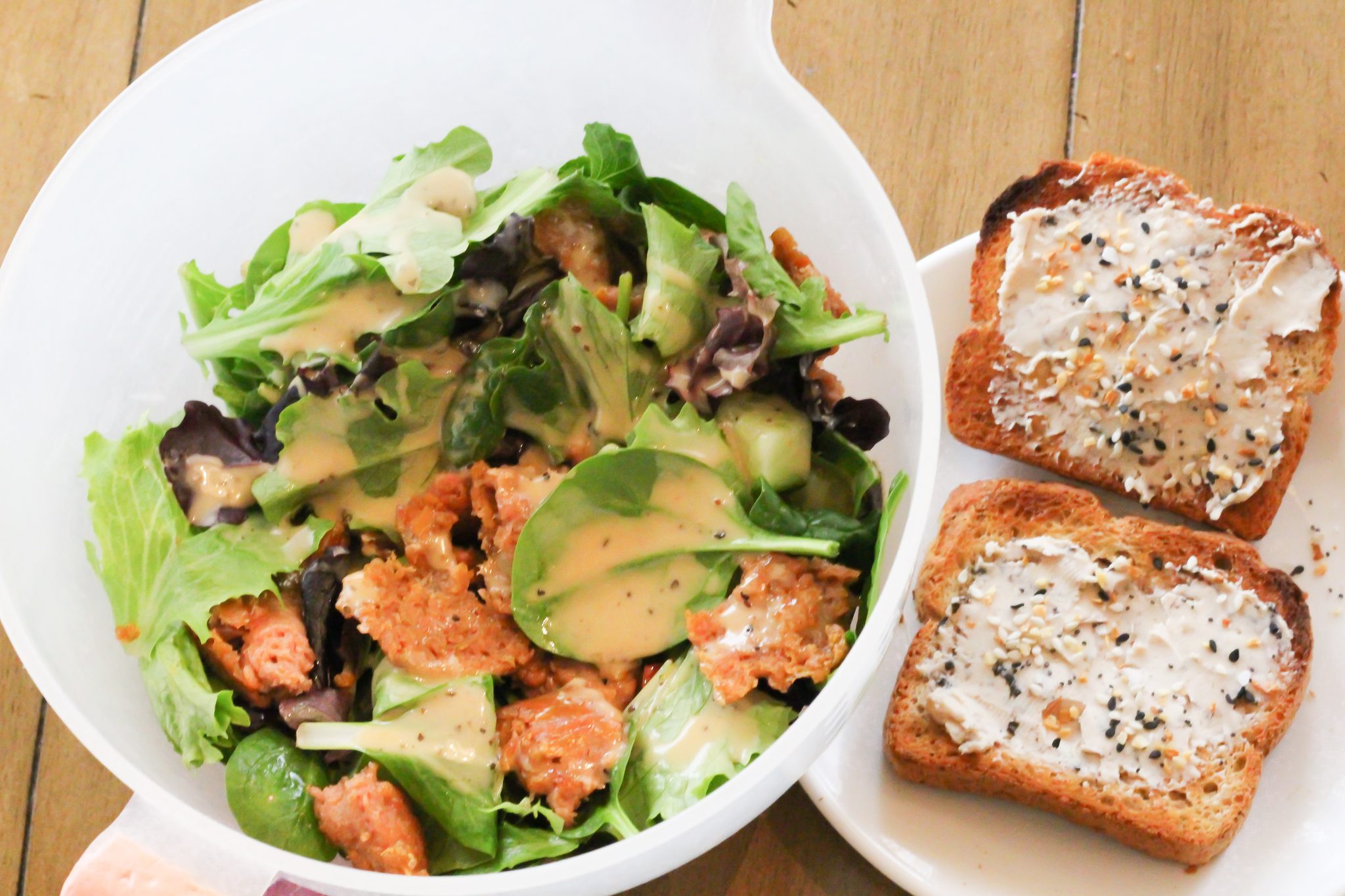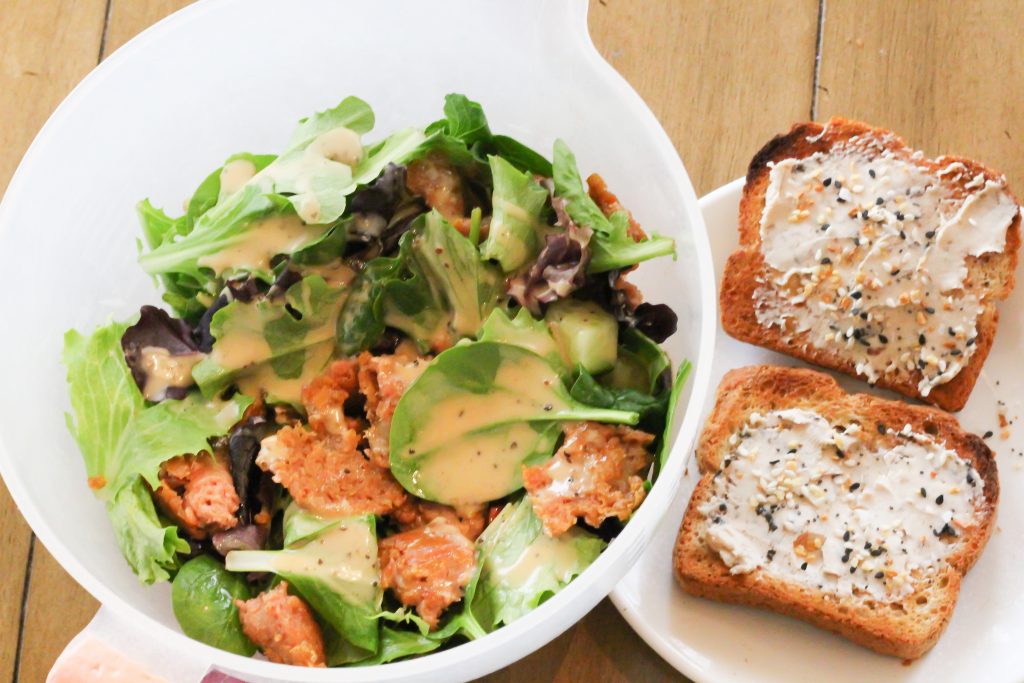 The Trader Joe's gluten-free whole grain toast is good but the pieces are super small. I have two slices with Miyoko's vegan cream cheese and everything but the bagel seasoning.
80 supplements with breakfast: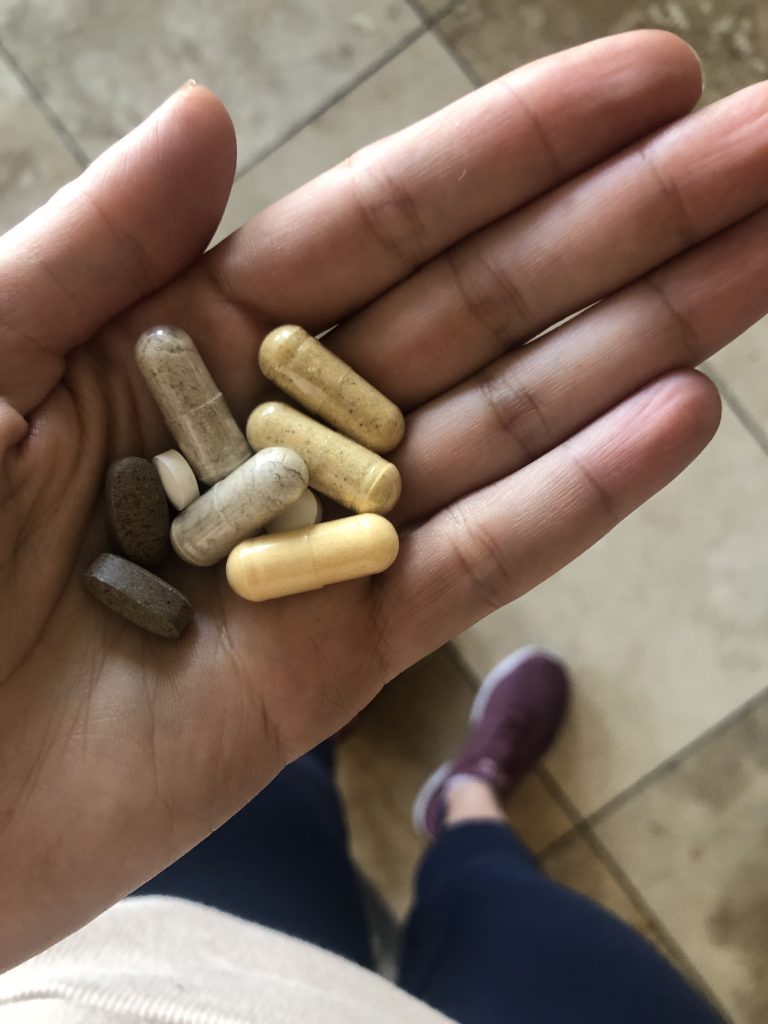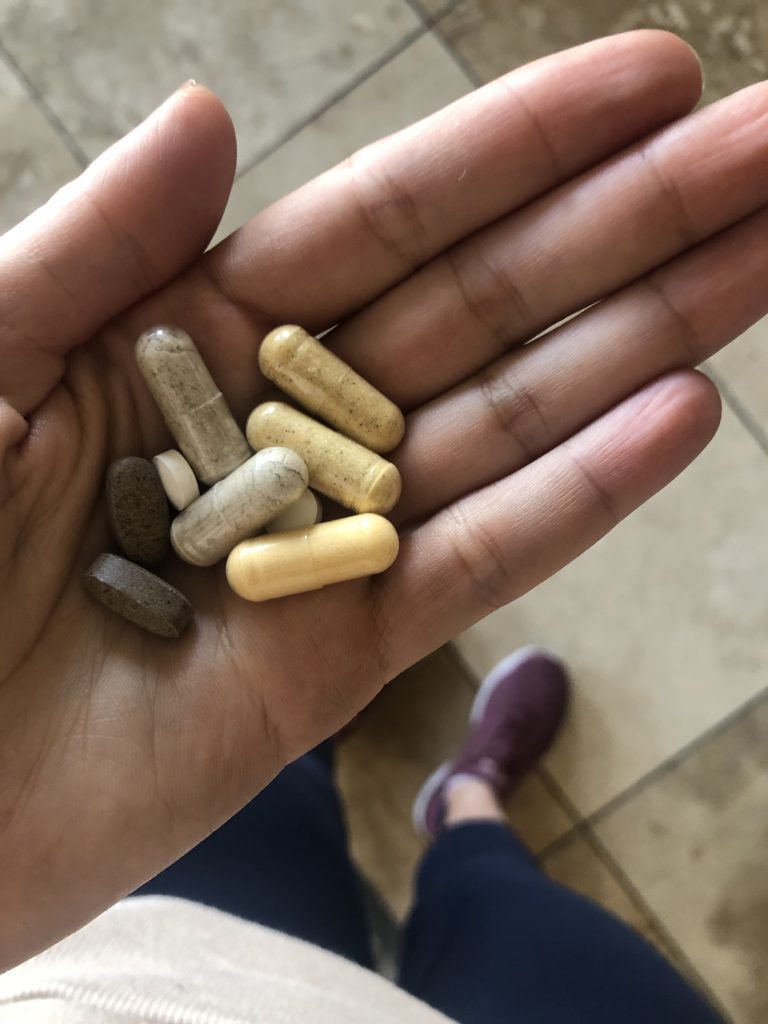 (DIM, adaptogen blend, B-complex, Vitamin C, Selenium, Vitamin D and MitoQ)
While the girls are at school, I hop on the Peloton bike for 45 minutes, record a podcast interview, tweak my post for the following day, answer emails, and host a Beautycounter team call.
1:30: I have the head back out to pick up the girls soon, so I make a quick lunch with curry chickpea salad wraps and an orange. The recipe is here! I've been making a batch each week and it's perfect for three lunches.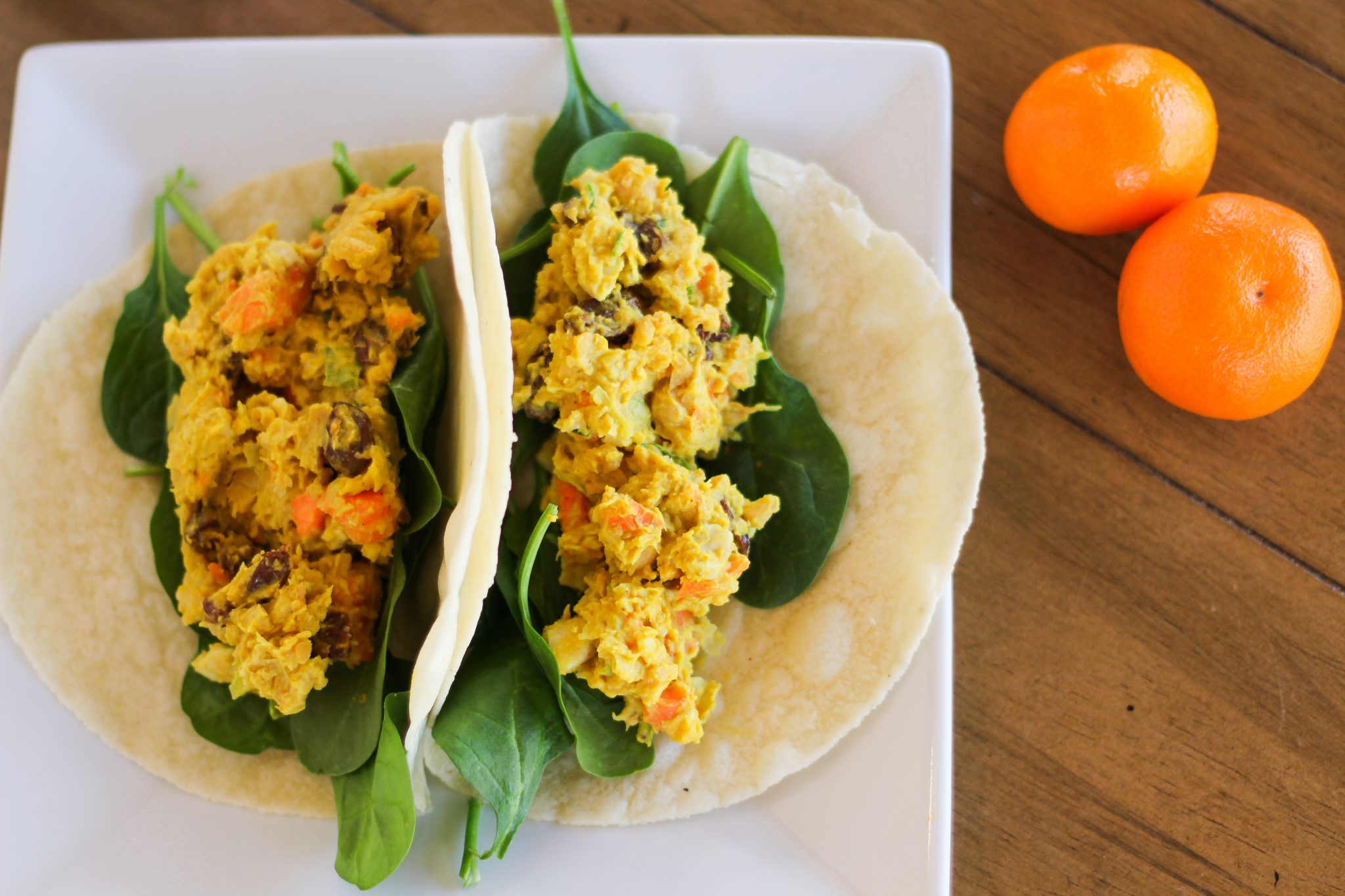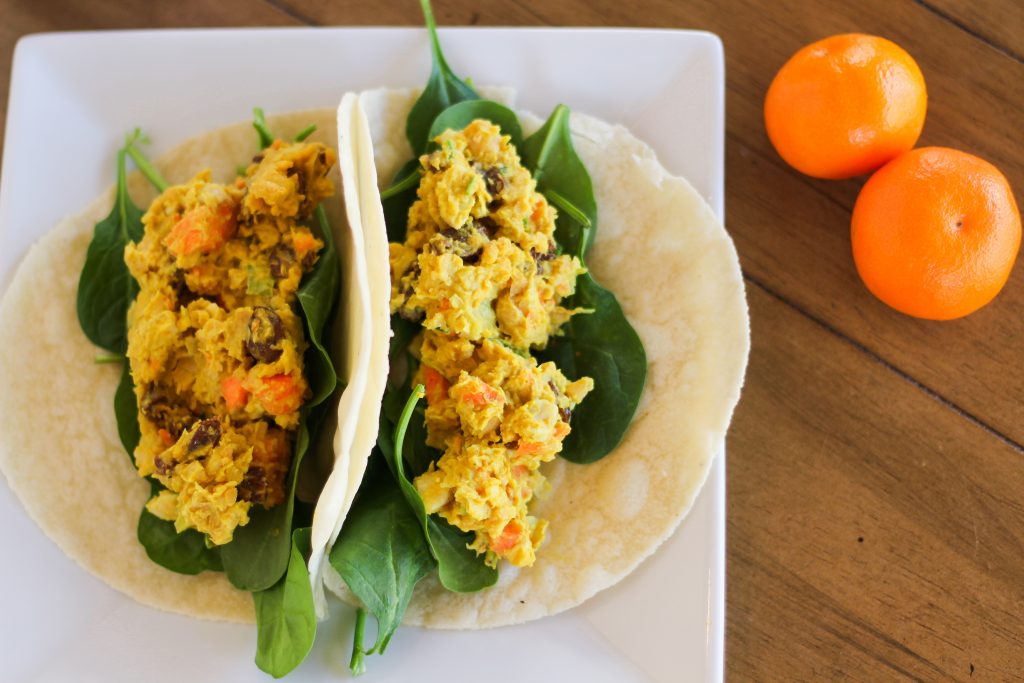 I have the wraps on Siete tortillas with spinach and make a matcha latte to take with me for pickup.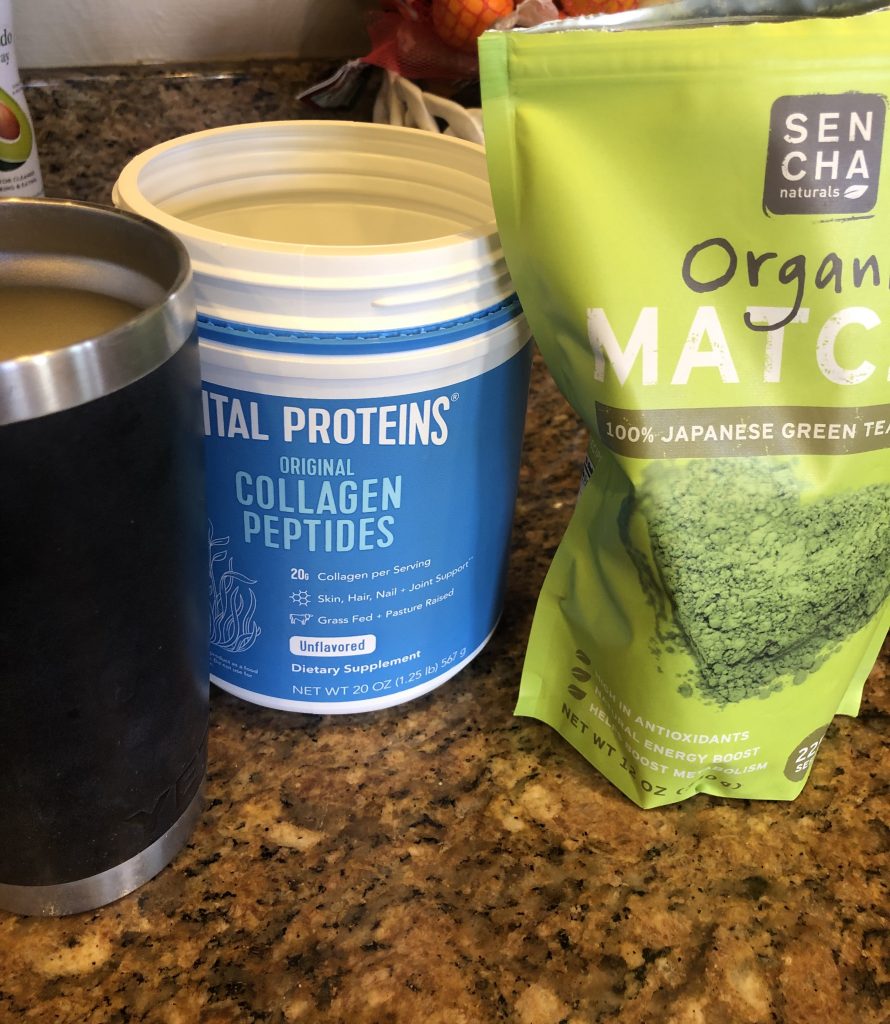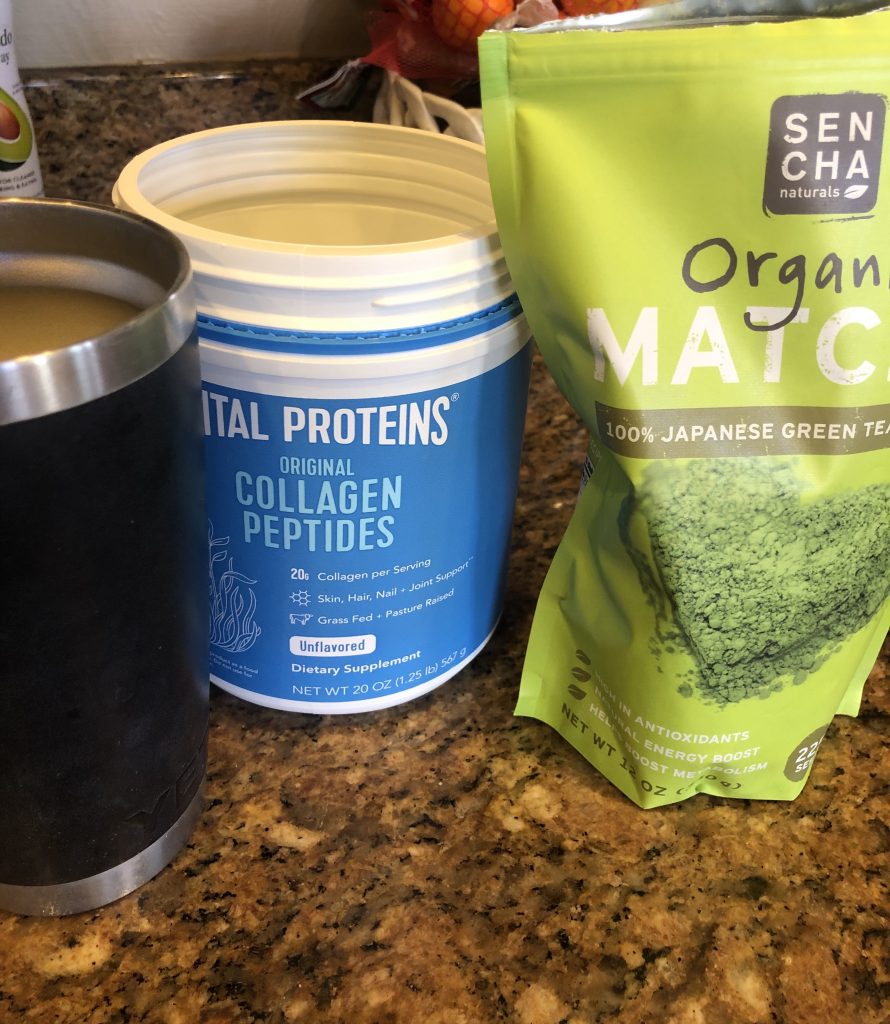 (Half water, half almond milk, 1/2 teaspoon matcha powder, 1 scoop collagen, monk fruit)
We have to go straight from school pickup to dance, so I grab two medjool dates to have at some point while we're out and about, stuffed with almond butter.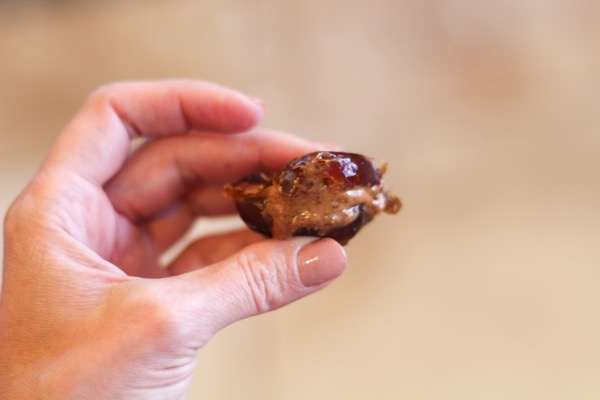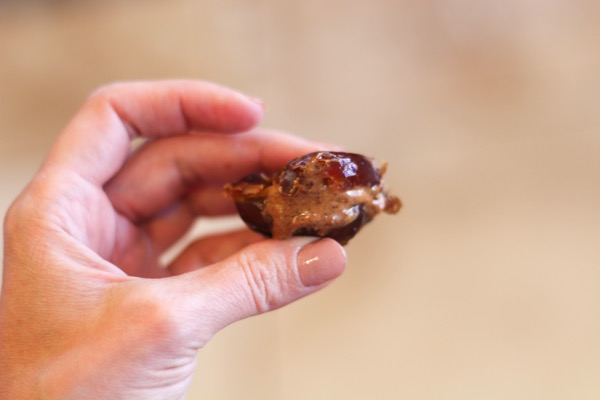 6:45: Dinner! I make some shrimp curry, and rice in the Instant pot. The shrimp curry cooked on the stovetop with onion, zucchini, bell pepper, carrots, garlic, ginger and chicken broth. I stirred in some red curry paste and after it bubbled and started to simmer, I added in some defrosted shrimp. When the shrimp was cooked through, I stirred in a can of coconut milk.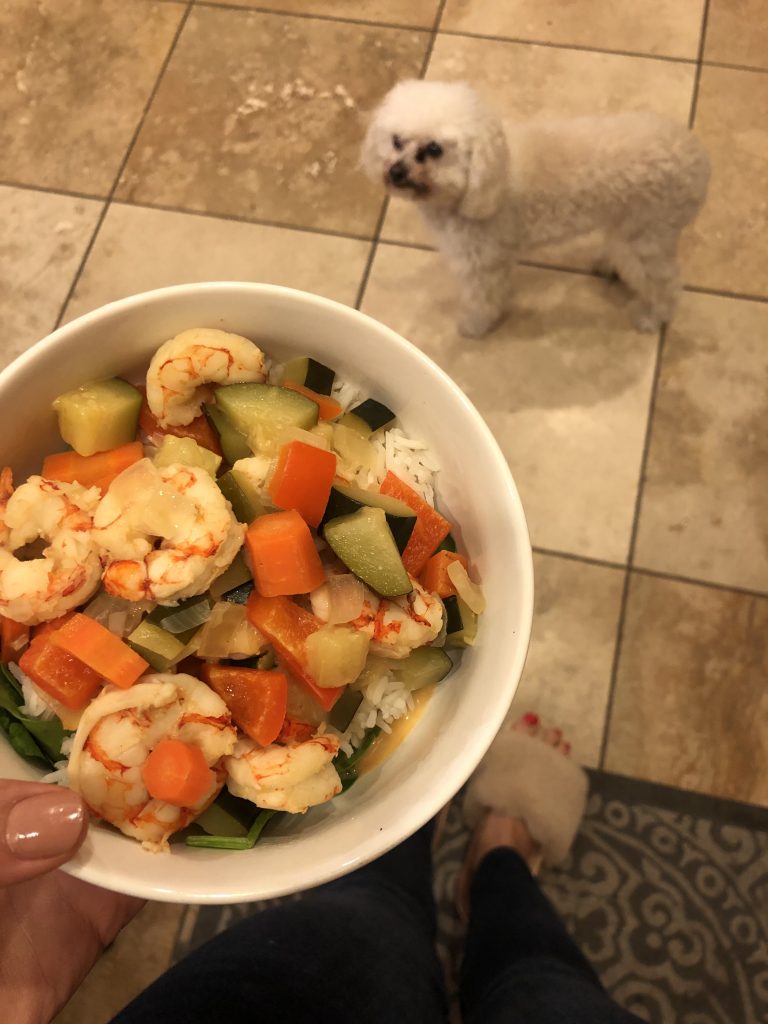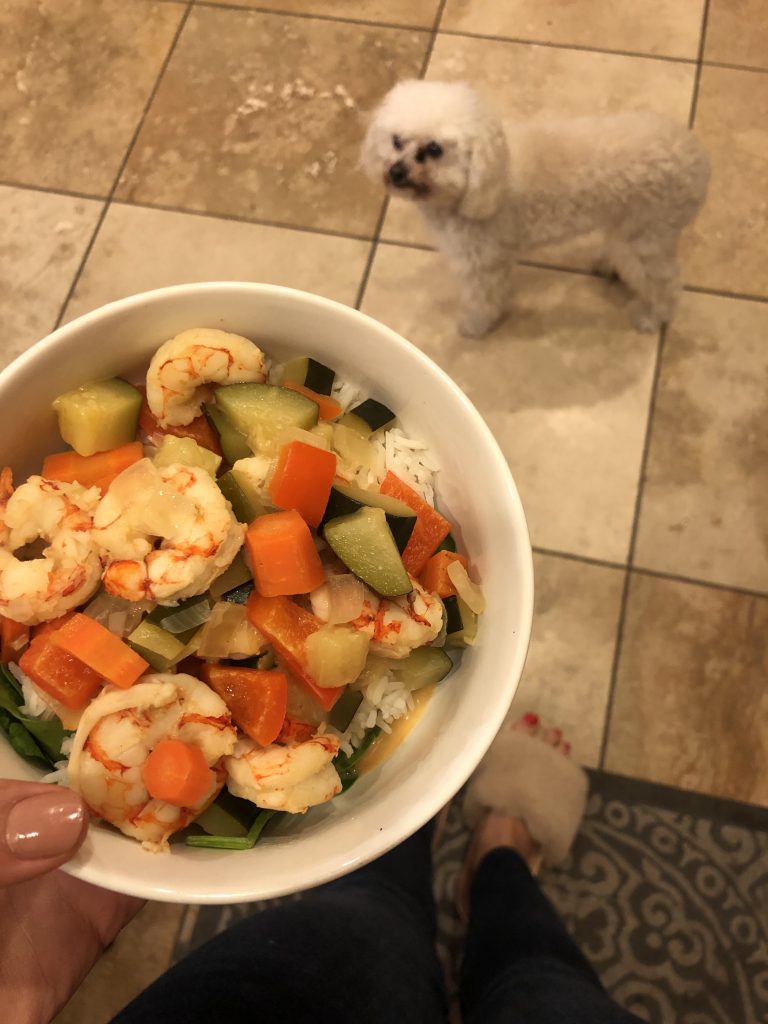 8:45: a glass of wine while watching The Bachelor. I stopped drinking alcohol for Dry January but to be honest, it didn't last very long. I have maybe 1-2 drinks per week (usually a glass of wine at home and a margarita when we go out with the fam for Taco Tuesday) and in the end, decided I didn't want to give it up. It makes Bachelor time even more enjoyable.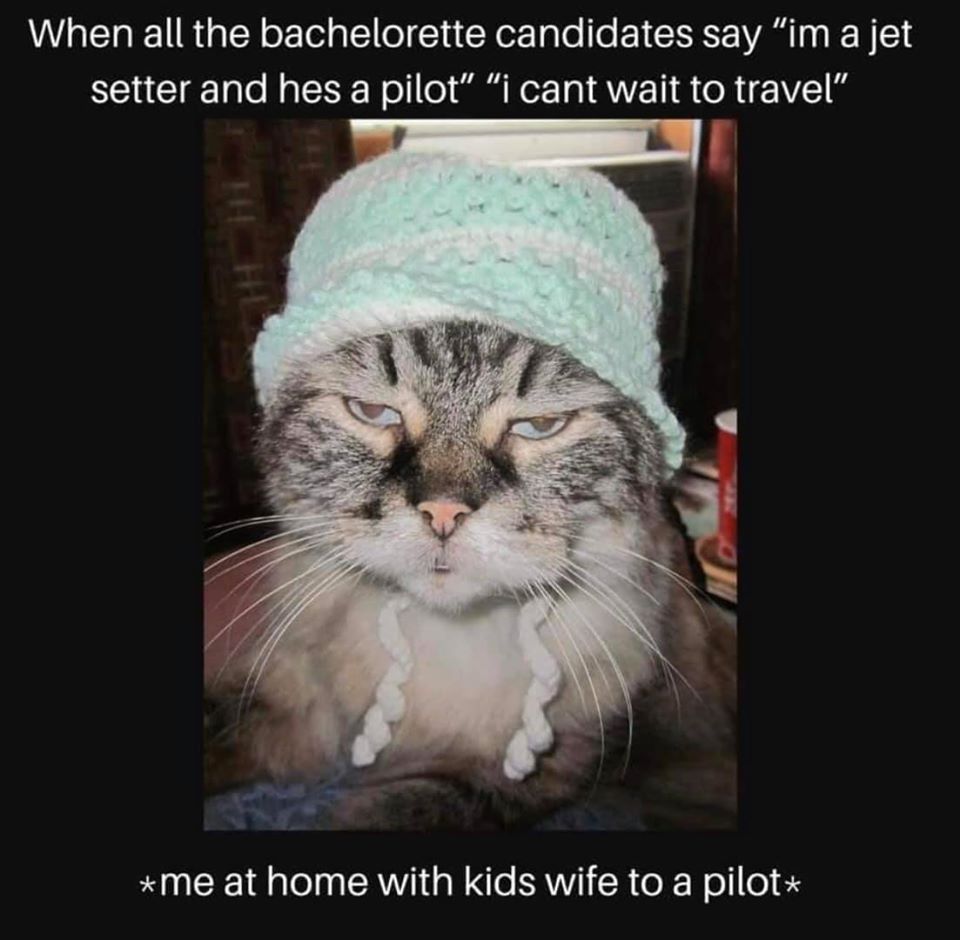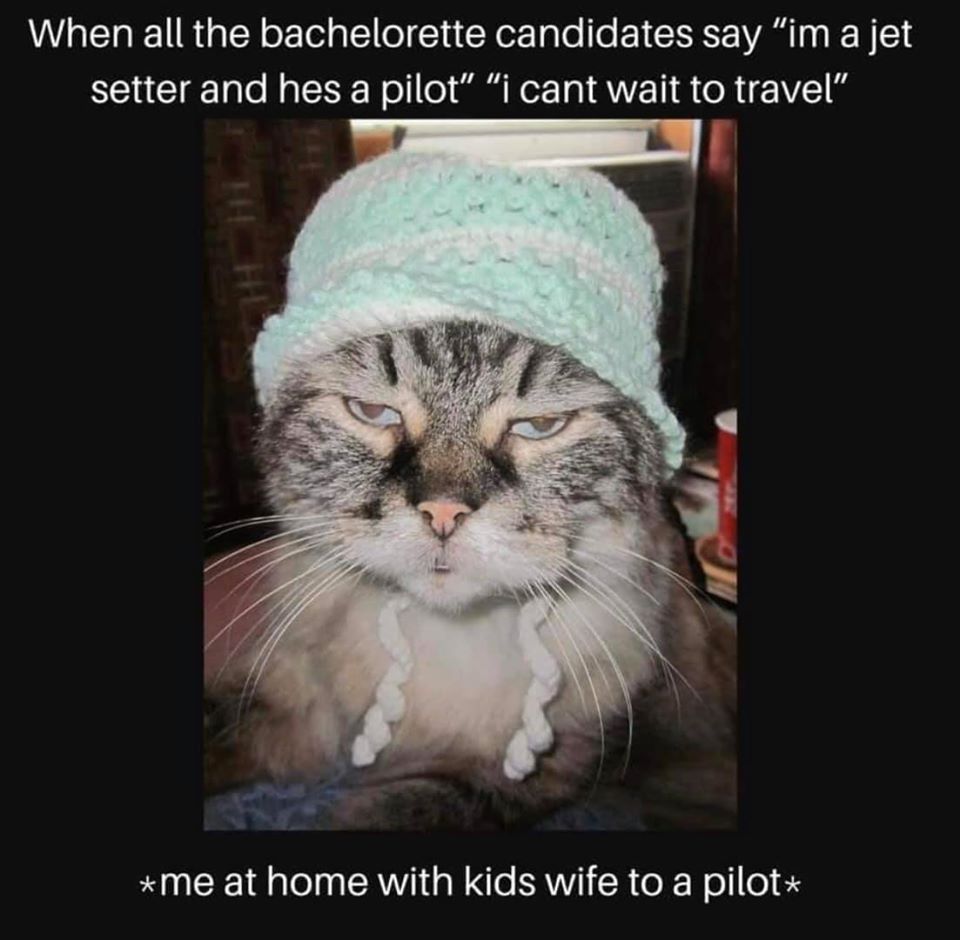 (This is so real lol)
What I liked about this day of eats:
I feel like it was a pretty solid day! Lots of fresh produce, protein, and I didn't feel hangry throughout the day. Something I could have done better would be to drink more water. I've found that I've been slacking a bit on the water intake.
What I didn't like about this day of eats:
No chocolate. This is always a fail when this happens.
Tell me, friends: what's one of your favorite current meal staples?? What's the best thing you ate yesterday?
xoxo
Gina