Yoga Journal LIVE: San Diego Recap
Hi friends! Hope you're having a wonderful afternoon. So glad you're stoked for Week 3 of Summer Shape Up! Even though my teaching schedule makes it difficult to follow along all of the workouts, I've been adding the meal ideas into our own plan.
This past weekend, I was given the opportunity to learn and practice from some huge names in the yoga community, and also be surrounded by fellow yoga-loving friends from all over the world. It was the Yoga Journal LIVE conference, and was held at the beautiful historic Hotel Del Coronado.
The venue was an ideal space for the event, as it had multiple ballroom areas and conference halls, the beach (for beach classes and SUP yoga), dining and shopping nearby, and a large ballroom for the marketplace. Expos have a magical way of sucking me in, and I spent a lot of free time this weekend meandering around the booths, trying new products and chatting with brand reps.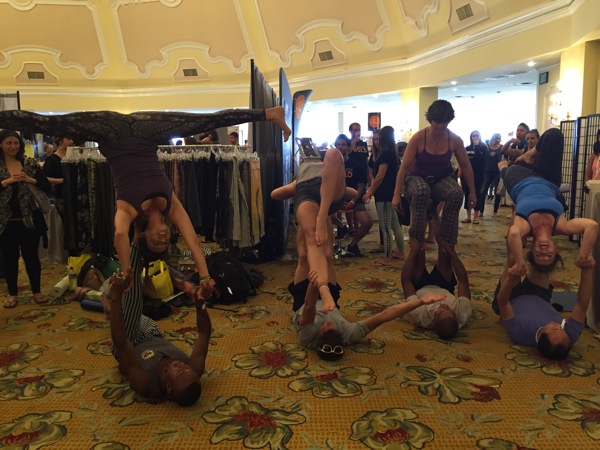 (Where acro yoga right in the middle of the chaos is totally normal. Also, sadly there were no henna tattoo artists this year, so the belly is bare. I will definitely be getting it tattooed before the beeb makes her arrival.)
While I could spend the entire week recapping my experience with the conference itself, I thought I'd narrow it down to a few of the sessions that were particularly meaningful and transformative for me.
#1: I have to gush about Seane Corn. I had heard quite a bit about her, especially after she was unable to attend last year's conference, and knew I'd love to take a class from her eventually. Official girl crush has taken over. She speaks in a very captivating, relatable and REAL way and had so much knowledge to share. I felt like I couldn't write things down fast enough. You know the phrase "I could listen to him/her talk all day?" Well, I did. And when it was over, we all wanted her to keep going. If you have the opportunity to take one of her classes or attend a retreat, I highly, highly recommend it.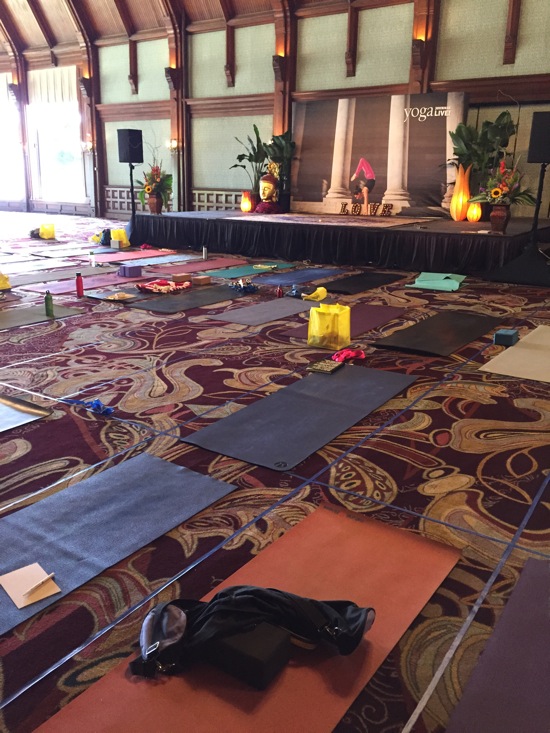 Over the weekend, I had the pleasure of attending two of her sessions: Finding Your Unique Voice as a Teacher (an all-day pre-session course), and Yoga for Every Body. The first one was an all-day session, and I was eager to learn techniques and strategies for leading my classes. I feel like over time, especially if you teach the same formats, it's easy to become complacent as an instructor. You say the same things, you use the same cues, and can potentially lose some of the magic and intention that initially attracted students to your classes. This is a huge reason why I try to attend conferences regularly and keep up with CECs; I like to get out of my teaching box and get new ideas so my students can always feel inspired, and I always have something new to give them. I ended up taking notes and notes, but here are some of my main takeaways from the session:
-Don't be afraid to tell your story. While no one wants to hear the nitty bitty during a yoga class, don't be afraid to open up and let your true authentic self shine
-A flow doesn't have to be "razzle dazzle" to make a huge impact. Sometimes the simplicity of a flow can heighten the experience. Go for substance over flash, and stability over instability.
-During backbends, sit down or crouch so you're not towering over everyone.
-Chakras send prana (life force) to different parts of the body. If a chakra is blocked, this can cause tightness or discomfort.
-Book recommendations:
"The Dark Side of the Light Chasers"
"Eastern Body, Western Mind"
"Wheels of Life"
"Anatomy of the Spirit"
and "Subtle Body."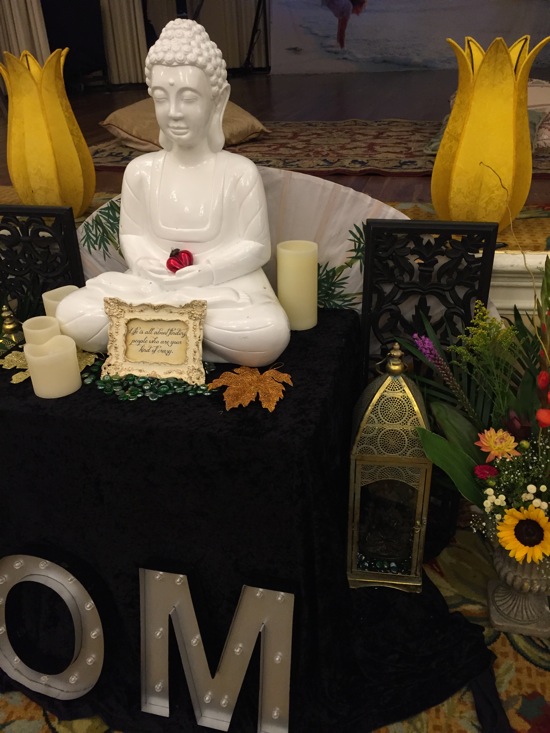 In Yoga For Every Body, we learned methods to instruct classes with a variety levels between the participants. You want to guide the person who's popping into handstand every four seconds, but you also want Joe in the corner, who can't touch his toes, to feel like he got the same value and benefits from his practice. She led us through a juicy, restorative flow, progressing the exercises as we went along and using intentional phrasing and cueing techniques. One of her strategies that I'll be sure to use from now on is to cue from the ground up. Start with form cues using whatever is touching the floor and build up from there, because if the base is out of alignment it can throw the entire skeletal system off.
Beach Bhakti Flow with Eric Paskel: I was immediately drawn to this class, as Bhakti yoga is where my heart is. I've found that the practices and mindsets that touch me the in the deepest way have roots in Bhakti ideals. Bhatki relates to love and devotion, and under this falls kirtan (singing and chanting), which is one of my favorite aspects of yoga. Also, it was on the beach, and I love practicing yoga near the ocean.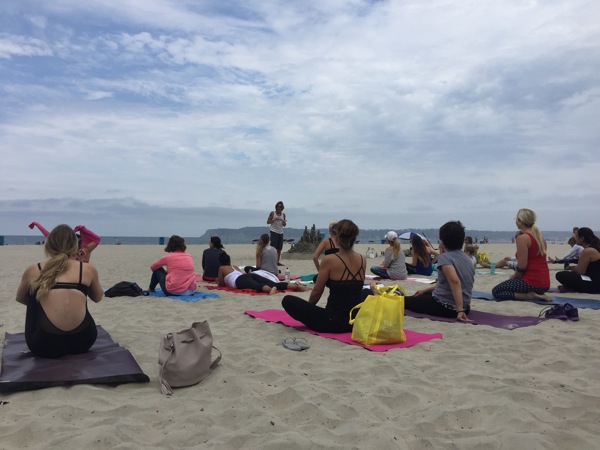 As I walked into the sand and unrolled my mat, I was really looking forward to this practice. The waves crashed nearby, we had live music, and there was a light cloud cover with a cool breeze. The breeze became full-blown wind, and the light cloud cover quickly turned to rain.. so sand + rain = mud, which added an interesting twist to the practice. As someone who is super weird about having sand and mud on their hands (I think it's because of my contacts and I'm always freaked out about getting sand in my eyes), I have to admit that I considered leaving a few times. However, I stuck with it and was so glad I did. When we were in savasana, I was thankful for staying with something that was a bit outside my comfort zone, as that's how growth occurs. If you allow external factors to affect you, you're not truly practicing yoga.
As the instructor said, "If all we need to worry about is a little rain on the beach.. we're doing ok." SO so true.
I also loved how he explained that yoga isn't external; you can't look at someone and tell if they're really practicing yoga. If the intention isn't there, it's not yoga. It's like doing someone kind for someone, but being stressed/annoyed/impatient about that act of kindness. The intention isn't there.
He ends class with singing and guitar, and his daughter (who will sometimes sing with him) has an absolutely gorgeous voice.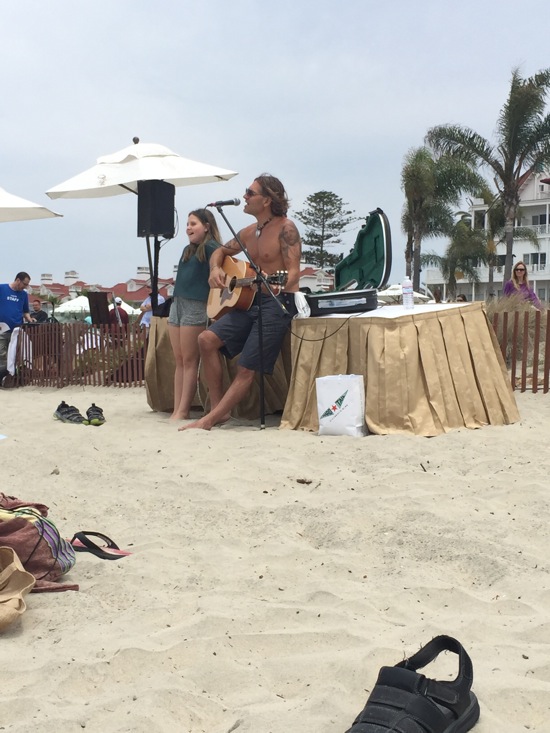 Over the course of the conference, I practiced a LOT of yoga, and each class was so very different from the one before. I learned about inversions (since I can't participate in these, it was helpful to watch), adjustments, and how to set up a balanced practice. Each instructor was so different, and I love the versatility they have each year with the session content and instructors. As a yoga student, you can just pick up little bits of information from each instructor you have the opportunity to learn from.
Do you practice yoga? What's something that you've learned from one of your favorite instructors? Did you ever have a yoga class (or any fitness class) in less-than-ideal situations?
Here is my post from last year, as well as a discussion post about fitness, yoga, and body image.
Hope you have a lovely night!
xoxo
Gina
Thank you so much to Yoga Journal for the opportunity to attend! <3